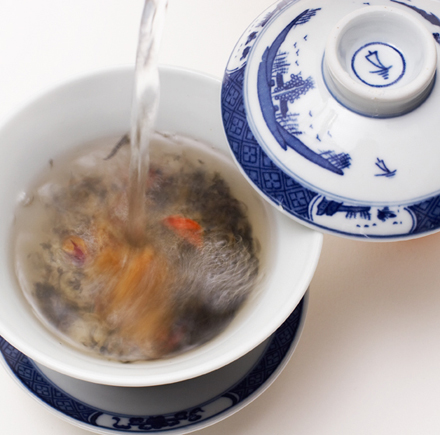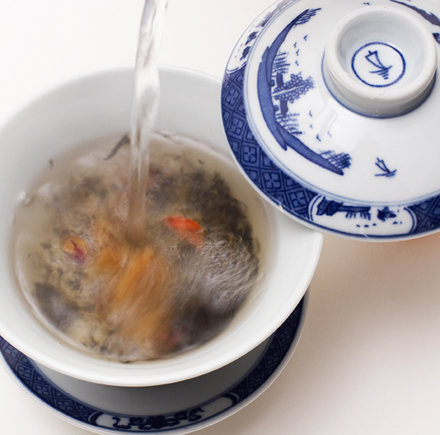 Photography by Ron Boszko
We did it! We had a blast on Saturday night. I managed to serve the full ten-course dinner without any mishap. We even photographed each course of the meal. My friend Ron, who is a great photographer, helped me with the photography. We set up a small "studio" area in our bedroom. Each course was carefully transferred to the "studio" prior to serving. And what great guests we had, they were so patient with the entire process. I love my neighbors!
So, I am now ready to share the dinner with all of you!
We started off with a cold appetizer course of Smoked ham hock in chili oil (紅油燻蹄), jellyfish salad (涼拌海蜇絲), drunken chicken (紹興醉雞), shrimp salad in mustard mayonnaise (鮮蝦拌沙拉槳) and preserved eggs (皮蛋). The ham hock was purchased from Chinatown and dressed with a chili oil and dark vinegar dressing. I love the slight kick of spice to the smokey flavor. The jellyfish salad was a classic mix of shredded jellyfish and shredded cucumber with a sesame oil, soy sauce and dark vinegar dressing. The drunken chicken was a classic Shaoxing (紹興) dish. The chicken was steamed in Shaoxing wine, ginger and scallion. Then refrigerated in the broth, which became wine aspic. The chicken was then sliced and served with the aspic. The shrimp salad was a Chinese version of Western shrimp salad and commonly served in Cantonese restaurants. The dressing was a mix of sesame oil, Chinese mustard (芥末) and, of course, mayonnaise. (Kim adored the shrimp salad. She begged me for extra shrimps from the kitchen after the cold plate was consumed.) And finally to complete the cold plate I included slices of preserved eggs served with pickled ginger.

Photography by Ron Boszko
The second was the seafood course. I chose to serve sea cucumber (海參) braised in oyster sauce with winter bamboo shoot (冬荀) and winter mushroom (冬菇). This was a perfect winter dish and a good way to introduce sea cucumber to the American palate. By the way, if you did not already know, sea cucumber is sea slug.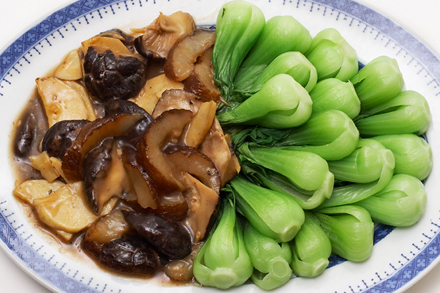 Photography by Ron Boszko
I then served a crispy fried chicken with a garlic sauce. The chicken was first marinated in aromatics, and then steamed. It was then refrigerated overnight to dry the skin before being deep-fried just before serving. The sauce was made from soy sauce, Shaoxing wine and fried chopped garlic. For those squeamish diners who found the sea cucumber too exotic, this was a more familiar and welcomed dish.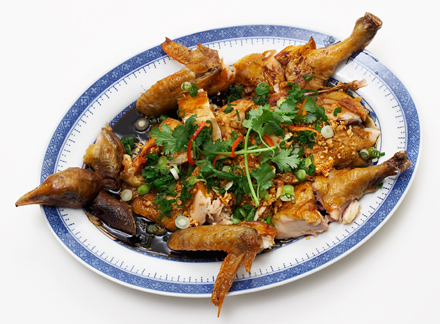 Photography by Ron Boszko
The soup course was eight treasures winter melon soup, a classic Cantonese soup, that has an incredibly flavorful broth. The eight treasures were dried scallops, straw mushrooms, bamboo shoots, carrots, shrimps, ham, green peas, and winter melon.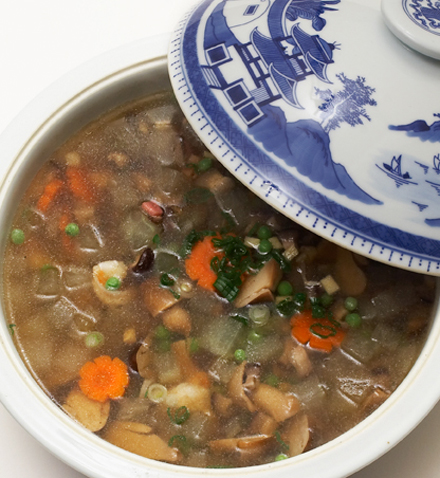 Photography by Ron Boszko
We now reached what I considered the highlight of our dinner: red cooked pork (紅燒肉). I was anxious to find how well received this dish would be from our guests since it is the namesake of my blog. And was I glad it did not disappoint! Everyone thoroughly enjoyed it. I served the pork with steamed buns accompanied by a side of refreshing cucumber salad.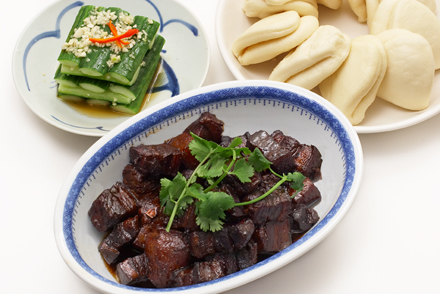 Photography by Ron Boszko
Kung Pao frogs followed the pork dish and it was an exciting contrast in flavors. This is, of course, a Sichuan dish and is fiery hot. I made it with pieces of whole frogs rather than just the legs. For a few of our guests it was the first time they had sampled frog meat, and thought this was a case where it actually did "taste like chicken."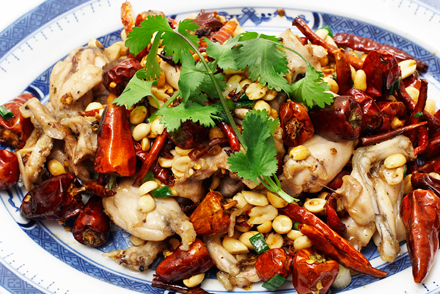 Photography by Ron Boszko
I served mustard greens (芥菜) for the vegetable course. The mustard green had a mild bitter taste and tender texture. I served it with a simple crabmeat sauce making a nice light vegetable dish.

Photography by Ron Boszko
I chose sea bass for the steamed fish dish because it is a flakey fish, which holds up better in the steaming process. It was steamed with Shaoxing wine and some ginger. Then I finished it by drizzling a mixture of soy sauce, dark vinegar and vegetable oil. It was also garnished with thin slices of scallion and sprigs of cilantro.

Photography by Ron Boszko
The starch course was fried rice and it was a Chinese sausage variety. This was what the Chinese would consider comfort food. My version was very simple and contained Chinese sausages, peas and eggs.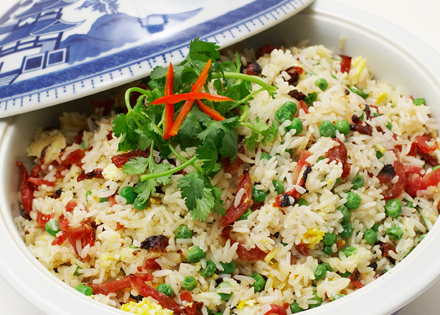 Photography by Ron Boszko
The finale was fried red bean paste dumpling (高力豆沙) that resembled Italian fried dough, zeppola, on the outside. The red bean paste was coated with a meringue batter and deep-fried. The result was a combination of crisp spongy dough and a smooth custardy filling. When I first considered this dish for the dessert I was not sure if red bean paste would be well received by the guests. But I was pleasantly surprised that it turned out to be the star of the meal. Our guests just couldn't stop praising it!

Photography by Ron Boszko
It took me slightly more than four hours to serve the complete ten-course meal. I did make a lot of preparation way in advance, and only finished all the dishes just before serving. So it was not terribly hectic. The only slight inconvenience was the detour of the dishes from kitchen to table via the photo "studio."
I know you're all now wondering if I will ever supply the recipes for these dishes. Yes, they are coming! Better yet, why don't you tell me which one you'd like to see first.