We take for granted that stir-frying is just combining a bunch of ingredients, frying them in a wok, and seasoning them appropriately; that is partially accurate. What is rarely understood is that there are variations in stir-frying technique. Broadly classified the variations are 1) plain stir-fry (清炒 or QingChao), 2) moist stir-fry (滑炒 or HuaChao) and 3) dry wok stir-fry (煸炒 or BianChao). In this third part of Stir-fry Fortnight series post let me show you how simple it is to make plain vegetable stir-fry.
Among these different variations American cooks understand plain stir-fry the least. I rarely see mention of plain stir-fry vegetables as a dish in a Chinese American meal. But a meal in China almost always includes one. It is often served to balance meat and other protein dishes. I for one crave for a vegetable stir-fry every meal, even when I'm having steak and potato. (Thank god for creamed spinach!)
Perhaps the reason that Americans are not familiar with this technique is because Chinese restaurants rarely list them in menus. A Chinese patron would normally just ask the waiter or waitress what kind of green vegetables are in season and available in the kitchen, then simply order one for plain stir-fry.
Plain stir-fry is usually made of one single vegetable ingredient. When cooked in the classic plain stir-fry manner it is simply dropped into very hot oil, seasoned with salt and stirred until cooked. No thickener, no soy sauce, plain and simple. Sliced garlic is often added, and is then known as garlic stir-fry (蒜炒 or SuanChao). Additionally, other condiments such as fermented black beans (豆豉), shrimp paste (蝦醬) and fermented tofu (腐乳) can also be added to enhance flavor.
A few tips are in order to help you with plain stir-fry. When cooking leafy vegetable it is almost always sufficient to just let them cook in their own moisture, without covering the wok. Keep stirring while cooking to prevent the greens from burning. However when cooking vegetables that contain less moisture such as legumes or gourds, you can add a few splashes of water during cooking and cover the wok with a lid. Repeat this a few times and stir the vegetable in between until cooked.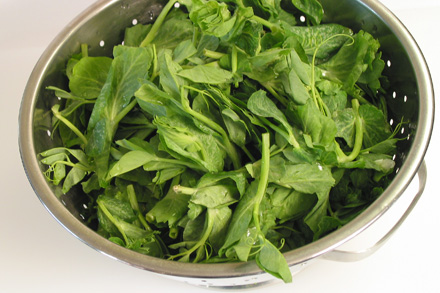 To show you the plain stir-fry technique I selected a recipe for Garlic Stir-fry Pea Shoots (蒜炒豆苗). Pea shoots are the tender tendrils of pea vines. They are most commonly harvested from snow pea vines. The tender shoots have a slightly spicy sweet taste and are full of Vitamin C and Potassium.
After you've read this post go out and buy any leafy green vegetable such as spinach, bok choy or watercress, and substitute the greens in this recipe.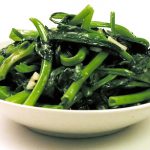 Garlic Stir-fry Pea Shoots (蒜炒豆苗)
Print Recipe
Ingredients
12

ounces

pea shoots

2

cloves

garlic

sliced thinly

2

tablespoons

vegetable oil

1/2

teaspoon

salt
Instructions
When buying pea shoots be sure to select young tender leaves. To prepare for stir-frying snap the stems into bite size length. Rinse in cold water thoroughly and drain well. Slice garlic thinly and set aside.

Heat the vegetable oil in a wok over high heat. Drop the garlic slices into the wok just as the oil begins to smoke. Stir the garlic around for about 30 seconds and add all the pea shoots into the wok. The water on the pea shoots from rinsing should be sufficient to keep the wok moist as the vegetable cooks. Add salt and stir-fry for about one more minute. The vegetable is ready when the leaves are just wilted. Plate and serve.