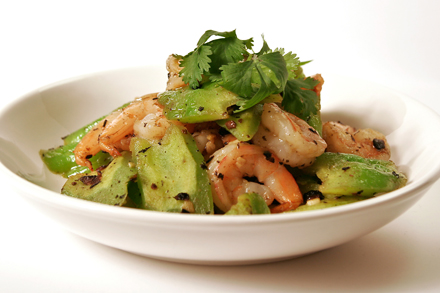 Photography by Ron Boszko
My neighbor, Kim, has been stir-frying, ever since I convinced her to move her wok from cold storage to stovetop. (She inherited a great wok, completely seasoned and beautifully charred black, from a friend years ago and once used it as a planter!) Now she regularly stops on her way to the market to consult with me about what ingredients to buy for that night's stir-fry. With so many ingredients to choose from, it can seem daunting. I used to have the same problem matching ingredients until I started writing down and analyzing classic combinations. There is a logical method to the madness of ingredients selection.
The most fundamental decision to make is whether you're making 1) a simple vegetable dish, 2) a vegetarian protein dish, or 3) a meat protein dish. A simple vegetable dish consists of just one green vegetable ingredient, whereas the others add one or more protein ingredient.
For a simple vegetable stir-fry it is common to use one single leafy vegetable, green legume or gourd as ingredient. Some very common examples for leafy vegetables are pea shoots (豆苗), spinach, water spinach (空心菜), bok choy (白菜), and Chinese broccoli (芥蘭菜). Legumes and gourds such as string beans, long beans (長豆角), loofah (絲瓜), and bitter melon (苦瓜) are regularly used as well. A simple vegetable stir-fry is commonly made without herbs or spices to balance other dishes in a meal.
Stir-fry with a protein on the other hand requires a careful selection of complementary ingredients. Let's first consider vegetarian proteins, which are commonly soy or gluten based products. Their flavors are often neutral and delicate. Accompanying vegetables can offer the dominant flavor in such a dish. Shiitake mushroom (蘑菇), Chinese celery (芹菜), Chinese chive (韭菜), and other fragrant vegetables are excellent choices. It is also customary to add strong flavored sauces or spices to enhance the vegetarian protein. A good example of a vegetarian protein dish is Stir-fry Chive Blossoms with Tofu (豆干炒韭菜花), which I posted a few weeks ago.
We've now come to the most intricate of ingredients selection: how to match meat protein with vegetables? Of course much depends on the protein itself. Pork, poultry and seafood are generally considered mild flavored. Whereas beef, lamb and other game meats are considered strong flavored. The general matching rule is to match mild ingredients together, and strong ingredients together. Sample dishes of mild flavor combinations are Stir-fry Shrimp with Sweet Peas (青豆蝦仁) and Stir-fry Chicken with Shiitake Mushroom (蘑菇雞片). For strong flavor combinations we have dishes such as Stir-fry Pepper Steak (青椒牛肉絲) and Stir-fry Lamb with Leeks (乾煸羊肉). These and other popular combinations have been immortalized in many traditional recipes.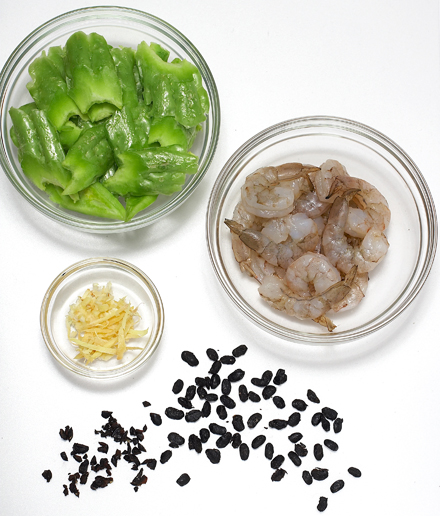 Photography by Ron Boszko
However, you don't have to be restricted by customs. Now that you've got the general idea it is time to be creative! Experiment with local ingredients. Try to stay within the guidelines from above and you won't go wrong.
I got creative with today's recipe. The dish is based on a Stir-fry Bitter Melon with Fermented Black Beans (豆豉苦瓜), which is a traditional Hunan vegetable dish. I added shrimp to the dish and made it into Stir-fry Shrimp and Bitter Melon with Fermented Black Beans (豆豉苦瓜炒蝦仁).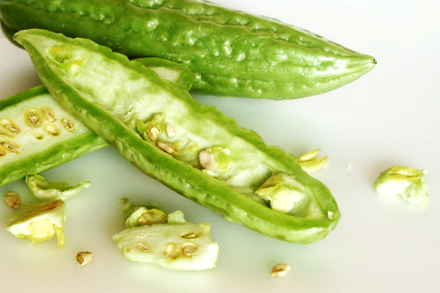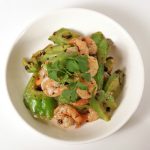 Stir-fry Shrimp and Bitter Melon (豆豉苦瓜炒蝦仁)
Print Recipe
Ingredients
1

bitter melon

large cut into 1/8-inch thick slices

4

ounces

shrimps

medium

1

teaspoon

garlic

minced

1

teaspoon

fresh ginger

minced

1

tablespoon

fermented black beans (豆豉)

minced

1

tablespoon

red chili

chopped (optional)

2

tablespoons

Shaoxing cooking wine (紹興料酒)

2

tablespoons

vegetable oil

1/4

cup

water

1/2

teaspoon

salt

1/2

teaspoon

ground white pepper
Instructions
Fermented black beans are commonly available in Chinatown markets. Thought to have originated in the Hunan province in the southwest of China, fermented black beans are now used throughout Southern China. They are probably best known to Americans as the black bean sauces in Cantonese cooking.

Shell and devein the shrimps and set aside. Cut the bitter melon in half lengthwise and remove the seeds and pith. Further cut the halves into quarters lengthwise and slice into pieces of about one inch squares. Mince and shred the garlic and ginger, and set aside. Mince the fermented black beans and set aside.

For those who prefer a spicier dish, Hunan-style, red chili is normally added. If you decide to use the chili chop it roughly so as to color the finish dish with specks of red.

If you prefer a less bitter taste you can par-boil the bitter melon in boiling salt water for about 3 minutes. Drain and let cool before stir-frying. Be sure to shorten the stir-frying time since the bitter melon will already be partially cooked. Of course if you are like me, I love bitterness and prefer to just stir-fry the bitter melon as is.

To finish the dish heat vegetable oil in a wok on high heat until it just begins to smoke. Put the shrimps, salt and white pepper in and stir-fry until it just begins to turn pink, about three minutes. Scoop the shrimps out into a bowl and set aside. Leave about 1 tablespoon of oil in the wok and put garlic and ginger in the wok. Stir-fry for a minute or so until you can smell the aroma. Add the bitter melon, Shaoxing wine, water and fermented black beans. Cover and let cook for about two minutes. Uncover and stir the bitter melon, then cover again and continue to cook for another three minutes or so. If the mixture is too dry, add another splash of water to prevent it from burning. The bitter melon is cooked when it turns a brownish-green shade. Take a piece of bitter melon out and taste for doneness if you wish. The texture should be a soft and crunchy but not mushy. Return the shrimps to the wok and add the red chili. Stir-fry for another minute or so and you are ready to serve.