It all started with a cheery comment on my very first Chinese food and wine pairing post back in July. Kirstin, who lives in California and writes the blog Vin de la Table, wrote that she would be interested in attempting a long distance wine pairing joint-post with me. I was fascinated by her suggestion. Pairing European style wine with Chinese food, or Asian food for that matter, has always been a contentious subject among Asian food connoisseurs. Many feel that Chinese food is best paired with traditional Chinese rice wine or liquor, but many others have successfully paired grape wine. So it is with this expectation that Kirstin and I embarked on an adventure to pair wine with a few of my recipes. As part of our joint effort Kirstin created a Chinese food and wine pairing guide to accompany our posts. I hope you'll find her guide and our posts useful.
To start the project I would create the menu and Kirstin would recommend a few wines to go with each dish. We would then plan a dinner and invite our guests to respond to the pairings. I created three dishes in July with the anticipation of hosting the dinner before the end of summer. The first, Garlic Chive Blossoms and Daikon Salad, is a cold dish that makes a great summer salad because the garlic chive blossoms are at their most abundant. The next dish was a vegetable dish, Steamed Silken Tofu with Mushroom Topping. The final dish was Red Cooked Lamb.
Bi-Coastal Wine Pairing Project

韭花拌蘿蔔
Garlic Chive Blossoms and Daikon Salad
Ken Forrester Chenin Blanc 2006
South Africa
—
豆腐蒸野菌
Steamed Silken Tofu with Mushroom Topping
Marc Aurel Gruner Vertliner 2007
Austria
Guigal Cotes du Rhone Blanc 2005
France
—
紅燒羊肉
Red Cooked Lamb
Mas de Boislauzon Cotes du Rhone Villages 2006
France
Peachy Canyon Incredible Red (Paso Robles Zinfandel) 2006
California, U.S.A.
This sounds like a simple enough project, but we did not anticipate the difficulty in obtaining the same wines on both coasts. After searching high and low for the wines and making substitutions and alterations to Kirstin's recommendations I was ready to host the dinner on September 6th. On that day tropical storm Hanna interrupted traffic in our tri-state region. A few of my guests, who were to drive in from Westchester County, had to cancel and I ended up calling off the dinner.
I finally hosted a dinner on the first weekend of October with two of the recommended white wines to pair with the first two dishes. The Ken Forrester Chenin Blanc 2006 was paired with Garlic Chive Blossoms and Daikon Salad, and the Guigal Cotes du Rhone Blanc 2005 was paired with the Steamed Silken Tofu with Mushroom Topping.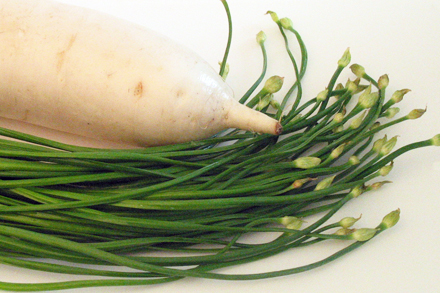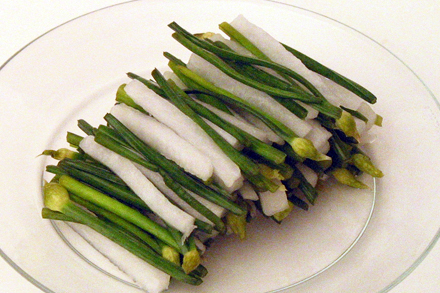 The chive blossom and daikon salad had a rather spicy and strong garlicky flavor. I think this was probably the reason Kirstin suggested the pairing with the chenin blanc, which has a very smooth fruity taste. However when we tasted the pairing we thought the subtle flavor was lost when matched with the strong flavor of the salad. Later as we tasted the Guigal during the tofu tasting everyone felt that this wine would be better paired with the salad. The Guigal white had a beautifully full-bodied oaky taste along with sharp almond, dates, citrus and slight smoky taste. So we went back to pair the Guigal white with the salad. Both the food and the wine had strong flavor, but they somehow complemented rather than competed with each other. I was quite surprised by this result.
The Ken Forrester Chenin Blanc was an amazingly smooth wine with light oak and a blend of fruit flavors. We all loved this wine. We like its dried apricot, pineapple and honey taste and fruity bouquet. We decided that this wine is better paired with the tofu and mushroom dish. We thought its crisp and lightly sweet fruity flavors highlighted the earthiness of the mushrooms.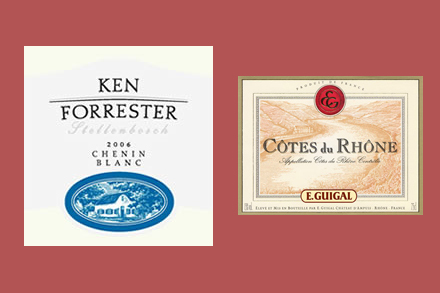 As an alternative, Kirstin had suggested a Weingut Hofer Gruner Veltliner 2006 to pair with the tofu dish. Although I was unable to find this specific alternative, I like the idea of a gruner veltliner pairing. So I hunted for one and found a Marc Aurel Gruner Veltliner 2007 at The Winery in Harlem. During a dinner in November I served the steamed tofu dish again paired with this wine. Well, I am delighted to report that it was a hit. This gruner veltliner was very mellow and fruity. It was full of citrus flavor with a touch of spiciness. Needless to say we thought it paired amazingly well with the tofu dish.
We also tasted a few red wines paired with the Red Cooked Lamb. But lets discuss them in another post. For now though the white wine pairings convinced me it is possible to successfully serve grape wine with Chinese food.
Garlic Chive Blossoms and Daikon Salad (韭花拌蘿蔔)

Preparation time: 20 minutes

4 oz. garlic chive blossoms (韭菜花)
8 oz. daikon radish
2 tablespoon white vinegar
1 teaspoon salt
1 teaspoon sugar
1 tablespoon toasted sesame oil
1 teaspoon sesame seeds for garnish

Cut the chives into 2-inch long pieces. Cut the daikon radish into baton of 2-inch length and about 1/4 inch thick. Marinate the daikon baton with the vinegar, salt and sugar for about one hour. The juice from the daikon will seep out and create a dressing for the salad at the end. Just before serving mix the chive blossom into the daikon, then place the salad in a neat pile arrangement on a plate. Pour the daikon juice all over then drizzle the sesame oil. Garnish with sesame seeds.
Steamed Silken Tofu with Mushroom Topping (豆腐蒸野菌)

Preparation time: 20 minutes
Slow cooking time: 15 minutes
Rapid cooking time: 10 minutes

1 lb. pack silken tofu
4 oz. shiitake mushrooms
4 oz. inoki mushrooms
4 oz. oyster mushrooms
8 baby bok choy or a small bunch of spinach (optional)
1 teaspoon minced garlic
1 teaspoon minced ginger
2 tablespsoon vegetable oil
3 tablespoons oyster sauce
3 tablespoon Shaoxing cooking wine
1 teaspoon soy sauce
1 teaspoon sugar
1 tablespoons cornstarch
1/4 cup chicken stock or water
Finely sliced scallion for garnish

Invert silken tofu from container and drain as much of the liquid as possible by letting it sit in a colander. Cut the stem off the shiitake mushrooms and trim the bottom of the inoki mushrooms. Tear the oyster mushrooms into bite size pieces. Cut the baby bok choy into halves and wash thoroughly. In a round shallow bowl arrange bok choy at the bottom with the cut side down and the leaves in the center of the bowl. Gently place the entire block of tofu in the center of the bowl and on top of the bok choy. Steam for about 10 minutes.

While the tofu is being steamed, make the topping by quickly stir-fry the garlic and ginger in the vegetable oil in a wok for about one minute. Put all three kinds of mushrooms into the wok and stir-fry for about 3 minutes. Mix the oyster sauce, cooking wine, soy sauce, sugar, cornstarch and water together. Set the sauce aside when thickened. Remove the tofu from the steamer and pour the topping over the tofu. Serve the dish immediately garnished with sliced scallion.