I first encountered sea intestine (海腸) last January while dining at the M & T Restaurant in Flushing, a section of Queens in New York. The owner, James Tang, a native of Qingdao, was not able to articulate exactly what sea intestine is. I'd simply assumed it to be some sort of sea animal and thought it best to leave it at that. Little did I know it was to be such an integral part of modern Qingdao cooking.
My first dinner after arriving in Qingdao last week was at a home-cooked meal prepared by Chef Hu. One dish that was enthusiastically recommended was stir-fried sea intestine with celery. The next day at lunch in a restaurant serving local cuisine, my host ordered stir-fried sea intestine and surf clam with celery. At a later meal sea intestine appeared yet again as a cold dish with mustard dressing. After seeing how beloved this seafood item is in Qingdao, I decided I'd better get to know this creature if I were to understand the cuisine.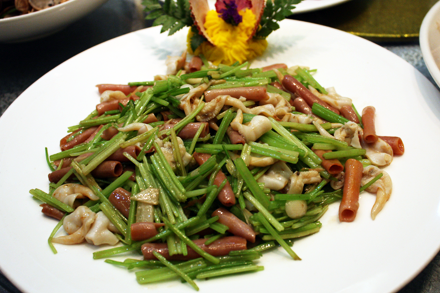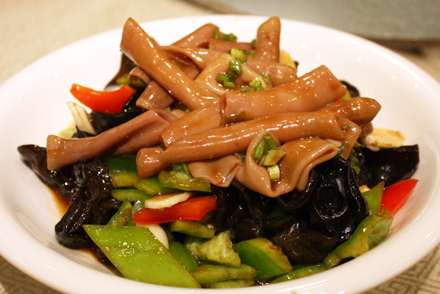 As it turned out sea intestine is a sea worm that grows only in the cold water of the Yellow Sea region. It has a scientific name of urechis unicinctus. For years the Chinese used it as fishing bait. But the Koreans have always been very fond of this creature and serve it raw with spicy paste. The Chinese started cooking with sea intestine only about forty or fifty years ago. And according to Chef Zhou Feng, a chef at Fuxin Hotel, the sea intestine did not become truly popular until the 1980's. I was rather surprised by this since it is so ubiquitous in Qingdao.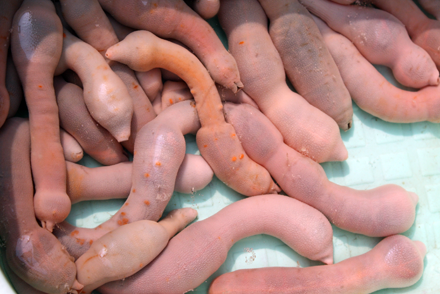 As a live animal the sea intestine is, well, phallic looking. It has a pinkish beige color that looks almost like a water-filled condom. It wriggles around and swims in water to filter any food it finds. When cooked the sea intestine has a rather mild seawater flavor. It also picks up the flavor of whatever it is cooked with. The texture though is another story. Cooked sea intestine looks like brownish whole-wheat ziti, and is slimy with a crunchy texture reminiscent of biting into Japanese kombu but less fishy. The combination of texture and mild flavor is highly prized by the Chinese. Remember, they also like jellyfish and, dare I say, shark fin.
Sea intestine is apparently abundant in the Shandong coastline and it has become so popular with the locals that they have developed aquaculture for it. The sea intestine's popularity is growing and is now served in other provinces along the Yellow Sea coast.
If you're fortunate enough to be living where sea intestine is available in your market, then here is what you need to do to clean the worm. Cut off the two ends then remove everything inside. Flush the inside clean with water then cut the worm into lengths you desire for whatever dishes you are preparing. Remember the tube will shrink so cut slightly longer than you'd want it for the final dish. Now you're ready for stir-frying. Blanch the sea intestine for about two minutes for making cold dishes. If fresh sea intestine is unavailable you can buy them frozen, as is the case in New York, already cleaned and blanched.
Here is a recipe for making stir-fried sea intestine with garlic chives for you to try if you're adventurous enough.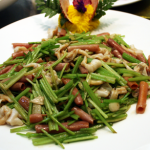 Stir-Fried Sea Intestine with Garlic Chives (韭菜炒海腸)
Print Recipe
Ingredients
8

ounces

sea intestine

cleaned

4

ounces

garlic chives

2

cloves

garlic

thinly sliced

2

tablespoons

vegetable oil

1/2

teaspoon

salt

1/4

teaspoon

ground white pepper

2

tablespoons

Shaoxing cooking wine
Instructions
Cut both the sea intestine and the garlic chives into about 1-inch lengths and set aside. Slice the garlic into very thin slices and set aside. Heat a wok on a high setting for about two minutes. Swirl the vegetable oil into the wok and heat for another 30 seconds. Add the garlic slices and stir-fry for about 30 seconds until fragrant. Add the sea intestine and stir-fry for another 30 seconds. Add the Shaoxing cooking wine and continue to stir-fry until the wine is almost completely evaporated. Add the garlic chives, salt and ground white pepper to the wok and continue to stir-fry for about 30 seconds or until the garlic chives just begin to wilt. Plate and serve.