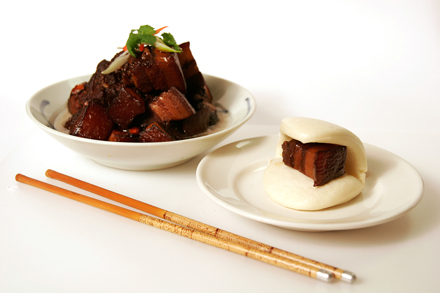 Photography by Ron Boszko
I don't understand why Hong Shao Rou (紅燒肉) is never on a Chinese restaurant menu in America. Maybe it is simply just too exotic or "home style." But ask any Chinese person and they can tell you stories of grandmother's Hong Shao Rou. Family recipes are often guarded secrets, and only passed down within the family members through generations.
Improved Recipe

Since publishing this post I've revised the recipe using a traditional technique of par-boiling the meat. The result is much better and I encourage you to use the improved recipe in a subsequent post.
Many different approaches exist for preparing this dish. There are always debates as to the merit of caramelizing the sugar first, or just simply adding it to the braising liquid. Controversies are often stirred up as to whether spices such as star anise and Osmanthus bark should be added. Hard boiled eggs are sometime added to the dish. And in the Southwestern region of China, where chili is king, very often dried chilies are added to spice up the dish. All these just create even more mystique to the dish.
Hong Shao Rou is typically made with pork belly meat, a cut commonly used for making bacon. It is layered with fat and results in a very tender and flavorful pork dish. One can argue that this is rather unhealthy, but I simply cannot justify using any other cut because it is just so wrong otherwise!
Hong Shao Rou is served regularly at home as daily meal and yet can also be served at celebratory occasions. It is quite common to serve this dish with small steamed buns. The buns are often made from round dough folded into half circle resembling a clam shell. One holds a piece of Hong Shao Rou in the steamed bun like hot dog in a bun. These buns can be purchased from Chinese grocery stores, although sometime I enjoy making them at home. More often than not I simply serve this dish with some steamed vegetables and rice at home.
So without further ado, here is my version of Hong Shau Rou.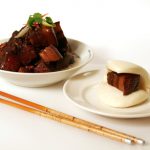 Red Cooked Pork (紅燒肉)
Print Recipe
Ingredients
1 1/2

pound

pork belly

cut into two inch cubes

3

tablespoons

vegetable oil

2

tablespoons

sugar

3

cloves

garlic

peeled

3

star anise

2

tablespoons

dark soy sauce

1

tablespoon

soy sauce

1/4

cup

Shaoxing cooking wine (紹興料酒)

1 1/2

cups

pork stock

or water
Instructions
Melt the sugar and the vegetable oil in a medium pot over medium high heat. Continue heating until the sugar is slightly brown. About 3 minutes. Put the cubed pork in the pot and brown it with the caramelized sugar. About 8 minutes.

Put the garlic, star anise, dark soy sauce, rice wine and clear stock into the pot. Cover the pot and simmer over low heat. Cook for about 90 minutes. Stir the meat every 10 minutes to make sure the bottom of the pot does not get burnt. Remove the cover and turn the heat to medium high. Cook the meat for another 10 minutes until the sauce reduces to a smooth consistency.

This dish, like most stew dishes, is better if left overnight and reheated the next day. But if you can't wait then plate it in a shallow bowl and garnish with shredded scallion and sprigs of cilantro.