"Why don't they remove the bones before they serve the fish?" is a common question I hear from friends whenever we go to Chinese restaurants. In fact on one occasion after finishing a steamed striped bass at a popular Cantonese seafood restaurant in Chinatown a fellow diner jested that the remains of our dish looked like Felix the Cat had swallowed the fish whole and pulled out a completely cleaned skeleton with just the head and tail left on. So why do the Chinese like to keep the bones in the dishes they cook?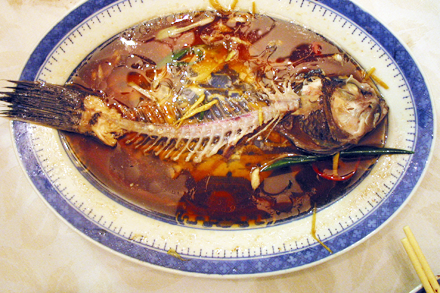 The answer is all about flavor. For millenniums Asians have recognized a savory taste sensation known as xian (鮮) in Chinese (umami in Japanese) that can enhance the flavor of any dish. Modern food technologists have identified three groups of compounds that are responsible for this sensation: glutamates, inosinates and guanylates. The most commonly known compound is none other than monosodium glutamate or MSG. Its use has been so abused that MSG has given this whole group of compounds a bad reputation. But many of these compounds occur naturally in our food and are not considered harmful.
Animal bones are the best known ingredients that contain high concentration of umami compounds. It is not surprising that every cuisine in the world uses bone stock to enhance flavors. Beef, chicken and fish bones are common ingredients for creating umami. Many vegetables such as soybeans, seaweed, mushrooms and radishes also contain these wonderful compounds. Indeed it was in 1908 that Dr. Kikunae Ikeda of Tokyo Imperial University successfully isolated MSG from kombu (kelp) and started marketing it as a flavor enhancer.
In Chinese cooking we go further and cook meat without removing the bone. This is often done for braising, stewing and steaming. The cooking process releases these umami compounds from the bone while the heat breaks down the meat. What's more, the meat around the bone is perfect for long moist heat techniques. They often contain highly marbleized meat with connective tissues of collagen, which result in very tender texture when cooked.
To illustrate the important part bones play in Chinese cooking I've included a recipe for a classic dish you'll always find in any Cantonese dim sum restaurant. It is steamed pork short ribs with fermented black beans. To make this dish be sure to ask the butcher to cut the pork ribs into one inch long pieces. That way the meat will cook evenly and the inosinate compound will disperse rapidly into the resulting sauce. The fermented black beans, which are really discolored soybeans after fermentation, further enhance the pork flavor as they also contain glutamate compound. This umami over umami is what creates the complex rich flavors making this dish so delicious. .
Well, make no bones about it, the Chinese do like their meat with bones.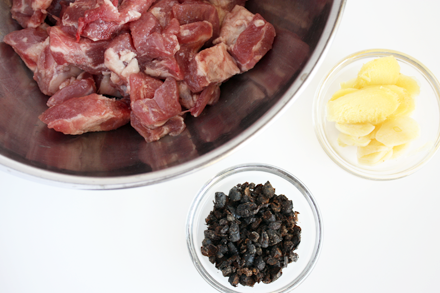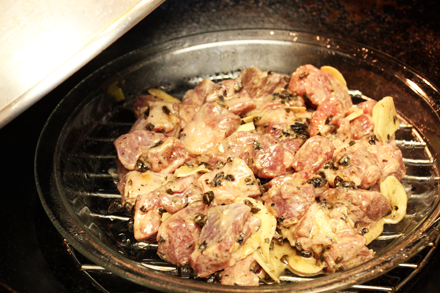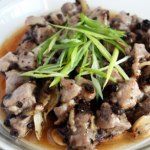 Steamed Pork Short Ribs (豆豉蒸排骨)
Print Recipe
Ingredients
1

pound

pork short ribs

cut into 1-inch pieces

2

tablespoons

fermented black beans

6

slices

ginger

1

clove

garlic

thinly sliced

0.5

teaspoon

salt

0.25

teaspoon

ground white pepper

2

tablespoons

cornstarch

2

tablespoons

Shaoxing cooking wine

chopped scallion

for garnish
Instructions
Coarsely chop the fermented black beans. In a medium three-quart bowl mix all ingredients except for the scallion garnish. Marinate the meat for about 20 minutes.

Transfer the pork ribs into a 9 1/2 inch glass pie plate and steam over boiling water for about 40 minutes. Test a piece of the rib to make sure the meat is tender before removing from the heat. Serve hot on the pie plate garnished with chopped scallion, or transfer to a small condiment sized plate to serve as a dim sum item.