On a misty dreary Sunday morning in September of 1971 soon after I arrived in Boston for my university study, a few college friends and I drove up to Kittery Point, Maine. It took us about an hour to drive there and it was barely noon when we climbed down a short set of steps from the parking lot to the Chauncey Creek Lobster Pier. The weather didn't dampen my anticipation for my very first experience eating Maine lobster. We each ordered a one and a half pound lobster and feasted in our ponchos at the picnic table under a tent. The cost: seven dollars for each of our lobsters. That was an exorbitant price for a casual meal then.
Little did we know lobster retail prices would fluctuate so much that they peaked at more than fifteen dollars per pound in 2006 and plummeted to about seven dollars this summer. So why did lobster price tumble so much recently? Apparently it was the result of a combination of weak economy and successful conservation.
Since the great recession of 2008, the demand for live lobster has decreased steadily as consumers tighten their dining budget. The reduction in demand was also coupled by the increase in lobster catch. For a few decades lobstermen from the Gulf of Maine have been strictly adhering to rules for landing only certain size lobsters and protecting egg bearing female lobsters. This conservation effort has made lobster one of the most sustainable seafood in America resulting in abundance of lobsters.
Lobstermen in Maine have been suffering from depressed wholesale prices over the last few years. In fact many are struggling and on the brink of bankruptcy. Efforts are being made to market lobsters to a wider audience, but it will take years to produce any significant result. In the meantime prices will most likely remain soft while the economy slowly recovers.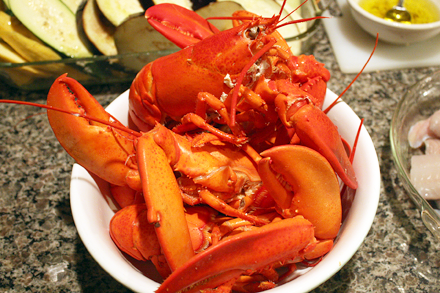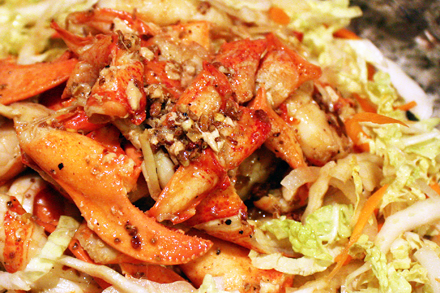 During our beach holiday in July, we spent a week at our friends' house in Provincetown on Cape Cod and feasted on lobsters. What once was a luxury is now affordable. On one of our day trips we stopped at Mac's Seafood in Wellfleet. We bought six lobsters at $7.99 a pound. We shared them with our hosts that evening plus enough leftover for the next day's lunch.
I must confess I grew to really enjoy the simple New England style of seafood preparation during my school years in Boston. Simple boiled lobster with clarified butter is very difficult to surpass. You can taste the sea accompanied by a sweet fresh flavor of the meat. Yet I'm also a child of my culture and I yearn for Chinese flavors. To satisfy this complex urge of mine I came up with a lobster roll covered in Sichuan inspired tastes.
For the leftover lunch I prepared a Yankee standard with a Chinese twist. I made a lobster salad mixed with shredded napa cabbage and carrots dressed in a spicy sesame paste sauce. I stuffed the salad into toasted hot dog rolls and served them with crunchy curly Cape Cod Potato Chips. To round out the lunch I also served chilled Truro Vineyards Cape Blush, a beautiful local rosé wine.
From August through October lobster trapping is at its peak in Maine. Although there is no consensus as to the best time for consuming lobsters, many believe it is during the fall after they have molted and their shells have hardened. Now is the time to take advantage of the price and enjoy this wonderful sustainable seafood in a different way and not just with butter.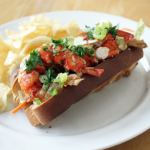 Sichuan Flavored Lobster Rolls (麻醬龍蝦飽)
Print Recipe
Ingredients
2

lobsters

about 1 1/2 pounds each, cooked and removed from shell

1

cup

napa cabbage

finely julienned

1/4

cup

Bermuda onion

finely julienned

1

carrot

finely julienned

6

hot dog buns

scallion

and cilantro chopped for garnishing
Sauce
3

tablespoons

sesame paste

2

tablespoons

Sichuan chili oil

1/2

teaspoon

Sichuan peppercorn powder

1

tablespoon

soy sauce

1

teaspoon

Chinkiang black vinegar

1

teaspoon

toasted sesame oil

1

teaspoon

sugar
Instructions
Kill the lobsters by plunging a sharp knife through the belly between the legs until the tail stop flapping. Half fill an eight to ten-quart stockpot with water. Add about four tablespoons of salt to the water and bring it to a boil. Then put the lobsters in the boiling water to cook for about 20 minutes. Cool and remove the meat from the shell and cut into bite size pieces. Refrigerate the lobster meat.

Finely shred the napa cabbage, carrot and Bermuda onion then set aside. Mix all the ingredients for the sauce. Be sure to mix the sesame paste thoroughly before adding to the rest of the sauce ingredients, because as with natural peanut butter the oil in sesame paste often separates when stored for a long time. You can add more Sichuan chili oil if you prefer a spicier sauce.

Sichuan peppercorn powder can be purchased in a Chinese grocery store. However, you can also grind whole Sichuan peppercorns in a spice grinder after toasting them in a wok or frying pan for about three to five minutes over medium heat.

When you're ready to serve mix the lobster meat, napa cabbage, carrot and onion with the sauce. Taste and adjust seasoning as needed. Toast the hot dog rolls in an oven or toaster oven. Fill the rolls with the lobster salad. Garnish with the chopped scallion and cilantro and serve with a handful of crisp potato chips.