In spite of the hazy smog that has become the norm in China's polluted cities, all but one day of my recent trip to Chengdu (成都), the capital of Sichuan province, was clear and bright. I took full advantage of the good weather and explored many of its vibrant neighborhoods on foot. Living up to the city's reputation as the snacking capital of China, I found a myriad of street vendors selling noodles, dumplings, fried snacks and other local delights. Much of these have been glorified in guidebooks, travel articles and cookbooks. What is not commonly known, however, is the struggle these vendors face in dealing with the authority.
To make a living many poor residents from the country flock to China's cities selling fruits, produce and prepared foods. Most sell their products without a permit and they often clog the sidewalks and main thoroughfares. Over the last few years local city governments have been cracking down on these vendors to clean up the streetscapes under orders from the central government.
The responsibility for enforcement falls to a local administrative unit called the chengguan (城管). The chengguan officers' primary duty is to manage public facilities. They keep order in the parks, direct the flow of pedestrians and bicycles on the streets, and also ensure that street vendors are properly licensed and located within approved zones. Unlike the police their official enforcement power extends only to imposing fines and administrative penalties.
Photos from Chinese Blogs

A fruit vendor's truck was pushed into a ditch by chengguan officers.
A pancake vendor's cart was overturned. Daughter of the vendor crying next to her. Mob overturned the chengguan's truck after the
incident.
But to read posts in the Chinese blogosphere and news media, these officers often use brute force and intimidation in handling the vendors. There are many reports of vendors being crippled or even killed as a result of beating. Vendors' carts and trucks are routinely overturned and damaged. There's been a significant backlash from these incidents recently, and local governments are making attempts to calm the furor. Chengdu for example recently came up with a novel idea to soften the image of chengguan by hiring women officers.
Will this measure improve the situation for the vendors? I seriously doubt it. There is too much distrust between vendors and chengguan as it is. Until rules of law are transparently enforced the vendors are going to continue to play a cat and mouse game with the officers. Chengguan officers themselves are often corrupt and connected to local mobs, making them unlikely to change their tactics.
For now though you can find an incredible array of snack foods available from these street vendors. There are noodles, wontons, fried stinky tofu, scallion pancakes, and all manners of steamed dumplings. You can even buy insects and worms if you need special medicinal remedies.
Of all Chengdu's street foods the best-known and most beloved item has to be Dan Dan Noodles (擔擔麵). Originally vendors walked through the city's neighborhoods feeding hungry local residents from baskets hanging from a pole balanced on their shoulders. In one basket they carried a stove with pot of hot water to cook the noodles while in the other basket were the sauces and toppings. The name "Dan Dan" comes from the Chinese nickname for the pole and baskets used by these vendors.
Dan Dan Noodles are placed in a bowl lined with a spicy sesame sauce and then topped with Sichuan preserved greens. The noodles are mixed together with the sauce and the topping before being eaten. These spicy noodles, with their very complex flavors, epitomize the signature characteristics of Sichuan cooking.
You may not be able to enjoy the authenticity of eating noodles from your local noodle man carrying his stove around your neighborhood, but if you follow my recipe below you will be able to sample one of the most delicious noodles of China.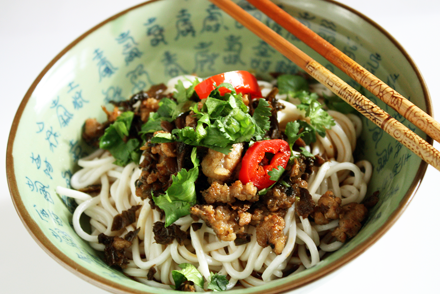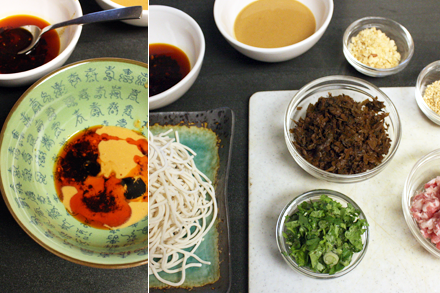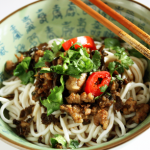 Dan Dan Noodles (擔擔麵)
Print Recipe
Ingredients
1

pound

Shanghai style noodles

4

tablespoons

soy sauce (生抽)

4

teaspoons

Chinkiang black vinegar

scallion

chopped for garnish

cilantro

chopped for garnish
Pork and Ya Cai Topping
1

tablespoon

vegetable oil

4

ounces

ground pork

4

ounces

Sichuan preserved greens (芽菜)

ya cai or pickled mustard stems (榨菜 zha cai)

2

tablespoons

Shaoxing cooking wine

salt
Sesame Sauce
4

tablespoons

sesame paste

3

tablespoons

toasted sesame oil

1

teaspoon

sugar
Chili Oil
5

tablespoons

chili oil

1

tablespoon

dried chili flakes

2

teaspoons

ground Sichuan peppercorns
Instructions
You will need to obtain a few authentic Sichuan ingredients in order to recreate this noodles dish properly. Sichuan peppercorns, either whole or powdered, are essential for the spicy flavor. If you get the whole peppercorns then toast them slightly in a dry wok or frying pan before grinding them in a spice grinder. Ya cai or Sichuan preserved greens is also an important component of this dish but they can be replaced with Sichuan pickled mustard stems, which are more readily available in Chinatown markets.

Mix all the ingredients for the sesame sauce and set aside. Mix all the ingredients for the chili oil and set aside. In a wok heat the vegetable oil until just beginning to smoke then add the ground pork. Stir-fry the pork until just cooked then add the rest of the topping ingredients and continue to stir-fry until the liquid completely evaporate. Set the topping aside.

Divide the sauce by putting one quarter of the sesame sauce mixture and chili oil into each of four bowls. Add one tablespoon of soy sauce and one teaspoon of Chinkiang black vinegar to each bowl.

In a large 8-quart stockpot bring four quarts of water to boil. Cook the noodles in the boiling water for about three minutes or until the noodles are just al dente. Divide the noodles into four portions and put them in each of the bowls. Top the noodles with one quarter of the pork and Sichuan preserved greens topping, and garnish with chopped cilantro and scallion. Serve immediately.