Every summer when the weather gets sultry my partner, Warren, who is a "Swamp Yankee" with family directly descended from the Mayflower Pilgrims, gets nostalgic and yearns to get in touch with his roots. This year is no exception and last week we spent an extended weekend in Provincetown to indulge in his nostalgia. Throughout our stay we drove around Southern New England and ate wonderful shore dinners and other scrumptious meals at restaurants all over Cape Cod. We gorged ourselves on fish and chips, lobster rolls, clam cakes, stuffed quahogs and fresh sweet corns. By Sunday I was lusting after the fresh seafood and local farm produce, and decided to make a shore dinner but gave each course an Asian twist.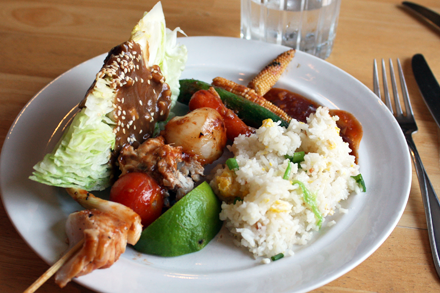 濱海烤海鮮餐
Cape Cod Shore Dinner with Asian Flair

Provincetown, MA
Sunday, July 18th, 2010
—
Lobster and Corn Chowder with Coconut Milk
椰香龍蝦玉米湯
—
Grilled Skewered Seafood with Cod, Blue Fish, Scallops and Summer Vegetables
with Chili Sweet and Sour Glaze
香辣烤海鮮串
Iceberg Wedges with Peanut Sesame Dressing
生菜拌花生醬
Egg Fried Rice with Fish Sauce
魚露蛋炒飯
—
Vanilla Ice Cream with Mango Ginger Compote
姜汁芒果拌香草冰淇淋
Our friends, Matt and Jun, hosted us at their beautiful house in the West End section of Provincetown. The house has a dream kitchen that extends out to a patio, where a charcoal grill sits invitingly. It was not difficult for me to decide to make a grilled seafood main course. Skewered cod, blue fish, scallops and summer vegetables were grilled and glazed with a chili sweet and sour sauce. I adapted the glaze from a Singaporean chili crab recipe but toned down the heat and enhanced the sweet and sour character.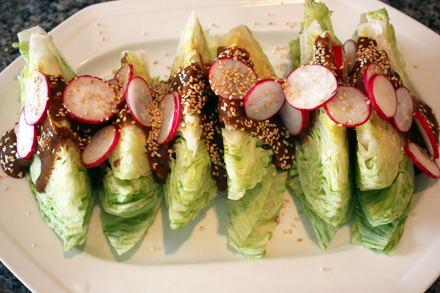 To accompany the main course I created an iceberg wedge salad with a peanut butter and sesame dressing. This salad was inspired by a spicy Sichuan salad of sesame paste served over Chinese lettuce. I made this dressing with peanut butter base instead and flavored with toasted sesame oil and lemon. It tasted extremely refreshing on the cool iceberg lettuce.
For the starch dish I made a very simple fish sauce fried rice. This dish was based on the simple Chinese egg fried rice (蛋炒飯); a staple of many Chinese home cooked meals. The pungent fish sauce created a vivid taste of the seashore.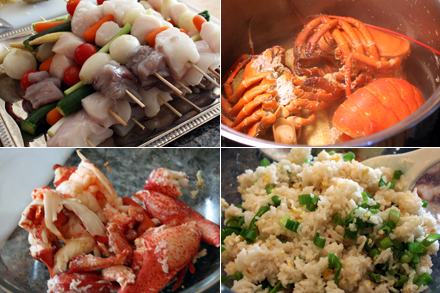 Given Warren's long New England family background, he often requests that I include traditional dishes he grew up eating. But my creative nature often trumps his insistence. This time was no different. Instead of serving the traditional New England clam chowder I created a coconut milk based chowder with lobster and corn to serve as a starter. It was made with a stock of lobster, lemongrass and ginger. As it turned out the chowder was the star of the dinner. Even Warren conceded that it was a winner.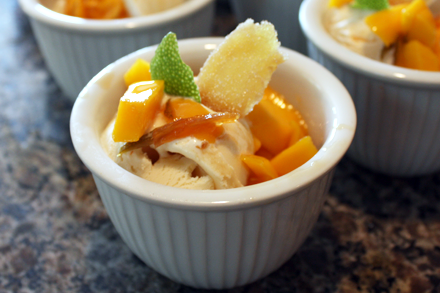 Ice cream is the only choice to end a meal in such warm weather. I made a ginger flavored syrup that was used to macerate finely cut up mangoes. This compote of mango was served over vanilla ice cream, making it the perfect ending for a hot summer Sunday dinner. This year not only did Warren get to rediscover his roots but I got to infuse some Asian influence to the tradition.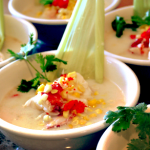 Lobster and Corn Chowder with Coconut Milk (椰香龍蝦玉米湯)
Print Recipe
Ingredients
2

live lobsters

1.5 pounds each

4

ears

fresh corn

shucked

2

cans

coconut milk

(13.5 fluid ounces each)

2

teaspoons

salt

1/2

teaspoon

ground white pepper

Cilantro

sprigs for garnishing
Lobster Stock
4

oz.

fresh lemongrass

4

corncobs

2

kefir lime leaves

fresh ginger

1-inch long piece

12

cups

water
Instructions
Shuck the corn and set aside. Save the corncobs for making the stock. Kill the lobsters by stabbing a knife through the under side of the head. Put all the stock ingredients in a large (5-quart) stockpot and bring to a boil on medium heat. Put the lobsters in the boiling stock and cover. Cook the lobsters for about 20 minutes or until cooked. The entire lobster should be bright red. Take the lobsters out and let cool. Turn the heat to low and continue to simmer the stock.

When the lobsters are cooled remove the meat from the tails and the claws. Cut the lobster meat into slices of about 1/4 inch thick. Put the shells and the head of the lobsters back in the stock and continue to simmer until the stock is reduced to about 4 cups.

Strain the stock and discard all the solid ingredients. Add the corn and coconut milk to the stock and simmer for about five minutes. Add salt and white pepper to the soup and adjust to taste.

When ready to serve equally divide the slices of lobster into eight portions and place each in an individual soup bowl. Pour the piping hot corn chowder over the lobster to heat up the meat. Garnish with cilantro springs and crumbled lobster roe if there is any from the lobster. Serve immediately.