What happens when the cooking of China collides with that of Burma, Thailand, Laos and Vietnam? The result is a fresh cuisine full of bold and explosive flavors. This is precisely what you'll find in the cooking of Yunnan province of southwestern China. I've been researching and developing recipes from this region during the last three months. Indeed I took a trip to Yunnan in November last year to get a better understanding of the region's foodways. Why the sudden interest in this cuisine? I'm glad you asked. I have great news to tell you about my involvement in the imminent opening of a Yunnan restaurant in Tribeca.
Located at 110 Reade Street in New York City, Lotus Blue Restaurant Bar will be the first full service restaurant offering Yunnan style fare in the city. The food will be modern Chinese inspired by this southwestern Chinese cooking. I am working with the restaurant to design their menu and help build a kitchen team. Needless to say the last few months have been full of grueling work.
The challenge of creating authentic Chinese recipes that are true to their origin is in finding the right ingredients. In spite of the fact that New York City has the largest number of Chinese immigrants in the U.S., finding Yunnan ingredients is still daunting. The plentiful markets in Chinatowns throughout the five boroughs can't always be counted on to supply the needed indigenous products. So making adjustments is necessary.
Yunnan has a very unique topography with elevation ranging from 250 feet to more than 22,000 feet above sea level. Thus the climate changes accordingly from tropical in the southeast to frozen tundra in the northwest. Consequently food ingredients also differ widely. Fresh water fish, poultry and fresh herbs dominate the lowland cooking whereas pork, goat and buffalo meat preserved in salt and spices are common in highland preparation.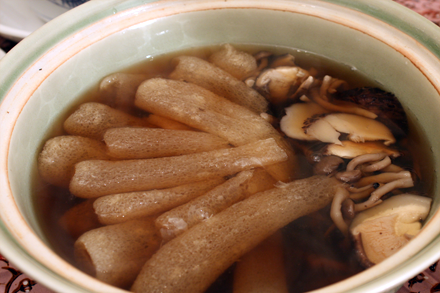 One very distinctive trait of Yunnan cooking is its use of wild mushrooms, which can be found in dense woods throughout the Yunnan-Guizhou Plateau that lies in the center of the province. Some signature mushrooms from this region include matsutake, bamboo pith, tea plant, oyster and morel. (Incidentally black truffles are also found in Yunnan and have become one of the most valuable export products of the region.)
Fortunately it is possible to get a relatively good selection of mushrooms in the New York area. With this in mind I hosted one of many tasting sessions for the restaurant owners a week ago to develop a group of mushrooms related recipes. Some of the highlights included a wild mushrooms salad, cubed sirloin steak with chanterelle sauce, braised chicken with tea plant mushrooms, vegetarian bamboo pith mushrooms soup and stir-fried abalone mushrooms with purple basil. Remarkably all the dishes exuded authentic fragrance and had a taste that truly reminded me of the food I tried in Yunnan. This, in spite of the fact that I used fresh local and dried imported mushrooms that are not necessarily typical of Yunnan.
All these mushrooms dishes will be used in rotation in Lotus Blue's menu. So look out for the grand opening. But if you can't wait to taste the dishes at the restaurant, here is a recipe for the stir-fried abalone mushrooms with purple basil for you to enjoy!
Stir-Fried Abalone Mushrooms with Basil (九層塔炒杏鮑菇)
Print Recipe
Ingredients
12

oz.

abalone mushrooms

also known as trumpet mushrooms

4

oz.

bamboo shoots

1/2

oz.

dried red chili

1 1/2

cups

fresh purple basil

or Thai basil leaves

2

cloves

garlic

thinly sliced

2

slices

fresh ginger root

1/4

teaspoon

Sichuan peppercorn powder

1/2

teaspoon

salt

1

teaspoon

Chinkiang black vinegar

1

teaspoon

sugar

1/3

cup

vegetable oil
Instructions
Cut both the abalone mushrooms and the bamboo shoots into thin slices of about 1/16 of an inch thick and set aside. Rinse and pick the leaves off a small bunch of purple basil to collect about 1 1/2 cupfuls of them. Pat them dry and set aside.

Heat the vegetable oil in a wok until about 400 degree F. Add the sliced abalone mushrooms to the oil and fry until the edges are brown, or about three minutes. Remove the mushroom slices from the oil and drain them on a paper towel.

There should be about two tablespoonfuls of the vegetable oil left in the wok. Add the garlic and ginger and stir-fry for about 30 seconds or until fragrant. Add the abalone mushroom and bamboo shoot slices to the wok. Stir-fry for about 30 seconds then add the Sichuan peppercorn powder, salt, Chinkiang black vinegar and sugar to the wok. Stir-fry for an additional 30 seconds or so then remove the wok from the heat and add the purple basil leaves. Mix all the ingredients around then plate and serve.