For the first century after the introduction of Chinese food to America by the first immigrants to California in the 1850's, Cantonese cuisine reigned supreme. It was the most commonly served food in Chinese restaurants. "Mandarin" cooking, which became the jargon for anything non-Cantonese, appeared in the late 1960's. Still most menus were made up of familiar soy sauce-based non-spicy items. Then in the mid 1960s Shun Lee Dynasty opened in the east side of Manhattan and started serving Sichuan influenced dishes. In 1969, after receiving four stars from Craig Claiborne of The New York Times, the public thronged to the restaurant to sample this new spicy cooking of China.
The American public's interest in exotic Chinese food peaked in the early 1970's when several events culminated in a "perfect storm" of Chinese food mania. First several prominent Chinese chefs arrived here from Taiwan. They were trained in China but exiled to Taiwan, along with their Nationalist patrons, when China fell to the Communists. These chefs opened restaurants in New York City serving unfamiliar cuisine from regions such as Sichuan and Hunan. Chef Peng opened Peng Yuan, Chef T.T. Wang was in charge of the kitchen at Hunam and Wen Dah Tai (Uncle Tai) presided over the kitchen at Uncle Tai's Hunan Yuan. Then, in 1972 President Richard Nixon made his historic visit to China. Americans watched closely on television as President Nixon attended the state banquet at The Great Hall of the People in Beijing. The sumptuous scene was alluring in spite of the fact that the meal was, by comparison to an imperial banquet, rather proletarian. New Yorkers especially went out in droves seeking adventures in the city's new Chinese restaurants.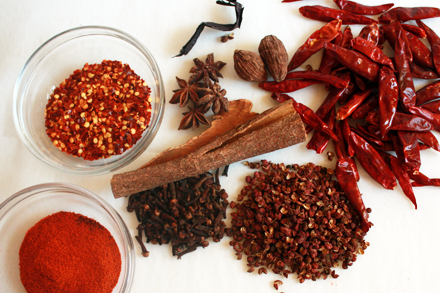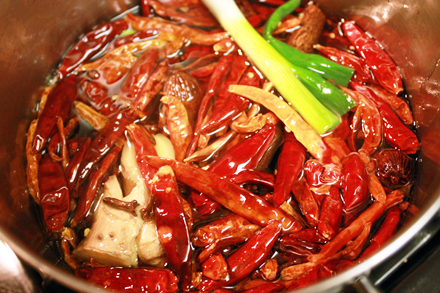 Sichuan cuisine, defined by a numbing and spicy hot (or "mala" 麻辣) sensation created from Sichuan peppercorns and chilies, became a particular favorite. Sichuan dishes such as Kung Pao Chicken and Twice Cooked Pork turned into standard menu items in many Chinese restaurants.
One singularly important ingredient, chili oil, is the foundation of these Sichuan dishes. Chili oil can make or break a dish. Although commercially produced and available in Asian markets, homemade chili oil offers a far superior flavor and is a worthwhile endeavor for the serious Chinese cook.
To make Sichuan chili oil you first infuse various spices in vegetable oil and then pour the infusion over crushed and powdered chili peppers. The oil is left to soak for at least twenty-four hours at which point it will have attained the characteristic spicy heat. The spices I recommend in my version include Sichuan peppercorns, cloves, cassia bark, star anise and black cardamom. These ingredients are available in Asian markets. Of them, Sichuan peppercorns, cloves and star anise are necessary for a good flavor base, cassia bark can be replaced with cinnamon stick and black cardamom is optional. (Regular green cardamom has different flavor so it is not suitable as substitute.)
Although not essential, purple gromwell will give the oil its reddish hue. It is a plant species of genus Lithospermum and is sold in the form of shredded root in many Chinese herbal medicine shops. You can omit this item, which is unusual and can be hard to find, but the oil's color will lack brilliance.
Armed with this delicious and complex oil you can create authentic and sophisticated Sichuan dishes that will make your friends envious. Once you've used homemade chili oil, I guarantee you will never go back to commercially produced one again.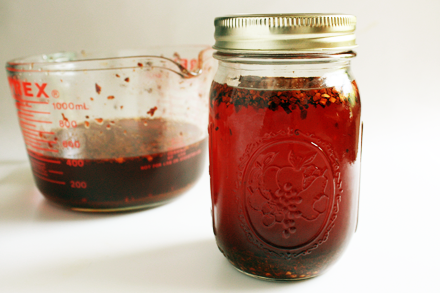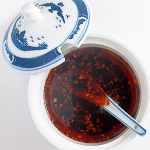 Sichuan Chili Oil (四川辣油)
Print Recipe
Ingredients
4

cups

vegetable oil

fresh ginger

about 1-inch in length

2

scallions

1/4

cup

Sichuan peppercorns (花椒)

2

tablespoons

cloves (丁香)

cassia bark

about a 2-inch square

4

whole star anise

2

black cardamom (草果)

2

cups

dried whole red chilies

purple gromwell (紫草)

a small piece about 1/2-inch square

1/4

cup

dried red chili flakes

1/4

cup

dried red chili powder
Instructions
Soak the Sichuan peppercorns in the oil for at least eight hours or overnight. In a three-quart saucepan cook the oil and Sichuan peppercorns on low heat. Add the ginger root, scallion, cloves, cassia bark, star anise, black cardamom, dried whole red chilies and purple gromwell. Simmer the oil for about 20 minutes.

Put the dried red chili flakes and powder in a three-quart mixing bowl. Strain the oil through a wire mesh strainer and pour it onto the chili flakes and powder. Discard all the other ingredients from infusing of the oil. Let the oil steep in the chili flakes and powder for two or three hours before using.