Song Jiang (宋江), who is an outlaw during the Song dynasty (宋朝) around eleventh century, is also a heroic character in the classic Chinese novel Water Margin (水滸傳) written around the fourteenth century. In the novel he is exiled to Jiang Zhou (江州) after being convicted for a murder. Along with two bailiffs they board a hired river ferry which, unbeknownst to them, is operated by a pirate. Once they reach the middle of the river the pirate demands that they turn over their possessions and choose "shaved noodles" (板刀麵) or "wonton" (餛飩) for their last meal. Upon further clarification the pirate explains they can either be killed under his machete like dough being shaved into noodles or they can kill themselves by jumping into the river like wonton in a soup. Such is the poetic macabre image of wonton in one of the most beloved literary works of ancient China.
Wonton has a long history in Chinese cooking. They were first described as a "cake made by wrapping meat filling with dough" in a tome written around C.E. 544 called Qi Min Yao Shu (齊民要術), which can be loosely translated as Main Techniques for the Welfare of the People. Given their long history it is not surprising that wontons have spread throughout China and have evolved over the years.
In northern China traditional wontons are made from pork stuffing enclosed in thinly rolled wrappers, which are made with flour and water. They are usually served in a broth as soup. Here they are known as "hundun" (餛飩), the same characters as recorded in the classic Chinese texts.
Southerners on the other hand make their wontons with variety of ingredients such as pork or shrimp, and wrap them in egg noodle wrappers. They are often served in a soup with or without noodles. The Cantonese also serve them deep-fried covered with a sweet and sour sauce. These are the forms found in most dim sum restaurants and are familiar to many Americans. In the Cantonese dialect they are known as "wonton" (雲吞). In the neighboring province of Fujian they are better known as "bianshi" (扁食) and are sometimes stuffed with fish paste.
But the most exotic way of serving wontons is Sichuan style. They are boiled, drained and served in a spicy chili oil sauce. This dish is known as Chili Oil Wonton (紅油抄手). Here wontons are called "chaoshou" which can be literally translated as "arm fold" because the folding technique makes them look like folded arms.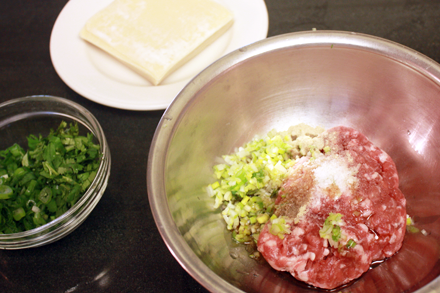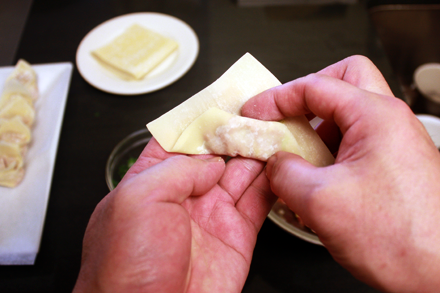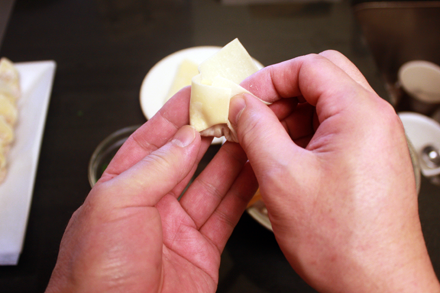 I'd like you to try this version by making the recipe below. It is a perfect dish for using the Spicy Chili Oil from my last post. Although store bought chili oil is quite acceptable, my homemade version adds layers of complex flavors. If you decide to try this dish adjust the amount of chili oil to your tolerance level. Otherwise the oil can wreak havoc in your digestive system.
Oh by the way, Song Jiang is rescued in the nick of time by his friends and avoids the terrible fate of becoming a human wonton. Heroes never die.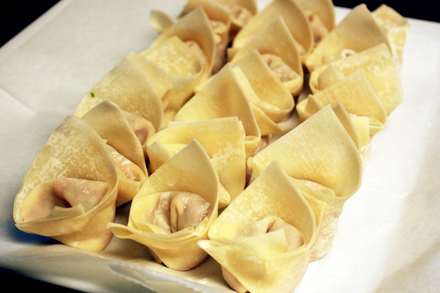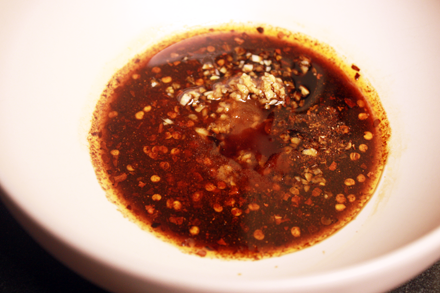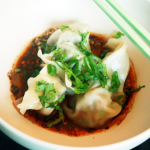 Sichuan Chili Oil Wonton (紅油抄手)
Print Recipe
Ingredients
1/2

lb.

square wonton wrappers

scallion

and cilantro chopped for garnish
Pork Stuffing
8

oz.

ground pork

2

tablespoons

scallion

finely chopped

1

tablespoon

toasted sesame oil

1/2

teaspoon

salt

1/4

teaspoon

ground white pepper
Chili Oil Sauce
1/4

cup

soy sauce

2

tablespoons

Chinkiang black vinegar

2

tablespoons

Sichuan spicy chili oil

1

tablespoon

toasted sesame oil

1

teaspoon

sugar

1

teaspoon

Sichuan peppercorn powder

1

teaspoon

garlic

minced
Instructions
Combine all the pork stuffing ingredients together and mix well. Set aside. Put about one teaspoonful of the pork stuffing in the center of the wrapper. Turn the wrapper so that the corners are facing up and down and left and right. Lift the bottom corner and curl it over the stuffing, then tuck it behind and slightly under the stuffing. Next fold the left corner to the middle of the dumpling. Fold the right corner to the middle so that it slightly overlaps the left corner then press to seal. This recipe yields about 20 to 25 wontons.

Combine all the chili oil sauce ingredients together and mix well. Divide the sauce into four bowls and set aside.

Put about two quarts of water in a three-quart stockpot. Heat until it starts to boil. Add the wontons to the pot. Boil the wontons for about three minutes so that the stuffing is cooked through. Drain the wontons thoroughly and divide them equally into the bowls with the chili oil sauce. Garnish with chopped scallion and cilantro and serve immediately.