Browse through the aquariums at the seafood markets in Lei Yu Mun in Hong Kong, or at seafood restaurants in Guangzhou and Qingdao, you will find a plethora of shellfish display. There are abalones from Dalian, geoduck from Canada, scallops from Japan and oysters from America. All to satisfy the growing appetite for fresh seafood in China as the population becomes more affluent. Fortunately shellfish farming is one industry that is sustainable. Some shellfish farming, like oyster farming can even restore the environment. For this reason I've decided to highlight oysters for my rather late post in support of Jacqueline Church's 4th Annual Teach a Man to Fish Sustainable Seafood Event.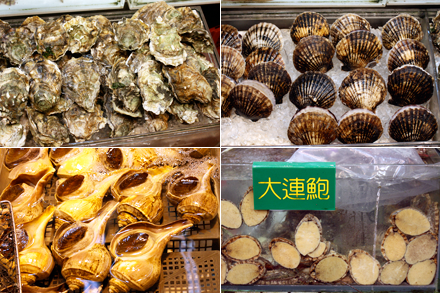 October is National Seafood Month, but environmentally concerned organizations are calling it National Sustainable Seafood Month to raise awareness of responsible seafood consumption in order to maintain our oceans' balance. Every year my friend Jacqueline Church hosts this bloggers event where sustainable seafood is highlighted in blog posts. This year Jackie hopes to attract more bloggers to participate and I am once again contributing.
The recipe I selected is Crispy Fried Oysters. It is a very popular way of serving fresh juicy oysters in many parts of China. These crisp fritters are often accompanied by salt spiced with five-spice or Sichuan peppercorn, or sometime sweet and sour sauce.
The key to this dish is to use a light and fluffy batter to enclose the succulent oysters. I started with a beer batter recipe for fish and chips. After experimenting with a few variations of the batter I concluded that the addition of a little cornstarch to the flour creates a perfect puffed crunchy shell. I also replaced the beer with water so as not to impart a yeasty flavor.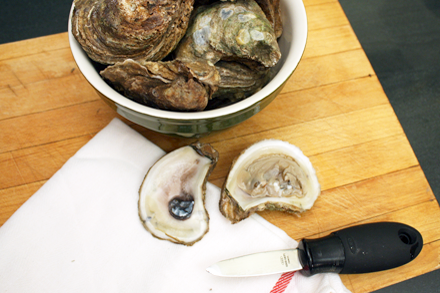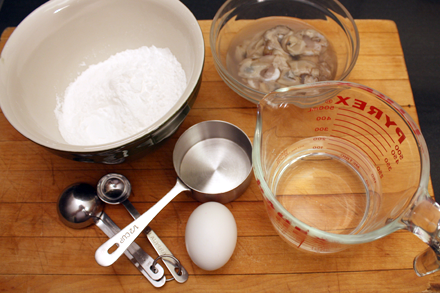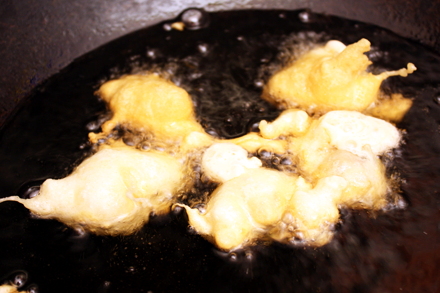 Choose meaty east coast oysters such as Blue Point or Wellfleet for this recipe. Genuine Blue Point oysters were harvested from the Great South Bay of Long Island. Mark Kurlansky wrote in The Big Oyster: History on the Half Shell
that according to legend, oysterman Joseph Avery first marketed these oysters as Bluepoints to New Yorkers around 1815. The branding was so successful that soon all large oysters from the Great South Bay were similarly marketed. These large juicy and briny oysters maintain a tender texture when cooked. Making them the best choice for fried oysters.
Traditionally the oysters are par-boiled before being battered and deep-fried. But I feel the pre-cooking makes the oysters dry. So instead I am recommending that the oysters merely be patted dry before being dredged in flour and batter. The result is a delicious morsel of tender flavorful oyster hiding under a crispy airy crust.
Given that oysters are now sustainably farmed and readily available in the market, we can enjoy this delicious delicacy guilt free. So go ahead and try my recipe and impress your guests.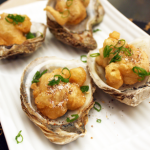 Crispy Fried Oysters (酥炸生蠔)
Print Recipe
Ingredients
12

fresh Blue Point oysters

1/4

cup

all purpose flour

1

tablespoon

finely chopped scallion for garnish

Vegetable oil for deep frying
Batter
1

cup

all purpose flour

1/4

cup

tapioca starch

1

egg

1

cup

water

1/4

teaspoon

salt

1

teaspoon

baking powder
Sichuan Peppercorn Salt
1

tablespoon

Sichuan peppercorns

1

tablespoon

salt
Instructions
Shuck all the oysters and keep refrigerated in their liquor until ready to cook. In a small mixing bowl combine the flour, tapioca starch, salt and baking powder. Beat the egg in a small bowl until frothy. Add the egg to the flour mixture and mix. Slowly add the water to the flour mixture until all the ingredients are combined. Do not over mix. Don't worry if the batter is still slightly lumpy. Set aside and let it rest for about 30 minutes.

Toast the Sichuan peppercorns in a frying pan over medium heat until fragrant. About ten minutes. Be sure not to burnt the peppercorns. Grind the peppercorns in a spice mill or a blender until completely pulverized. Combine the ground Sichuan peppercorn with the salt and set aside.

Heat the vegetable oil in a wok to about 300 F, or a drop of batter should brown in about one minute. When ready to deep fry drain the oysters thoroughly six at a time. Pat dry on a piece of paper towel then roll them in the dry flour. Then dredge them in the batter making sure they are completely coated. Slowly put the battered oysters in the hot oil and fry them for about two minutes or until golden brown. Turn them over half way through.

Drain the oysters on paper towels. Serve them hot with the Sichuan peppercorn salt as condiment.