When it comes to serving Thanksgiving dinner in our household there is only one menu: Warren's mom's. I've made the same New England Thanksgiving dinner for more than twenty years. The celebration always starts with assorted homemade pickles and relishes, and basketful of piping hot Parker House rolls. Then follows roast turkey with oyster stuffing accompanied by mashed potato, creamed peas and onions, and mashed winter squash and turnip. Finally the dinner ends with apple and pumpkin pies served with vanilla ice cream or Vermont cheddar cheese. As always there will be plenty of leftovers. Since Warren forbids me to alter the Thanksgiving feast, I've become very creative with leftovers. This year I decided to make Chinese pumpkin pancakes with the leftover pumpkin pulp from making the pie.
Traditionally there is no separate dessert course in Chinese cuisine. Both savory and sweet dishes are routinely served together. It often confuses foreigners visiting China when a sweet dish is served in the middle of the meal. Recently though many progressive restaurants are separating a sweet-dish section at the back of their menu, adapting to the western culinary culture. One very common sweet dish that complements other savory dishes is pumpkin pancake.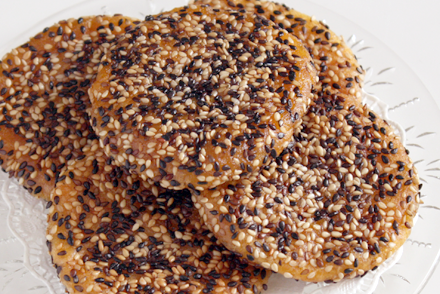 Chinese pumpkin pancakes are made from mashed pumpkin and glutinous rice flour. They are often coated with panko breadcrumbs or sesame seeds. After being fried till golden brown and crispy, they are served immediately while the inside is still soft and sticky. The texture is very much like Japanese mochi, but sweet and starchy with pumpkin flavor.
To zest up the pancakes we need pumpkins that are sweet and flavorful. I like to use a variety called Kabocha. It has a dark green skin with beautiful orange meat. Sugar pumpkin with bright orange color and sweet meat, although less flavorful, is also a good choice. Regardless of whichever variety you choose be sure the pumpkin meat is steamed until tender for easy mashing. It is also important to mix in the glutinous rice flour while the mashed pumpkin is still hot. This should partially cook the flour, forms a more sturdy dough, and makes it easier to handle.
Chinese pumpkin pancakes are very versatile and you can serve them as dessert or along side other savory dishes. So don't wait until you have leftover pumpkin. Go out and get some pumpkin whenever they are in season and make pancakes. I guarantee you will enjoy them.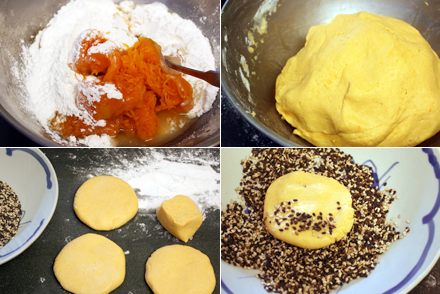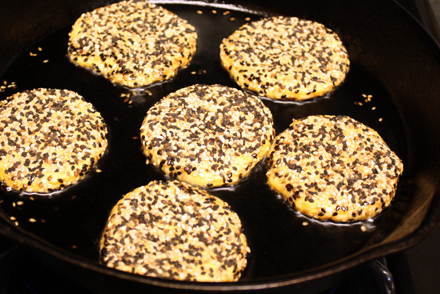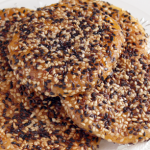 Sesame Coated Pumpkin Pancakes (芝麻南瓜餅)
Print Recipe
Ingredients
8

ounces

pumpkin

peeled and seeded

2

cups

glutinous rice flour

(mochi flour)

1/2

cup

sugar

1/2

cup

sesame seeds

white, black or combination of both

Vegetable oil

for frying
Instructions
Peel and remove the seeds from the pumpkin, then cut it into about 2-inch squares. Place the pumpkin on a plate and steam over boiling water for 20 minutes or until it is completely soft. Remove from the steamer and drain any access water from the plate.

Place the pumpkin in a medium mixing bowl and add the glutinous rice flour and sugar while still hot. Mix the ingredients together well until a smooth dough is formed. Divide the dough into 16 equal pieces. Roll each piece into a ball and press down to form a disk of about three inches in diameter and about 1/4 inch thick. In a shallow bowl spread the sesame seeds. Coat the pumpkin pancakes completely with sesame seeds by patting the dough down onto the seeds.

Heat about 1/4 inch of vegetable oil in a medium (10 inches diameter) frying pan over medium heat. When the oil reaches about 300 F place eight of the pancakes onto the frying pan and fry for three to four minutes or until the side is golden brown. Flip the disk and brown the other side for three or four minutes. Remove the pancakes from the pan and place them on a paper towel to absorb excess oil. Repeat the frying with the rest of the pancakes.

Serve the pancakes while they are still hot.