Arriving in America in the 1970's I was introduced to a few American Chinese restaurants that still served chop suey and chow mein. I remembered that one particular item on the menu aroused my curiosity. It was Moo Goo Gai Pan. Expecting a dish with mushrooms and chicken I ordered it. Imagine my horror when the dish arrived displaying a rainbow array of vegetables with pork slices. There was no Moo Goo. There was no Gai Pan.
The name "Moo Goo Gai Pan" is a Cantonese phonetic translation for Stir-fried Chicken with Mushrooms. Moo Goo (蘑菇), or Mo Gu in Mandarin, refers to mushrooms, and Gai Pan (雞片), or Ji Pian in Mandarin, means sliced chicken. Combined the characters refer to any stir-fry dish that contains mushrooms and sliced chicken. There seems to be no definitive record of when the name was first used but its simplicity very much suggests that the dish was probably of humble origin. It's most likely the dish was popularized from being listed in the menus of American Chinese restaurants.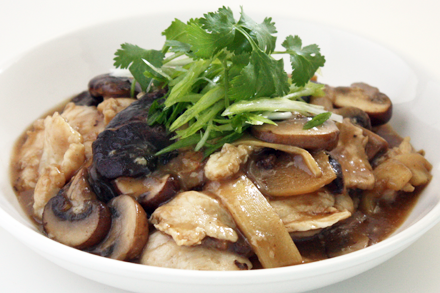 Sadly Moo Goo Gai Pan has become a generic term for any stir-fry with psychedelic color ingredients. Often shrimp, pork or other proteins substitute for the chicken. Mushrooms are regularly omitted in favor of snow peas, green and red peppers, water chestnuts, baby corns and other colorful vegetables.
I don't object to creating innovative combinations of ingredients to make a stir-fry dish, but don't call it Moo Goo Gai Pan. It's like making a soup of beef with kale and calling it clam chowder. I would even respect a recipe that included sliced chicken with snow peas and red peppers along with mushrooms. At least it contains the basic ingredients with other flourishes.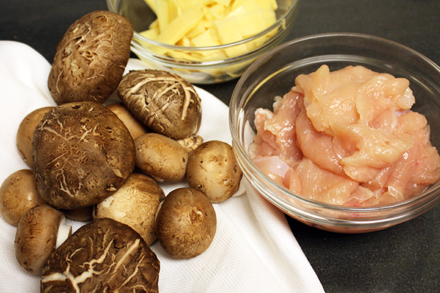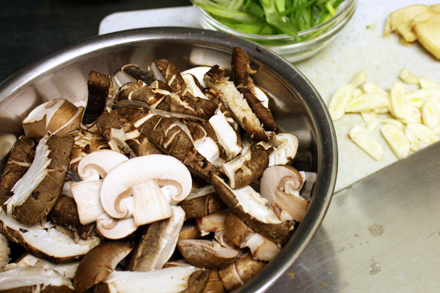 For me I interpret the dish literally as simply a stir-fry with chicken and mushrooms. Although in my recipe I decided to add bamboo shoots for extra crunchiness, and I use two types of mushrooms — crimini and shiitake — to infuse extra flavors.
Moo Goo Gai Pan is a dish that uses the moist stir-fry technique, which results in a slightly thickened sauce. To complement this sauce the chicken is coated with an egg white and starch mixture then shallow fried in a pool of oil before being drained thoroughly and used for stir-frying. This process, known as "velveting" results in tender chicken covered with a silky smooth coating.
If you like a colorful stir-fry then go ahead, take this basic recipe and add snow peas, thinly sliced carrots, red or green peppers or any other non-leafy vegetable. But keep the sliced chicken and the mushrooms intact. You won't be ridiculed for misinterpreting the name of the dish.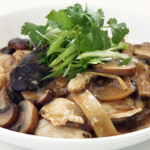 Moo Goo Gai Pan (蘑菇雞片)
Print Recipe
Ingredients
12

ounces

chicken breasts

(boneless skinless)

4

ounces

crimini mushrooms

or button mushrooms

4

ounces

fresh shiitake mushrooms

2

ounces

bamboo shoots

2

cloves

garlic

thinly sliced

4

fresh ginger root

(thin slices)

1

teaspoon

toasted sesame oil

1/3

cup

vegetable oil

1/4

cup

Chinese chicken stock

or water

Slices

scallion

and cilantro for garnish
Velveting Mixture
2

teaspoons

cornstarch

1/2

teaspoon

salt

1/2

teaspoon

ground white pepper

1

egg white
Sauce
1/4

cup

rice cooking wine

1/2

cup

Chinese chicken stock or water

2

tablespoons

oyster sauce

1

tablespoon

soy sauce

1

tablespoon

cornstarch
Instructions
Cut the chicken breasts against the grain into thin slices of about 1/8 inch thick. Place the chicken slices in a bowl and mix in all the velveting ingredients. Set aside.

Cut both the crimini and shiitake mushrooms into slices of about 1/4 inch thick. Set aside. Cut the bamboo shoots into thin slices of about 1/8 inch thick and set aside. Also cut the garlic and ginger into very thin slices of about 1/16 inch thick.

In another bowl mix all the sauce ingredients together and set aside.

Heat all the vegetable oil in a wok until just about reaching the smoking point. Drop the chicken slices into the hot oil and stir to keep them separate. Cook to about 3/4 done or until the outside of the chicken turns white but the center is still slightly pink. Drain the chicken thoroughly and set aside in a bowl. Pour all the oil out of the wok and quickly rinse the bottom of the wok with plain water scraping off any starch that's stuck to the bottom.

Dry the wok and return to the heat. Put about 1 tablespoon of vegetable oil back into the wok. Add the garlic and ginger slices and stir-fry for about one minute without letting them burn. Add the mushrooms and the chicken stock into the wok. Stir-fry for about 30 seconds cover and let sit for another one minute. Uncover the wok and return the chicken slices to the wok. Add the bamboo shoots and stir-fry for another 30 seconds. Add the sauce mixture into the wok. Be sure to stir the mixture to ensure the starch is completely combined. Stir-fry until the sauce thickens. Add the sesame oil and mix well. Plate and garnish with scallion slices and cilantro.