Think of sweet potatoes and you probably think of starchy roots candied or French-fried as side dishes. Or may be a dessert such as sweet potato pie to end a hearty meal. For many Chinese, however, sweet potato greens would also come to mind. These leaves are commonly used as a vegetable in Chinese home cooking. Sweet potato greens are just one out of multitude of Asian produce you can get in many Asian markets throughout New York City. On Labor Day (September 6th) you can learn how to identify and to cook this and other Asian vegetables at the first Asian Feastival in Flushing.

Produced by Definity Marketing, Asian Feastival is a one-day culinary celebration of the vibrant Asian food scene in Queens. As one of the most diverse boroughs of New York City, Queens has a large number of Asian restaurants. The organizer of Asian Feastival has signed up many of them to participate in the event. But unlike most other food events, tasting and sampling food from all over Asia is not the only activity. The organizer is putting together a very exciting program that will enrich your knowledge on Asian cooking and culinary culture. There will be talks and discussions on wide ranging topics such as Asian spices and rice, a culinary bike tour of Queens, demonstration of noodle pulling, and many others. Cathy Erway of Not Eating Out in New York, and I will be in an Asian farmer's market setting discussing Asian produce and their usage.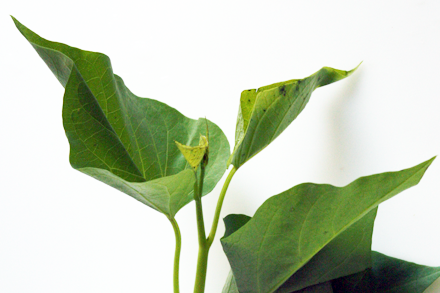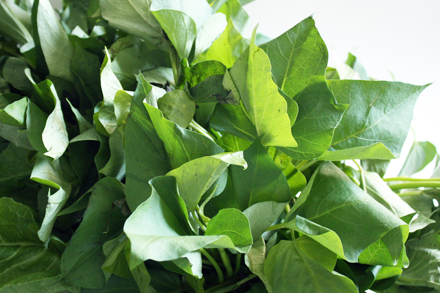 In the mean time, let me tantalize you with the sweet potato greens (地瓜葉 or 茨苗). Back in Asia they are plentiful in rural areas. For years they've been considered as rustic country food. But they've been discovered by the urban dwellers and now are sought after eagerly when in season. And they do have a rather short season of only during the summer months. Wendy Chan, of Definity Marketing, described them perfectly, "My folks used to tell me they were fed to the animals as they were so cheap and in abundance. Now we are fighting with the porky pigs…"
I love sweet potato greens because of their subtle grassy earthy flavor. You must choose the very tender leaves for this vegetable to be palatable. So pick the young shoots and leaves from the plant, and discard the stringy stems. They are most often stir-fried. But they can also be blanched and served with a soy sauce dressing, or made into a soup. Look for them while the weather is still hot and are still available at the markets in Chinatown or Flushing.
We may not be able to show you sweet potato greens by Labor Day, but there are so many other Asian produce available at that time that you will be amazed at the variety. So come out to Flushing this Labor Day and feast on the incredible food Queens has to offer.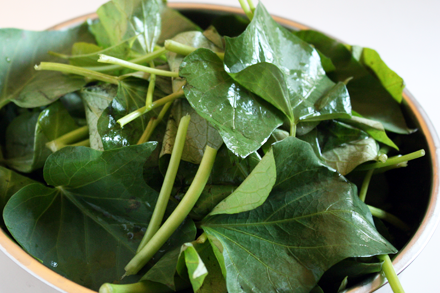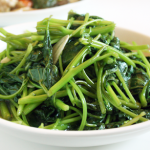 Stir-Fried Sweet Potato Greens (清炒地瓜葉)
Print Recipe
Ingredients
12

oz.

sweet potato greens

地瓜葉

2

cloves

garlic

thinly sliced

2

tablespoons

vegetable oil

2

tablespoons

oyster sauce

1/2

teaspoon

salt

1/2

teaspoon

ground white pepper
Instructions
Pick young tender leaves off the plant and discard the stem. Wash thoroughly, then drain the greens in a colander and set aside. Heat the vegetable oil in a wok over high heat until just reaching smoking point. Add the garlic slices to the wok and stir-fry until they just turn brown. About two minutes. Put the sweet potato greens in the wok and stir-fry for another minute or so. At this point the leaves will be wilted. Add the rest of the ingredients and continue to stir-fry for another minute. Plate the vegetables and serve immediately.