For millenniums the Chinese prepared their meals with the express purpose of maintaining a healthy constitution. In fact the earliest texts of Chinese cookery read more like a pharmacologist's guide than recipe book. It is not surprising that this practice has become a formalized discipline known as food therapy, and making herbal soup one of its best-developed aspects.
For the Chinese New Year banquet last month I made an herbal pork soup. It was created with Warren in mind. He was diagnosed with diabetes about eight years ago. Over the years I've cooked different dishes, with ingredients to help him balance his sugar level naturally. Unfortunately many ingredients such as bitter melon and ginseng are not things Warren enjoys. But he likes mountain yam, which is one of the most effective foodstuff that help the kidneys regulate blood sugar level. And so it was that I came to make pork herbal soup with mountain yam for the banquet.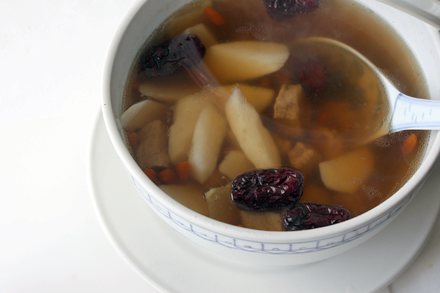 Mountain yam is common in both Chinese and Japanese cooking. Its common name is derived from the Japanese yamaimo (山芋). In Chinese it is known as shan yao (山藥), which translates into "mountain medicine." Evidence that this tuber has been known to have special medicinal properties since ancient times. The flesh of mountain yam is starchy and becomes very slimy when cut. In Japanese cuisine mountain yam is grated and served as a side dish as in tororo or with soba as in yamakake soba. People unfamiliar with its texture often balk at eating the repugnant slimy glob.
In addition to the mountain yam I added fox nuts to the soup. Fox nuts, I learned a few months ago from a friend visiting from Singapore, are also known to be very helpful in controlling blood sugar. They are the seeds of a plant similar to water lily, and are harvested all over southern China and India, where they are popped like pop-corn and eaten as snack food.
To make herbal soup we almost always cook the medicinal and the food ingredients together for a long period of time, which releases whatever medicinal elements there are into the liquid. There are two different techniques. One method is to simmer the soup slowly in a pot directly over the heat. The other way is to place the soup ingredients in a covered tureen and then place the tureen in a large covered pot to steam. The second way cooks the ingredients gently and often results in a beautifully clear soup. This is the method I used for today's recipe.
When I posted this soup on my Chinese New Year article a reader, Ana Chiu, requested the recipe. I was pleasantly surprised that there is interest in making herbal soup, which really is an acquired taste. I'm offering you this recipe to encourage people to start learning about Chinese food therapy and especially herbal soups to help maintain good health.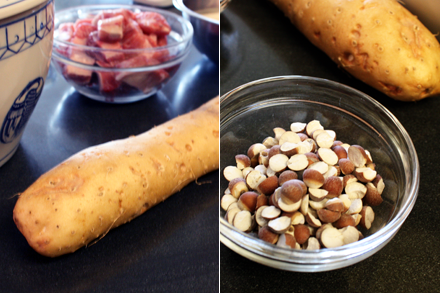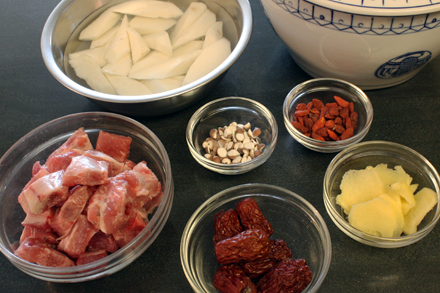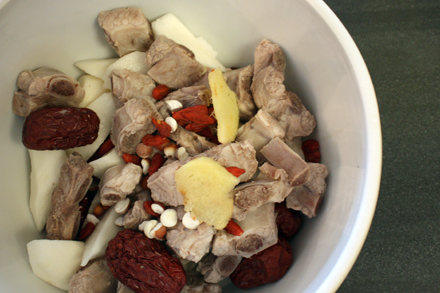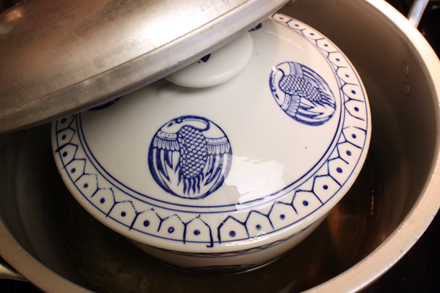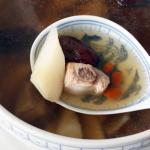 Pork Rib and Mountain Yam Soup (排骨山藥湯)
Print Recipe
Ingredients
12

ounces

pork spareribs

8

ounces

mountain yam (山藥)

1

tablespoon

fox nuts (芡實)

1

tablespoon

goji berries (枸杞)

6

jujubes (紅棗)

6

slices

fresh ginger

1/2

cup

Shaoxing cooking wine (紹興料酒)

2

teaspoons

salt

1/4

teaspoon

ground white pepper

5

cups

water
Instructions
Have the butcher saw the spareribs into about one inch thick pieces. Put the spareribs in a medium four-quart saucepan and fill with enough water to cover completely. Par-boil the spareribs over medium heat until the meat is just cooked, about four minutes. Drain the spareribs completely and rinse under cold water to get rid of any scum.

Peel and cut the mountain yam into about one-inch irregular shape pieces.

Put the spareribs in a Chinese soup tureen. Add the rest of the ingredients into the tureen. Cover the tureen. Place the tureen in a stockpot large enough to completely enclose it. Add water to about two inches deep in the pot. Steam the soup by simmering the water for two hours. Check every 30 minutes to make sure there is always enough water.

Lift the tureen out of the pot and serve the soup piping hot.