In 1953 Admiral Arthur W. Radford, chairman of the U.S. Joint Chiefs of Staff, visited Taiwan for talks with President Chiang Kai-Shek. The presidential palace chef, Peng Chang-Kuei (彭長貴), was asked to create a banquet to entertain the illustrious guest. After planning some traditional Hunan dishes, he decided to create a few new dishes for the menu. One of them was General Tso's Chicken. Thus the world's most famous Chinese dish was born.
This story was recounted in a television interview on Formosa TV in 2011 with Chef Peng. (The interview is available on You Tube in Mandarin.) Chef Peng, who followed the Nationalist government of Chiang Kai-Sek to Taiwan after the defeat by the Communists, was originally from Hunan. He was one of many official chefs who fled the mainland in fear of communist persecution. He named this dish to honor a courageous Hunan general from the Qing Dynasty, and to show contempt for the other famous Hunan military man – Mao Tse Tung.
But the origin of General Tso's Chicken has been a topic of discussion and speculation for many years. In the generally accepted version two New York City Hunan restaurants, opened by Chef TT Wang and restaurateur David Keh, claimed to have invented the dish in 1971. But Francis Lam reported in a Salon article that the chefs of these two restaurants broadly copied the menu of a Hunan restaurant in Taiwan run by Chef Peng. By the time Chef Peng moved to New York City a year later and opened his own restaurant, Peng Yuan, he was considered a latecomer and his original General Tso's Chicken ended up being considered a second rate copy.
Chef Peng's cooking is deeply rooted in the Hunan tradition that incorporates garlic, vinegar and spicy heat. His version of this dish is made with chicken fried with a very thin coating of starch and covered in a sauce that's more savory than sweet. But it is the version by Chef TT Wang at his restaurant, Hunam, that ended up becoming the one beloved by Americans. The chicken is covered in a thicker crunchier coating and the sauce is sweeter.
It is also a similar version of Chef TT Wang's General Tso's Chicken that I discovered in Diana Kuan's new cookbook called The Chinese Takeout Cookbook
. Diana is a Chinese food blogger, who has been my friend since I started blogging. She blogs at Appetite for China and she is incredibly meticulous with her recipe development. I have used her recipes on numerous occasions with great success. So when I wanted General Tso's Chicken, I whipped out her cookbook and made it myself instead of calling for takeout. To celebrate the Chinese New Year, Diana has generously offered to give a copy of her cookbook to one of my readers. You can have a chance to receive this cookbook if you submit a comment at the bottom of this post. I will randomly select one of you on March 8th.
You may have ordered General Tso's Chicken countless times from your local Chinese takeout. But with this recipe from Diana Kuan you can make it at home just like Chef TT Wang made during the 1970's when it was first introduced to the American public. It just won't be the original one Admiral Radford ate in 1953.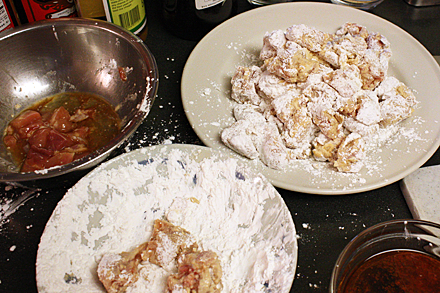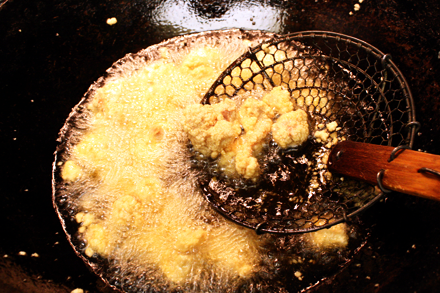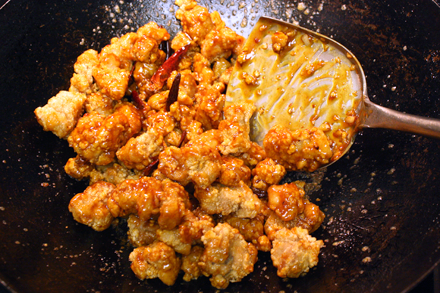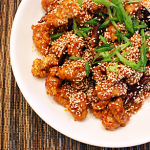 General Tso's Chicken (左宗棠雞)
Print Recipe
Ingredients
1

pound

chicken

boneless skinless thighs, cut into 1-inch cubes

1 1/2

cups

cornstarch

1/2

teaspoon

salt

1/2

teaspoon

ground black pepper

3

cups

vegetable oil

for frying plus 1 tablespoon for stir-frying

8

dried red chilies

, whole chilies or substitute 1/4 teaspoon dried red chili flakes

2

cloves

garlic

minced

1

teaspoon

white sesame seeds

for garnish

Scallions

green parts thinly sliced, for garnish
Marinade:
1

tablespoons

soy sauce

1

tablespoon

Chinese rice wine

or dry sherry

2

egg whites
Sauce:
1/4

cup

chicken stock

or substitute water

1 1/2

tablespoons

tomato paste

1

tablespoon

soy sauce

1

tablespoon

rice vinegar

1

teaspoon

hoisin sauce

1

teaspoon

chili paste

1

teaspoon

sesame oil

1

tablespoon

sugar

1

teaspoon

cornstarch
Instructions
Prepare the marinade: In a large bowl, combine the soy sauce, rice wine, and egg whites. Coat the chicken to the marinade mixture and let sit for 10 minutes.

Prepare the sauce: In a small bowl, combine the chicken stock, tomato paste, sugar, soy sauce, rice vinegar, hoisin sauce, chili paste, sesame oil, sugar, and the 1 teaspoon of cornstarch. Stir until the sugar and cornstarch are dissolved. Set the sauce aside.

In a large bowl or deep plate, toss the 1 1/2 cups cornstarch with the salt and pepper. Coat the marinated chicken in the cornstarch and shake off any excess before frying.

Heat the 3 cups of peanut or vegetable oil in your wok until it registers 350°F on an instant-read oil thermometer. Working in 2 or 3 batches, add the first batch of chicken cubes and fry until golden brown on the outside and cooked through, about 4 to 5 minutes. Remove the chicken with a slotted spoon and drain on paper towels. Repeat with the rest of the chicken.

Drain the oil into a heatproof container and save for discarding. Wipe the wok with a paper towel to remove any brown bits, but don't wash.

Reheat the wok or skillet over medium-high heat. Add another 1 tablespoon of oil and swirl to coat the base and sides. Add the dried chilis and garlic to the wok and stir-fry until just fragrant, about 20 seconds. Pour in the sauce mixture and stir until thickened, about 1 to 2 minutes.

Return the chicken to the wok and stir well to coat with sauce. Transfer the chicken to a serving dish. Garnish with white sesame seeds and scallions. Serve with white rice and vegetables.