It's official! Lotus Blue is now open. Four months of researching and developing the menu, plus hiring and training of the kitchen staff finally culminated in our grand opening last Tuesday, February 21st. New York's first restaurant serving a full menu of authentic and modern dishes from Yunnan province of China is now open… and I am having the thrill of a lifetime.
For years I dreamt of opening a restaurant but it remained just that: a dream. I resisted the urgings of many of my friends because my fear of failure was too strong. That is until I started working with Lotus Blue's owners, Robert Zhu and Jeffrey Lim. Robert operates two very successful restaurant properties in Beijing, and was looking to expand his operation to New York. Jeffrey came on board to become the general manager of the restaurant. After more than a year of careful research and planning, a concept emerged in early 2011 to create a Yunnan themed restaurant. By the time I agreed to be their consulting chef in October they found a location for Lotus Blue in the old space of Tribeca's Nam restaurant. My dream of being intimately connected to a restaurant kitchen became a reality.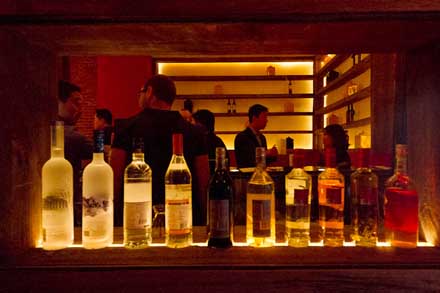 Photography by Jude Tan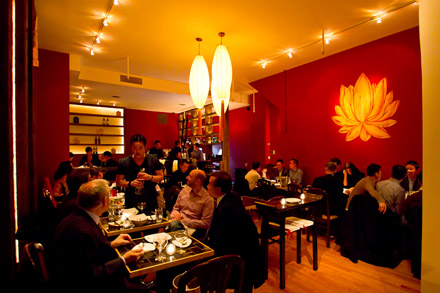 Photography by Jude Tan
From the very beginning of my involvement with Lotus Blue I wanted freshness and excitement in the menu. Surveying the authentic Chinese restaurant scene in New York I found them mostly operated by recent immigrants, who want to faithfully reproduce their hometown cooking. This is a laudable approach but is often lacking in innovation. Other modern Chinese restaurants try to fuse Western style cooking techniques to modernize Chinese food. Done well it can create spectacular result, but in my opinion not truly Chinese food.
I chose a different route by creating new dishes using classic Chinese cooking techniques and staying true to the flavors of Yunnan. It is by no means a novel idea to modernize Chinese food in this way. Many upscale Chinese restaurants in Asia use this approach to create successful and innovative menus. I am merely adapting this method to the Yunnan inspired menu of Lotus Blue. What ensued is a collection of new interpretations for many traditional dishes.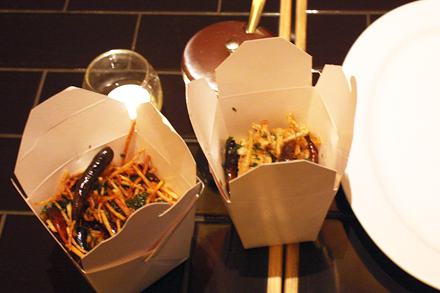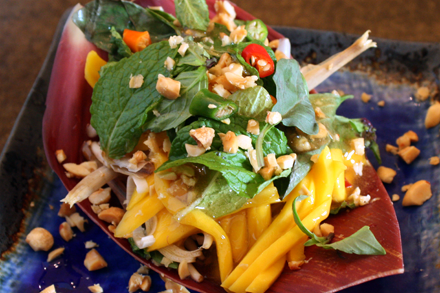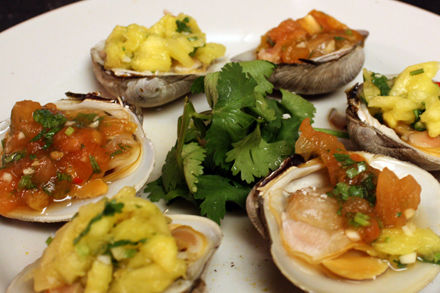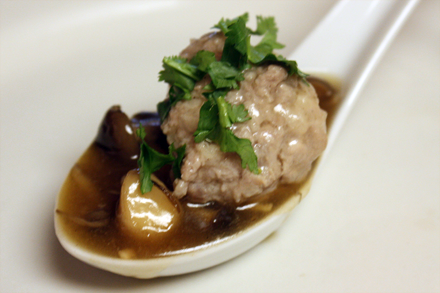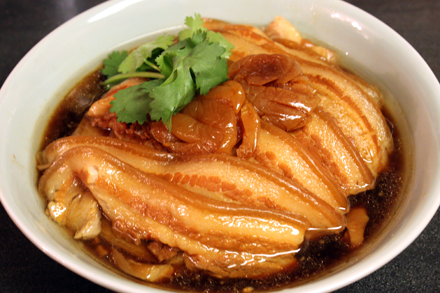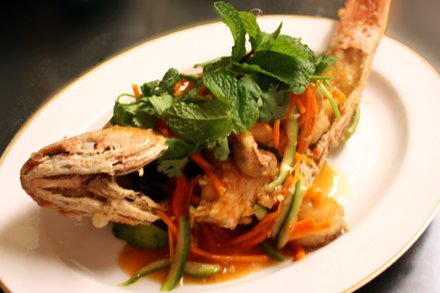 Still virtually all our menu items are rooted in old Yunnan cooking. Dishes such as Steam Pot Chicken (汽鍋雞), Cross-Bridge Noodles (過橋米線), Grilled Lemongrass Striped Bass (香茅草烤魚) and Steamed Pork Belly with Candied Plums (雕梅扣肉) are Yunnan classics. Others like Grilled Oysters with Yunnan Salsa (南咪醬烤鮮蠔), Tempura Fried Mushrooms with Yunnan Spice Salt (脆炸野菌), Crisp-Fried Red Snapper with Chili Sweet and Sour Sauce (香辣甜酸魚), and Fried Rice with Ground Pork and Pickled Turnip (黒三剁炒飯) are all new creations. Specifically for the fried rice dish I took the ingredients from the classic Stir-Fried Ground Pork with Pickled Turnip (黒三剁) and applied the fried rice technique instead.
Judging from the positive response to the food during our soft opening before Tuesday, I think we've made the right choice. So come dine with us at Lotus Blue and you can taste my version of modern Chinese food. I'm sure you'll enjoy it and wish you had the recipes. So I'm sharing one for the Yunnan pickled turnip fried rice. And incidentally I've been asked to become a permanent member of the team at Lotus Blue as their executive chef. How sweet it is!
Fried Rice with Ground Pork and Pickled Turnip (黒三剁炒飯)
Print Recipe
Ingredients
3

cups

rice

(leftover)

8

ounces

pork

(lean ground pork)

1/2

cup

Yunnan pickled turnip (雲南大頭菜)

diced

1/2

cup

red bell pepper

diced

6

slices

green longhorn chili

optional

1

tablespoon

garlic

minced

2

tablespoons

vegetable oil

1/4

teaspoon

salt

1/4

teaspoon

ground white pepper

1

egg

scallion

chopped for garnish
Instructions
Cut both the Yunnan pickled turnip and red bell pepper into small dice of about 1/4-inch cubes and set aside. Heat a wok until hot and swirl the oil around the side of the wok. Add the ground pork to the wok and stir-fry until the meat just turns white. Remove the pork from the wok and place in a small bowl leaving about one tablespoon of oil in the wok.

Add the minced garlic and stir-fry for about 30 seconds or until it is fragrant. Add the Yunnan pickled turnip, red bell pepper and rice to the wok and stir-fry for about one minute. Return the pork to the wok and add the salt and ground white pepper. Continue to stir-fry for another minute. Push the fried-rice to one side of the wok and pour the egg onto the empty side. Scramble the egg for about 30 seconds then push the rice back over the egg and mix well. Plate the fried-rice and garnish with chopped scallion.