Have you ever gotten into a situation where two friends you've invited for dinner have different dietary constraints? One doesn't eat red meat, but another would eat just about everything except liver. And you've been planning to serve your signature beef Wellington to dazzle your guests. Being the good host that you are you put on your creative thinking cap and accommodate them by changing the menu.
Last weekend I found myself in precisely this type of predicament. Our friends Bob and Even organized an intimate potluck dinner. Among the group of eight guests one was a pescetarian and another just simply abhors shellfish. I needed a plan that could satisfy both guests.
You may recall I'd done some taste testing for classic Beijing zhajiang mian (炸醬麵) a few weeks ago. You may also remember that Robert Zhu, who is one of the owners of Lotus Blue, promised to share his mother's shrimp version of zhajiang mian. A light bulb sparked over my head and I decided to make both versions of zhajiang mian.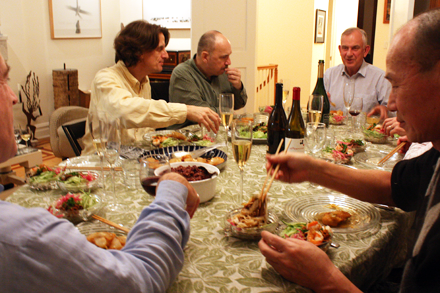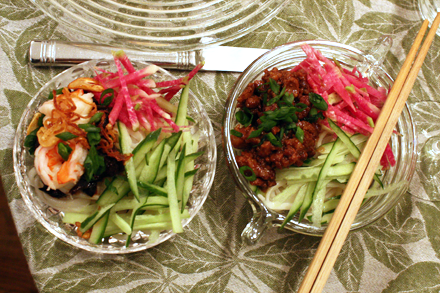 Auntie Wang's shrimp zhajiang mian recipe uses fermented bean paste (豆瓣醬 sometimes labeled as soy bean paste) as the base for the sauce. While I felt that the fermented bean paste is not suitable for the pork sauce, it works really well with wood ear (木耳) and shrimp. The paste lends a hint of earthy flavor to the entire dish.
Perhaps the use of wood ear is the key to the success of this sauce. The crunchy texture offers a nice balance to the slightly lumpy bean paste. Robert also mentioned that his mother often substitutes fresh shrimp with dried shrimp. Personally I like the succulent meat of fresh shrimp. But adding a small quantity of dried shrimp in the sauce may heighten its flavor. So that is probably what I would experiment with next time.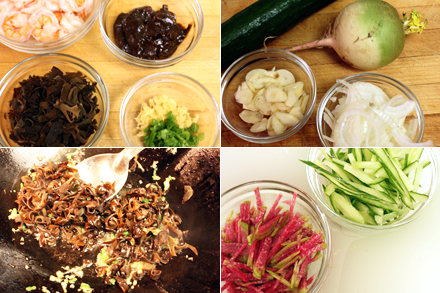 I must admit that I was rather skeptical initially when Robert told me about his mother's recipe with fermented bean paste. But after publishing the original pork zhajiang mian post, I received numerous comments from readers proclaiming affection for fermented bean paste. Even Yi @ Yi Reservation, who is a talented cook and food blogger from Sichuan, announced that he loves making the sauce with Sichuan spicy fermented bean paste. All this just proves that there is no one single best way of making zhajiang mian sauce. There can be as many best ways as there are good cooks.
For the potluck dinner at Bob and Evan's home I made both the pork and the shrimp versions. I served both varieties to all except for the two guests whom I will not name (except to say that I am married to one of them). Suffice to say everyone was sated and contented.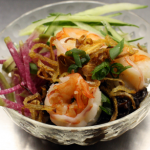 Auntie Wang's Shrimp Zhajiang Mian (王媽媽鮮蝦炸醬麵)
Print Recipe
Ingredients
Boiled Shrimp
12

oz.

shrimp

medium-sized peeled and deveined

1

scallion

fresh ginger

about 1/2 inch long

1/4

cup

Shaoxing cooking wine (紹興料酒)

4

cups

water
Wood Ear Sauce
1

cup

dried wood ear (木耳)

reconstituted and thinly sliced

1

tablespoon

fresh ginger

minced

1

tablespoon

scallion

minced

2

tablespoons

vegetable oil

1

cup

fermented soy bean paste (豆瓣醬)

1/2

cup

Shaoxing cooking wine (紹興料酒)

2

tablespoons

sugar

2

cups

shrimp stock

or water
Crisp-Fried Garlic and Onion Garnish
1/4

cup

garlic

thinly sliced

1/4

cup

yellow onion

thinly sliced

1 1/2

cup

vegetable oil
Other Ingredients
1

lb.

fresh Shanghai noodles

1

cup

watermelon radish

thinly julienned

1

cup

cucumber

thinly julienned

1/4

cup

scallion

thinly sliced for garnish
Instructions
Prepare the liquid for boiling the shrimp by putting the water, cooking wine, scallion and ginger in a medium stockpot and bring to a boil. Turn the heat down to medium and cook the liquid for about 15 minutes. This will infuse the flavors of the aromatics ingredients (ginger and scallion) into the broth. Add the shrimp to the pot and cook for about three minutes. Drain the shrimp and set aside. Strain the shrimp stock through a fine mesh strainer and reserve two cups of the liquid.

In a medium stockpot heat the vegetable oil for the crisp-fried garlic and onion, until it reaches 375 degrees F. Add the sliced garlic and onion and cook for about two minutes or until they just turn slightly brown. Immediately drain the garlic and onion and place them on a sheet of paper towel to absorb the excess oil. Remove all the oil except for two tablespoonsful.

While the oil is still hot return the pot to the stove and add the minced ginger and scallion. Stir-fry them on medium heat for about one minute or until fragrant. Add all the other ingredients for the wood ear sauce and cook for about 20 minutes uncovered. The sauce should reduce to a thick paste. Turn the heat off and cover the pot to keep the sauce warm while you cook the noodles.

In a large stockpot bring about half a gallon of water to a boil. Drop the noodles into the boiling water while separating them to prevent clumping during cooking. Cook the noodles for about two minutes then drain thoroughly.

Divide the noodles into four portions and place them at the bottom of four medium bowls. Top the noodles with equal amounts of the wood ear sauce, shrimp, watermelon radish and cucumber. Garnish with the crisp-fried garlic and onion as well as the sliced scallion. Serve immediately.