My Chinese zodiac sign is the wooden horse, and since this is the year of the wooden horse I'm not surprised I'm starting out the year with a busy schedule. For the first time in a very long while, I did not make a family Chinese New Year dinner at home. But I do have very good reasons for this lapse. First of all I've been busy with the manuscript for my upcoming book, which is now due in the spring that I was supposed to have completed last fall. Then I was asked by my very good friends Amy and Romy at Purple Yam restaurant in Brooklyn to help them develop a Chinese New Year menu for their restaurant. And just two weeks before Chinese New Year, through my wonderful friend Wendy Chan, Ron DeSantis at Yale University dining services invited me to put together a home-style Chinese New Year dinner for the students.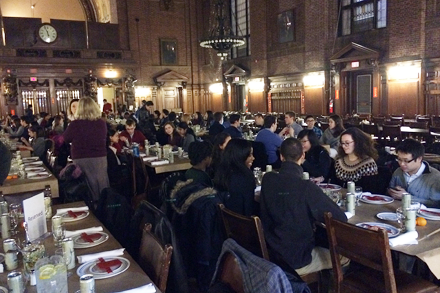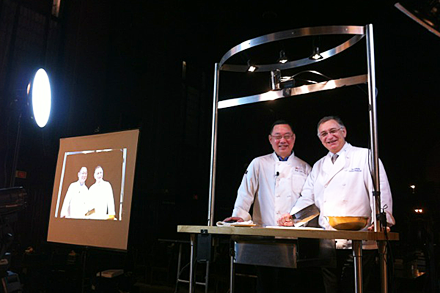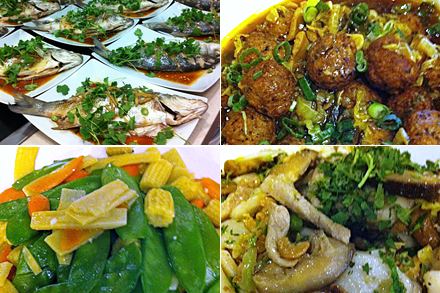 At Yale I curated a family-style Chinese New Year dinner full of symbolism in food that is very important in the celebration. A meatball dish represents the circle of family and friends that reunite during the New Year. The steamed fish offers assurance for abundance because in Chinese pronunciation it is a homophone for "plenty of leftovers." New Year cake sounds like sticky rice cake in Chinese and are served during the family reunion dinner. The golden color and round shape of fried sesame balls ended the dinner with wealth as its imagery. Tangerines are offered in a similar vein because of their golden color and round shape as well. The culinary team at Yale executed the dinner flawlessly and I gave a quick talk on the holiday's symbolism. And to help the students with consuming the whole fish I demonstrated how to debone on stage. What a fun evening it was.
Amy Besa and Romy Dorotan are two of my favorite people in the restaurant industry. They run Purple Yam, a Filipino restaurant in the Ditmus Park section of Brooklyn. When they asked me to help them develop a special Chinese New Year menu a month ago I did not hesitate at all. Three years ago I had a chance to join hands with them in presenting a Chinese New Year dinner that was really successful. This year we decided on a menu that reflects the Fujian immigrant food in the Philippines with touches of tropical flavors. Some of the items served include roast duck salad with pomelo, crispy fried chicken with garlic, Manila clams and glass noodles in fermented tofu broth, pork belly gua bao, sticky rice with Chinese sausages in banana leaves, grilled fish with kimchi, and fried pumpkin pancake with champoy ice cream.
With Romy's kitchen staff executing these wonderful dishes I decided to simply host my family Chinese New Year dinner at Purple Yam. I am truly grateful for not having to trek down to Chinatown during the New Year crush and then spend the entire day cooking the meal. Warren also doesn't miss the usual clean up required of a dinner at home.
In among all these activities I managed to make a Chinese New Year hot pot dinner for my neighbors over the weekend. We gathered at my home and I made a hot pot with beef balls, pork dumplings and fish paste in addition to the usual thinly sliced meat and lots of vegetables. There was a choice of two types of broth. One a rich chicken and pork bone stock and another a Sichuan spicy broth, whose recipe I'm sharing here.
I am looking forward to a productive and fun-filled year. Happy New Year of the horse!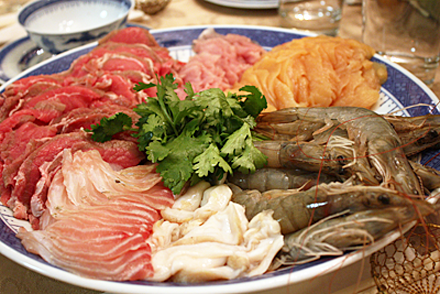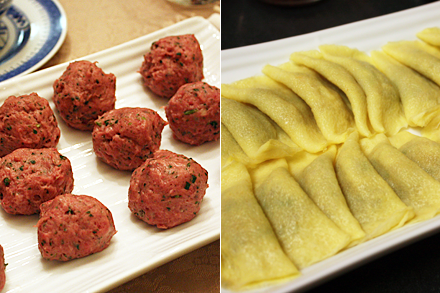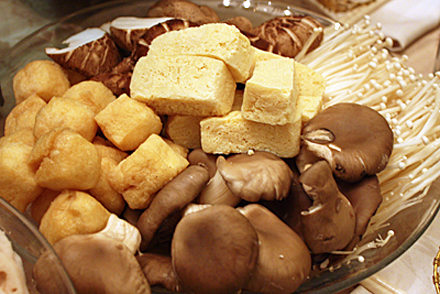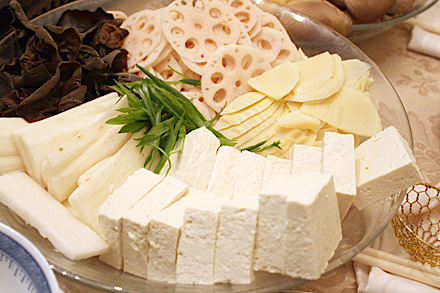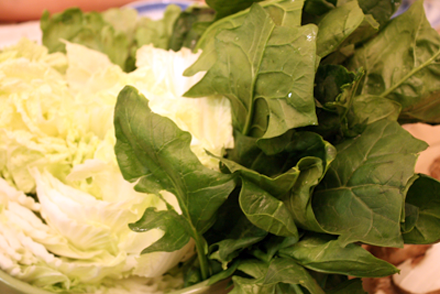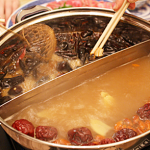 Sichuan Ma La Soup Base (麻辣鍋底)
Print Recipe
Ingredients
1/2

cup

vegetable oil

2

ounces

whole dried chili peppers

1

tablespoon

Sichuan peppercorns

1/2

ounce

star anise

1/2

ounce

cassia bark

2

black cardamoms

fresh ginger

about 2-inch long

2

scallions

cut into 2-inch length segments

1/4

cup

Sichuan chili soybean paste (辣豆瓣醬)

2

tablespoons

chili oil

4

quarts

Chinese chicken stock
Instructions
Put the vegetable oil, dried chili peppers, Sichuan peppercorns, star anise, cassia bark, black cardamoms, ginger and scallion in a medium saucepan and simmer over very low heat for about 15 minutes. Remove from heat and cool for about 15 minutes.

Add the rest of the ingredients, mix well and the broth is ready for the hot pot. Pour as much of the broth into the hot pot as can be accommodated. The rest can be added to the pot hot as the liquid evaporates. If all the broth is used up the hot pot can be replenished with regular chicken stock or water.