In Singapore during the 1960's, drinking milk meant reconstituting white powdery dried milk that came in a large can. The powder needed to be dissolved in hot water and no matter how vigorously it's stirred, the result was always slightly gritty with a rather bland taste. "Fresh" milk, which came in a triangular pyramid-shaped paper carton, was expensive and only available in the few exclusive supermarkets. I remember its taste was closer to what we now get in an UHT milk rather than the fresher taste of U.S. milk. It was considered a luxury and we would indulge only occasionally.
Cooking with fresh milk was not normally an option at that time. So many creative ways of making delicious food with reconstituted powdered milk were developed. Custards and jellies are only two of the many ways the Chinese adapted milk in their cooking. Milk was not historically a food ingredient in China; it was only during the Twentieth Century that cow's milk was introduced there. Dairy farms were not widely established on the Mainland until after the economic reformation of the 1980's.
In Hong Kong a recipe was developed for making a battered and deep-fried milk custard. It sounds like a rather implausible way of using milk in a recipe, but the result is surprisingly delectable. The recipe calls for making a milk custard by thickening milk with cornstarch. The custard is then cooled to form a cake, which is cut into bite size pieces. A batter is prepared to cover the cut up milk custard pieces before deep-frying. The warm custard inside softens as it is fried and the outside turns into a crunchy shell.
I made this fried milk custard last week during a family dinner with my sister-in-law and niece. I have not been doing much entertaining over the year or so as I concentrated on completing my cookbook manuscript. I have also been neglecting Red Cook for a very long time. Not since the Chinese New Year post in February have I posted an article. But I'm pleased to report that the manuscript has been completed and delivered to my editor. I am looking forward to working with a photographer to shoot the pictures for the book, and with my editor to get the book ready for publication sometime next year.
In the mean time I've made plans to travel to the U.K and France. For the first time I will be attending the Oxford Symposium on Food and Cookery, where I'm looking forward to learning about food history and culinary culture from luminary food scholars. From there I plan to visit a friend in the Loire Valley of France. Along the way I hope to be sampling and cooking local foods. So be assured that I will once again be sharing my culinary adventures with you here on Red Cook, as well as on Facebook and Twitter.
For now I'd like to share my joy in completing my manuscript by offering you the recipe for the fried milk custard that I made for my family last week. It has become a family favorite.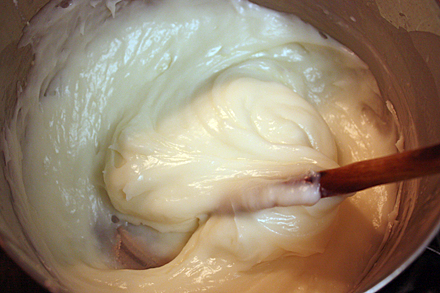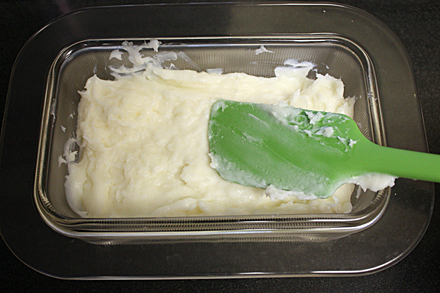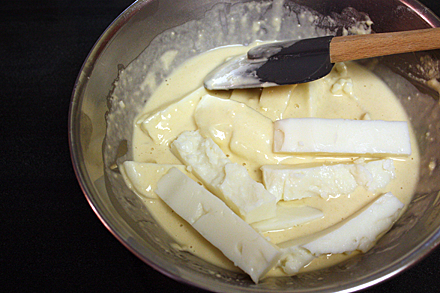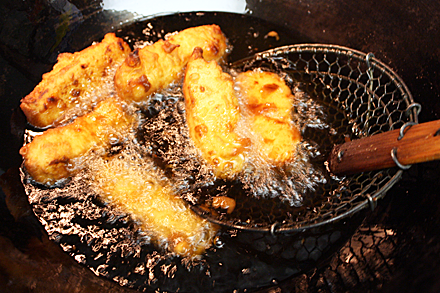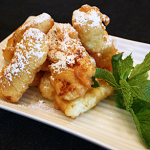 Fried Milk Custard (脆炸牛奶)
Print Recipe
Ingredients
4

cups

vegetable oil

1/4

cup

sweetened condensed milk

Confectionary sugar for dusting
Custard
2

cups

milk

1/2

cup

cornstarch

1/4

cup

sugar

1/4

teaspoon

salt
Batter
1

cup

all purpose flour

1/2

cup

water

1

egg

beaten

1

teaspoon

baking powder
Instructions
Combine all the custard ingredients in a medium saucepan and mix well. Be sure to blend the cornstarch completely with the milk. Heat the custard mixture over medium heat and use a wooden spoon to stir constantly while heating. As the custard begins to thicken stir the custard vigorously to prevent lumps from forming. Turn the heat off once all the mixture becomes a very thick custard. It will have the consistency of mashed potatos. While the custard is still hot spread it in a loaf pan as evenly as possible. Cool the custard and refrigerate for at least four hours.

Combine the flour and baking powder together in a medium mixing bowl and mix well. Add the egg and water to the flour and mix well. Remove the cooled custard from the loaf pan. It should slip off the loaf pan easily. Cut the custard into large sticks of about two inches long and 3/4 inch thick.

Heat the vegetable oil in a wok over medium heat until it is just beginning to shimmer or about 350° F. Put all the custard sticks in the batter and make sure they are all coated evenly. Individually drop the battered custard sticks into the oil and fry them for about 8 minutes or until golden brown. Remove the fried custard from the wok and drain excess oil on two layers of paper towel.

Arrange the fried custard sticks on a plate and dust with confectionary sugar. Serve immediately while still hot accompanied by the condensed milk for dipping.