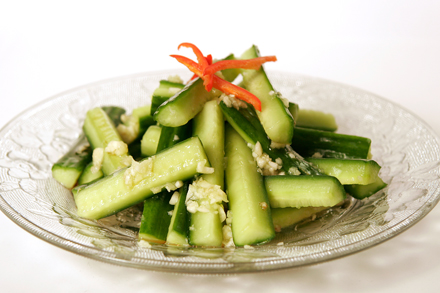 When was the last time you ordered a salad or cold dish in a Chinese restaurant? In fact I bet you never have. You probably don't even associate cold dishes with Chinese food. I can hardly blame you. The majority of Chinese restaurants in America do not even serve cold dishes although they are a staple of a Chinese meal in Asia.
There is a huge variety of cold dishes from all over China be they meat or vegetable. Many reflect local tastes and flavors. So as expected the cold dishes from Sichuan and Hunan, for example, would be laced with chili and are spicy hot. And drunken chicken originates from Shaoxing where rice wine is the local specialty.
But some dishes are ubiquitous. One of my favorites is the garlic cucumber salad. There are as many different ways to make cucumber salad, as there are cooks. Everyone has his or her own favorite recipe. I am going to show you one that is so simple that you would not believe it tastes so good!
I like to use cucumber varieties that have small seeds such as the Japanese hothouse cucumber or the small dark green variety commonly known as Persian cucumber. They are more flavorful and have tender skin. I also like to use this recipe as a base for more complex cucumber salad by incorporating other flavoring agents such as chili and bean paste.
As the last hot and humid days of summer linger, try this recipe and understand what it really means to stay "cool as a cucumber."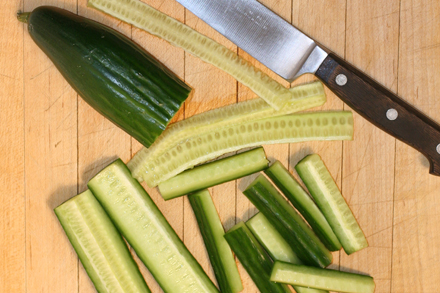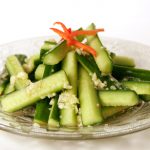 Garlic Cucumber Salad (涼拌黃瓜)
Print Recipe
Ingredients
8

ounces

cucumber

1 large hothouse cucumber or 3 small Persian cucumbers

2

cloves

garlic

minced

1/2

teaspoon

salt

1

tablespoon

toasted sesame oil
Instructions
Cut the cucumbers into quarters lengthwise and slice off the center to remove the seeds. For large hothouse cucumbers you may want to furthe cut the quarters into eights lengthwise. Then cut into two-inch long pieces. Add the salt and garlic then mix well. Refrigerate the cucumbers for about 30 minutes.

When ready to serve drain the salt extracted juice from the cucumber pieces and arrange on a plate. Be sure to retain the garlic. Pour the sesame oil over the cucumber and serve chilled.