Probiotic food is all the rage at the moment. In food and health magazines, blogs and newspapers, everywhere you turn there are articles singing the praises of tempeh, or extolling the benefit of kombucha in keeping our digestive systems healthy. Television commercials advertise the miraculous power of yogurt whose live cultures keep us all regular. Even sauerkraut and kimchi have been enlisted to manage the balance of bio functions in our gastrointestinal tracts. So are there probiotic foods in Chinese cooking?
As it turns out there are plenty of them and the Chinese have known about these beneficial effect for millenniums. Probiotic foods are products of natural processes that result from beneficial yeast and bacteria breaking down our foods. These organisms are believed to be valuable in human digestive systems. I recently chatted with my friend Peter D'Aquino, an acupuncturist and Asian herbal medicine specialist, about the Chinese philosophy of food therapy. Something Peter said piqued my interest. He said, "The Chinese rarely if ever consume foods that have not been cooked or naturally processed." It was something I never paid much attention to but it's true, I did not grow up eating lots of salad or raw foods. Peter went on to illustrate how soy fermentation, meat curing and vegetable pickling really are just a few ways of naturally preprocessing foods before consuming them. He likened the pickling jar to our stomachs and the pickling process to the beginning of the digestive process. What a revelation that was.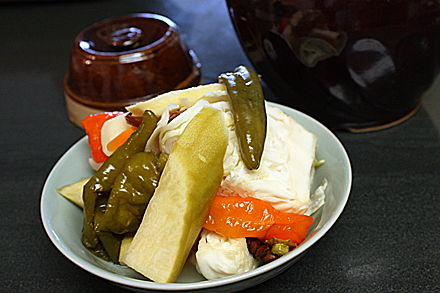 Pickling is one of the most common and practical ways of making probiotic foods at home. Like the kimchi-loving Koreans, some Chinese families in Asia still make a variety of pickles at home. One type of pickle is made by a process of fermentation that is similar to Korean kimchi or European sauerkraut. Vegetables are submerged in brine and allowed to ferment for a period of time. Known as lacto-fermentation, the process creates acid and lowers the pH level making it possible to store the pickles for an extended period of time.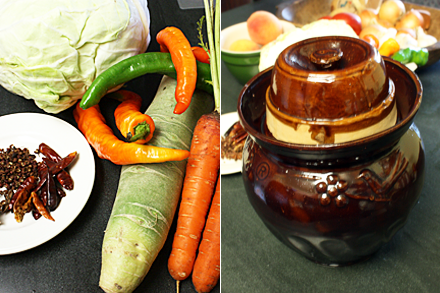 A special Chinese pickling jar is available for this purpose and I bought one last year to start making pickles. The traditional jar is made from glazed earthenware and has a trough at the top around the opening. (There are modern versions of these jars in clear glass available in the U.S.) The cover sits in the trough, which is filled with water during fermentation. Gases produced by the fermentation escape from the jar and make a gurgling sound as they pass through the water. Because the water does not allow outside air to return to the jar, this acts as an ingenious way of reducing the possibility of contamination during fermentation.
All kinds of vegetables are regularly used for pickling in this way. Napa cabbage is common in the North (just like kimchi in Korea), and in the South regular cabbage is used along with many different root vegetables. For this post I am including a Sichuan version of pickles that include cabbage, daikon radish, green radish, carrots and chilies. Green radish is often available in Chinatown, but it can be omitted or substituted with other root vegetables. Kohlrabi is excellent for this recipe and so is turnip. So just get enough vegetables to fill the jar.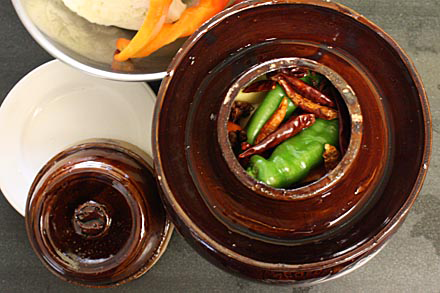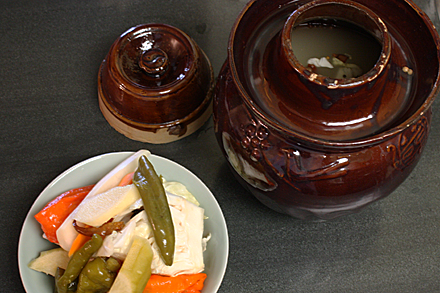 Absent the Chinese pickling jar, a large plastic container with lid works just as well. The only difference is that the lid has to be opened slightly every day to allow the pickle gas to escape. If the gas is bled properly the result should be the same. After a seven to ten-day period of fermentation the pickles can be removed from the jar, transferred to a clean container with tight lid, and stored in the refrigerator. The pickles will last a few months stored in this manner.
Pickling at home is a dying art in modern Chinese family, but it doesn't have to be. It is a very simple method and can produce some of the most delicious and healthiest probiotic foods. I make them at home and I encourage you to take a serious look at making them.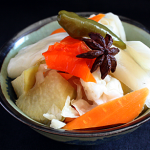 Sichuan Fermented Pickles (四川泡菜)
Print Recipe
Ingredients
1

pound

cabbage

cut into large pieces of about 2-inch squares

8

ounces

daikon radish

cut into strips of about ½-inch thick

8

ounces

green radish

cut into strips of about ½-inch thick

8

ounces

carrots

cut into strips of about ½-inch thick

3

ounces

ginger

cut into ¼-inch thick slices

2

red longhorn chili peppers

2

green longhorn chili peppers
Pickling Spice
1

teaspoon

Sichuan peppercorns

6

star anise

10

dried red chilies

4

bay leaves
Pickling Brine
1

cup

white rice wine

¼

cup

salt

2

quarts

water

boiled and cooled to room temperature
Instructions
Thoroughly clean a one-gallon Chinese pickle jar. To sterilize the pickle jar pour hot boiling water into the jar, swirl the hot water around then discard.

Combine the brine ingredients together and mix well, then add all the spice ingredients to the brine.

Put all the vegetables inside of the jar pushing them down tightly.

Pour the brine and spice mixture into the jar and make sure that the brine completely covers all the vegetables.

Pour water in the trough of the pickling jar to about half full. Cover the jar and let stand in a cool location of the kitchen for seven to ten days. The longer the vegetables are fermented the sourer they become.

Beginning on the seventh day, periodically remove the cover and sample the vegetables. When the sourness of the vegetables is to your liking then remove them from the jar and store refrigerated in a clean container with lid.

Cut the vegetables into small pieces of about ¼-inch thick before serving.