During Christmas, or Thanksgiving for that matter, many Chinese immigrant families like mine face a dilemma. Should we serve turkey or just simply make a Chinese meal? Turkey has always been an iconic American foods that the Chinese never embraced. Jeff Yang wrote in a Wall Street Journal blog post that his family serves both the big bird and "a long buffet line" of other Chinese dishes. This seems to be the most common solution for satisfying both the family's preference for Chinese food and our desire to assimilate into the American culinary tradition.
A Chinese idiom, which is the equivalent of the English expression of "when in Rome… ," plainly suggests to "follow local customs when in another village" or "Ru xiang sui su" (入鄉隨俗). This is the wisdom that Chinese emigrant families subscribe to wherever they end up. In America this wisdom translated into the assimilation of McDonald's, KFC, Pizza Hut and other fast foods into their diet. Burgers, French fries and pizzas become the food of choice for the second generation.
Why not turkey? I've had numerous discussions about this with my family and Chinese colleagues. The complaints almost always revolve around the dryness and blandness of the meat. What I don't understand is why the Chinese are not able to adapt turkey in their cooking? After all we are supposedly known for eating unimaginable exotic ingredients. Why do we not use spices or other strong flavored ingredients to enhance the plain turkey meat? Why do we not use Chinese cooking techniques such as stir-frying or steaming to create tender turkey meat?
Maybe the answer is simply that turkey does not adapt well. My experiments with cooking turkey using Chinese techniques produce mixed results. Stir-frying raw turkey breast doesn't prevent the meat from drying out. But I can make moist turkey meatballs by adding proper amount of starch, egg white and liquid such as chicken stock. Steaming turkey breast for a cold dish also turns out dry. Yet red cooking turkey legs produces a flavorful result, albeit requiring a long time to cook.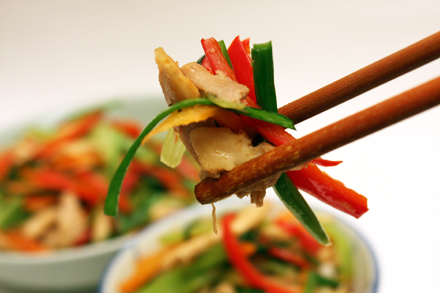 So, I've long ago decided that I should just make a traditional American turkey dinner with oyster stuffing and all the trimmings for all our holiday celebrations. I'd brine the turkey a day ahead and roast the bird with the oyster stuffing in the cavity. I seal the bird by roasting it in a hot oven of 425 F for about thirty minutes before reducing to a moderate temperature of 350 F for the rest of cooking. I baste the turkey every twenty minutes without fail. The result has always been flawless with flavorful and moist meat.
This year I made the same turkey dinner for Christmas. The fifteen-pound turkey was almost completely devoured by our guests, but I managed to scrape some meat off the carcass. I normally make turkey potpie from the leftover meat and turkey rice soup from the carcass, which I called turkey three ways in deference to Peking duck three ways. (Peking duck is often served three ways: crispy duck skin rolled in pancake, stir-fried duck meat with vegetables and duck carcass soup.) This year I cooked the leftover turkey meat another way: stir-fried with Chinese celery and garlic chives.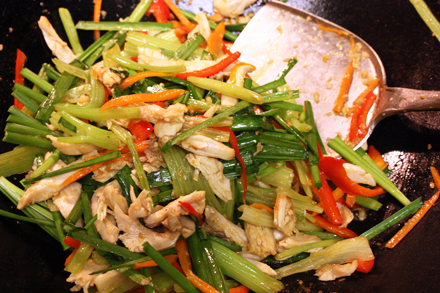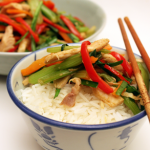 Stir-Fried Turkey with Celery and Garlic Chives (小炒火雞絲)
Print Recipe
Ingredients
2

tablespoons

vegetable oil

1

tablespoon

minced garlic

minced

1

tablespoon

minced fresh ginger

minced

4

ounces

carrot

julienned

12

ounces

cooked turkey meat

cut into strips of about 1/8-inch thick

6

ounces

Chinese celery

or regular celery julienned

4

ounces

garlic chives

cut into 1 1/2-inch sectionss

4

ounces

red bell pepper

julienned

2

tablespoons

Shaoxing cooking wine (紹興料酒)

1

teaspoon

salt

1/4

teaspoon

ground white pepper
Instructions
Heat a wok until hot or a drop of water immediately sizzles and evaporates. Swirl the vegetable oil into the wok. Add the minced garlic and ginger to the wok and stir-fry for about 30 seconds or until fragrant. Add the carrots and stir-fry for about one minute. Add a few tablespoons of water to the wok if the carrots appear to be too dry. Add the turkey meat, celery, garlic chives, and red bell pepper to the wok and continue to stir-fry. Add the cooking wine, salt and write pepper to the wok and stir-fry thoroughly. Finally add the garlic chives and stir-fry for another 30 seconds or so. Plate and serve.