In this Wednesday's New York Times Food and Wine section Mark Bittman presented a stir-fry dish using fermented black beans (or douchi 豆豉). What a refreshing surprise it was to see such an esoteric ingredient presented in the mainstream media. I applaud Bittman for introducing this ingredient to his readers. It gives me an opportunity to expand on the information about fermented black beans and their uses.
Just like Bittman mentioned in his article the name is a misnomer. They are not made from black turtle beans that are commonly known in America, but from soybeans. The soybeans are usually steamed then allowed to ferment by introducing yeast. Salt and other flavorings are later added then the mixture is aged. Often the aging process also dries the beans. There are variations of fermentation processing as well, for instance using different fermentation agents and aging without drying. Certain variation results in a moist brown paste; such is the case of Sichuan chili bean paste (四川豆瓣醬).
Soybeans fermentation processing was first recorded in Shijing (食經), a Chinese text on culinary art, written roughly during the fifth century AD. Over the centuries this processing method spread throughout other East Asian countries. In Japan you will find fermented soybeans in various forms of natto, a foul smelling sticky soybean paste. Although the flavor of these products is different, the processing method is similar.
Fermented black beans are widely used throughout China. They make a very versatile flavoring ingredient. They can be used in stir-frying, steaming and braising. Some common examples of usage are in steaming fish or pork ribs, and in stir-frying clams and other seafood.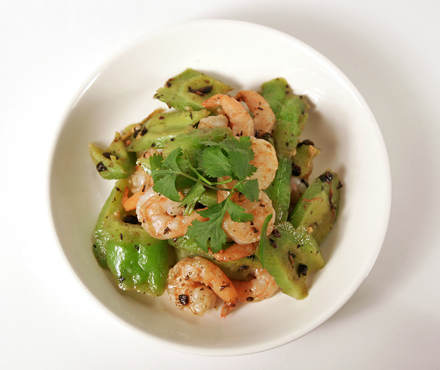 Photography by Ron Boszko
I used fermented black beans in a recipe for prawn and bitter melon for one of my stir-fry series posts. In that recipe I used the dry wok stir-fry technique resulting in a dish with intense fermented black beans flavor. Now that you've read the stir-fry series and are completely versed with stir-frying techniques, lets have some fun in analyzing Bittman's recipe. Is that a moist or dry wok stir-fry? What do you think of the ingredient selection using prawn and bok choy? What do you think of keeping the sauce watery rather than thickening it with cornstarch? Post some comments and we'll discuss.