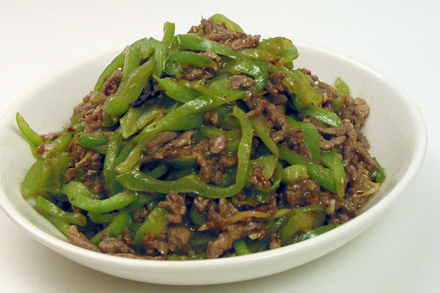 After ranting about the lack of accuracy and authenticity in Chinese cooking articles by Western food writers in my previous posts, I have to point out there are exceptions. Occasionally I come across some insightful articles and eagerly study them. One such example was "The Glory of Red Cooking" in the March 2007 issue of Saveur magazine by Grace Young. The article meticulously retells the tradition and background of red cooking, and includes some very practical recipes. This article inspired me to embark on recording many Chinese cooking techniques I researched and used in my kitchen. One of the results of this pursuit is what I will be offering you during the next two weeks: The meaning of stir-fry.
I had no idea stir-frying was so complicated and sophisticated until I started my research. As I learned more about the nuances and variations of stir-frying, I realized the knowledge could fill a big chapter in a book. It is this reason that I decided to create a stir-fry series. In this first installment I'd like to tell you about the basic definition of stir-fry and immediately offer you a very simple example by way of a recipe.
One of the most interesting facts I learned was that the cooking term "stir-fry" was credited to a Chinese cookbook author by the name of Buwei Yang Chao. She wrote "How to Cook and Eat in Chinese" in 1945, and used the term for the first time in this book. Ever since then stir-frying has become one of the most popular cooking techniques in America.
In the Chinese language stir-fry is simply known as chao (炒) or fry. The basis of stir-frying technique is fresh ingredients cut up into bite size pieces, then rapidly cooked in oil over very high heat. The final dish always retains the ingredients' fresh flavor and enhanced by added seasonings.
Although there are many variations of the stir-fry technique, I can summarize it in a simple way to help you understand the basic process.
Cut up all ingredients into bite-size pieces.
Cook protein ingredients in a wok over high heat until three-quarter doneness, then remove from the wok and set aside.
Cook any complementary vegetables in the same wok until three-quarter doneness.
Put the protein ingredients back into the wok and add seasonings.
Plate and serve.
Let me illustrate this process using a recipe for Stir-fry Pepper Steak (青椒牛肉絲), which I recently recommend to a friend of mine Go. (Go is in fact responsible for Red Cook's graphic design.) He lives in a neighborhood with limited access to Chinese ingredients. Plus his work schedule prevents him from shopping in Chinatown frequently. This recipe is perfect for him and many of you because all the ingredients are commonly available in local markets. Give this recipe a try and see for yourself how easy it is to stir-fry.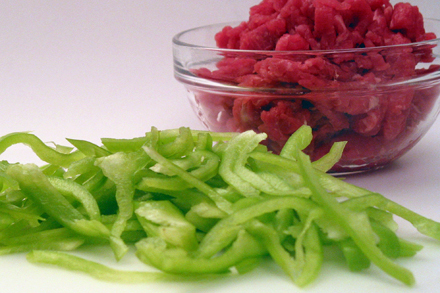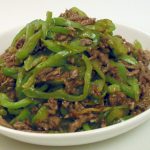 Stir-fry Pepper Steak (青椒牛肉絲)
Print Recipe
Ingredients
1

poud

flank steak

or sirloin steak

2

Italian green peppers

thinly julienned

1

tablespoon

garlic

minced

1

tablespoon

ginger

minced

1

tablespoon

soy sauce (生抽)

2

tablespoons

Shaoxing cooking wine (紹興料酒)

1

tablespoon

cornstarch

1

tablespoon

vegetable oil

for marinate

3

tablespoons

vegetable oil

for stir-frying
Instructions
This is a popular home-style dish from the Sichuan region of China. The green pepper used in Sichuan is usually a small long green variety that is extremely hot. I adapted the recipe by substituting it with the sweeter Italian pepper because it has very similar taste yet a lot milder.

Slice the beef thinly against the grain then cut into thin shreds. Place the beef in a bowl and set aside. Remove seeds from the green pepper, slice thinly and set aside. Mince the garlic and shred the ginger, then set them aside. Add soy sauce, Shaoxing wine, cornstarch and one tablespoon of vegetable oil into the beef and marinate it for about 20 minutes. All these can be prepared ahead of time.

When ready to serve heat the remaining 3 tablespoons of vegetable oil over high heat until beginning to smoke. Drop the beef into the hot oil and stir-fry for about 5 minutes until the meat is just turning color. Scoop the meat out and put in a bowl and set aside. Be sure to leave about one tablespoon of oil in the wok. Put the garlic and ginger into the wok and stir-fry for about a minute. Put the green pepper in the wok and continue to stir-fry for another 5 minutes until the pepper begins to look translucent. Put the par-cooked meat back into the wok and mix well with the pepper. Although soy sauce already provides saltiness, you may adjust the seasoning to your taste with salt if you wish at this point. Continue to stir-fry for another 3 minutes and it is ready to be plated and served.