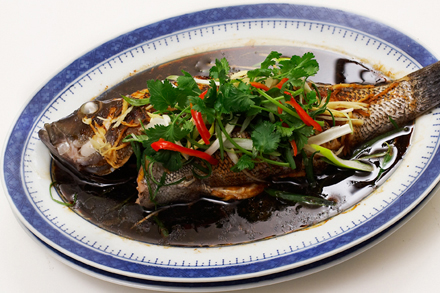 Photography by Ron Boszko
When I order live fish at a restaurant in China it is customary for the kitchen staff to present the live fish tableside for inspection in a basket or plastic bag. (And sometime on an elegant silvery stainless platter in upscale restaurants.) The fish invariably flips and flops, and gasps for its last breath. The Asian and European diners amongst us would nod approvingly except of course for the Americans. They would shake their heads in disbelief. Twenty minutes later a beautifully fried or steamed fish is served, and everyone ooohs and aaahs except for the Americans. By this time they are so completely revolted they'd just sit and smile politely, believing PETA evangelists are about to materialize and surround the table with police tape. The different reactions remind me of what I recently read in The Fortune Cookie Chronicles
by Jennifer 8. Lee. She wrote that Americans don't want their food to look like real animals. Here lies the root of the culinary culture difference.
To be fair the Chinese is not the only culture that consumes their seafood fresh and alive. Japanese and Koreans also have established customs for preparing live seafood. Take a look at the following videos and see what I mean.
But why is seafood so prized for its freshness? Harold McGee answers this question in his book On Food and Cooking: The Science and Lore of the Kitchen
.
"The cold aquatic environment is […] responsible for the notorious tendency of fish and shellfish to spoil faster than other meats. The cold has two different effects. First, it requires fish to rely on the highly unsaturated fatty acids that remain fluid at low temperatures; and these molecules are highly susceptible to being broken by oxygen into stale smelling, cardboardy fragments."
Okay, I am now convinced there really is a reason for making sure one cooks with fresh seafood. But would I go to the extreme of eating a fish while it is still twitching on the dinner plate? You know, I've not had to face the prospect. I will cross that bridge when I come to it. I may not want my fish alive, but I do want it as fresh as possible. So I need to select the freshest fish in a market.
How does one choose a fresh fish? It is certainly much easier to select a whole fish than a fillet. I always use the tried and true method of looking for clear eyes and bright red gill when selecting whole fish. And for fillet the best method for selecting the freshest fish I know of is to make sure the meat is still springy when you press against it.
If you still have an appetite after watching the vidoes and can find very fresh fish then try this recipe. Be sure to cook the fish on the same day you purchase! It's for an incredible Steamed Sea Bass (清蒸魚), a classic Cantonese steamed fish dish.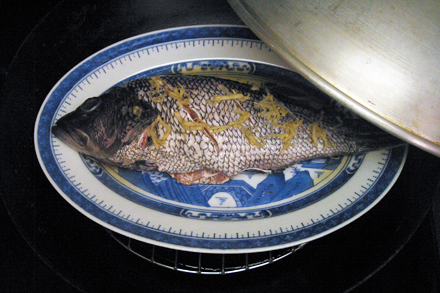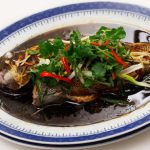 Steamed Sea Bass ((清蒸魚)
Print Recipe
Ingredients
For steaming
1

tablespoon

Shaoxing cooking wine (紹興料酒)

4

slices

fresh ginger

1/2

teaspoon

ground white pepper
Sauce
2

tablespoons

light soy sauce

2

tablespoons

Shaoxing cooking wine (紹興料酒)

1

teaspoon

sugar

3

tablespoons

vegetable oil
Garnish
1/4

cup

fresh ginger

finely julienned

1/4

cup

fresh scallion

finely julienned

4

sprigs of cilantro
Instructions
You can substitute sea bass with other type of fish of similar size, but do not use overly flakey fish. Ask the fishmonger to clean and scale the fish but leave the tail and fins on. Before cooking use the back of a knife and scrap off any stray scales especially on the head and belly.

Slash the body of the fish diagonally at three places an inch apart on both sides. Place the fish on an oval plate. Spread one tablespoon each of Shaoxing cooking wine and shredded ginger, plus 1/2 teaspoon of white pepper on top of the fish. Let stand for about 15 minutes.

Heat about 5 cups of water in a wok over high heat and put a wire rack over it. Steam the fish on the rack with a cover when water started boiling. Steam for about 15 minutes or until the flesh on the body comes off easily from the bones.

While the fish is steaming combine the soy sauce, Shaoxing wine and sugar in a bowl and set aside for use as a sauce. Heat the vegetable oil in a small saucepan until just about smoking stage. When the fish is ready remove the plate from the wok using a plate lifter. Pour the soy sauce mixture all over the fish, and then pour the hot oil as well. Be very careful when you pour the hot oil as it will splatter.

Garnish the fish with the shredded ginger, shredded scallion, and cilantro. Be sure not to skip the garnish, as it is part of the flavoring for the completed dish.