What'd you do when an opportunity comes up to meet star Chinese chefs from all over the world, and work with them in a kitchen presenting a banquet? You jump at it. That was the offer a little over a month ago from a friend at the James Beard Foundation. They needed someone who spoke Mandarin to help escort and assist the chefs from China during their gala auction and conference. I immediately agreed to volunteer. After a full month of coordinating with the foundation, I finally spent four days with the chefs last week. What follows is the story of a journey through the world of star chefs that's harrowing, entertaining, educational and, most of all, fun.
The journey began last Monday when I met the chefs from Toronto, Hong Kong and Shanghai. They had gathered to meet at the Chinatown Brasserie for a planning session on procuring ingredients and kitchen logistics. Chinatown Brasserie was to become the hub of the cooking preparation. The first of our challenges was in finding the right ingredients.
Chef Chen Jun from Shanghai encountered the first problem. He originally requested hairy crabs from Shanghai, but importation into the U.S. is illegal. So we needed an alternative and recommended the blue crab from Maryland. I took Chef Chen to a couple of fishmongers in Chinatown and showed him the substitution. He wanted crabs with fine delicate meat and a large amount of roe. After inspecting the blue crabs and talking to a few shopkeepers, he felt assured that this replacement would work well.
Next was the bird nest, which was part of Chef Ken Tam's dessert. Bird nest, which is prized by Chinese, is the saliva nest of some species of swift. It is one of the most expensive food ingredients in the world. Prices can range from just under one hundred dollars to nearly a thousand dollars a pound. We were guided by Chef Peter How, of Mulan restaurant in Flushing, to the distributor Rong Bao LLC in Chinatown. The shop, on Broome Street near Mott Street, was more like a warehouse with stacks of boxes containing dried Chinese mushrooms, ginseng and bird nests. We entered through a buzzed door and Chef How introduced us to Grace Zheng, the president of the company, who immediately directed us into an office at the back. Once there an intense negotiation on the price ensued just like in gangster movies from Hong Kong or China. We emerged half an hour later with two boxes of bird nests. Triumphant we return to Chinatown Brasserie.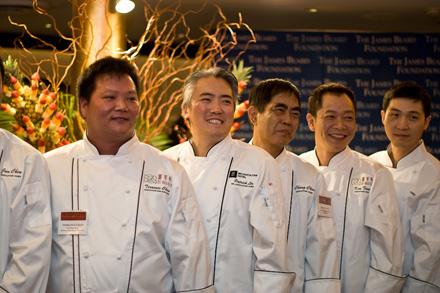 Photography by Marc of No Recipes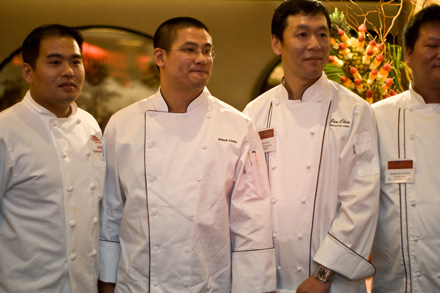 Photography by Marc of No Recipes
On Tuesday a press preview was held at Chinatown Brasserie. While the event was for the foundation to present Dumplings & Dynasties to the press, I was honestly more interested in the food display, the dim sum and the wine.
The food display consisted of beautiful and whimsical food sculptures by Chef Joe Ng. There was one scene with playful children under a tree, and another seasonally appropriate autumn pumpkin scene. Chef Ng also showcased delicately folded dim sum dumplings as well as Peking duck set off by duck-shaped buns. These creations exemplify the intricacy of refined and sophisticated Chinese cooking techniques.
And of course what would a press event about food be without real food. Chef Ng sent out a parade of his famous dim sum including shrimp dumplings, shiumai, fried meat buns, fried shrimp balls and many other tidbits.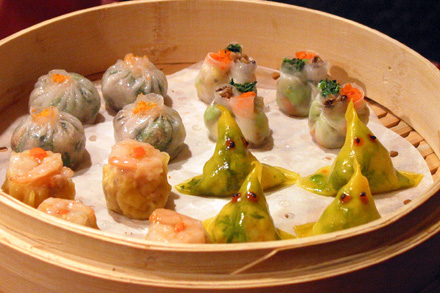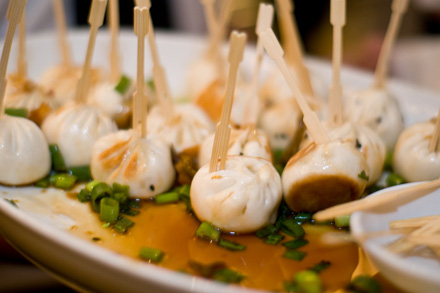 Photography by Marc of No Recipes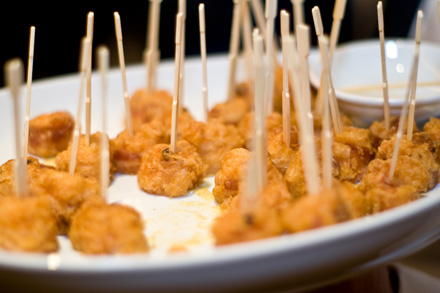 Photography by Marc of No Recipes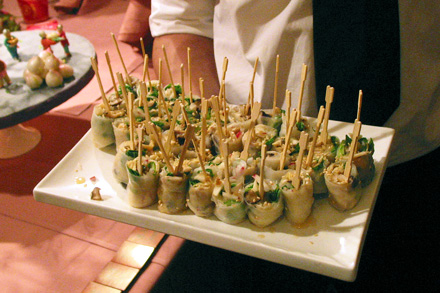 As is often the case at gatherings of food lovers, I would run into one or two food bloggers and this time was no exception. Marc from No Recipes was at the press preview under the Foodbuzz's Foodie Correspondent Program. I was very pleased to meet him in person having communicated a few times over comments and email. I've always admired his writing and photography. We chatted about Chinese food and our Foodbuzz experience. It was rather uncanny how similar our views were on these subjects. We both agreed on the dismal state of Chinese American food and the great opportunities offered by Foodbuzz. Marc took some incredible photographs of the event and I've asked him for permission to use them in this post.
As the afternoon progressed the food and wine was beginning to put us in a jolly and relaxed mood. Sipping my wine and mingling with friends and new acquaintances, I pondered what was to come during the next two days. This was the calm before the storm. I shuddered with anticipation.