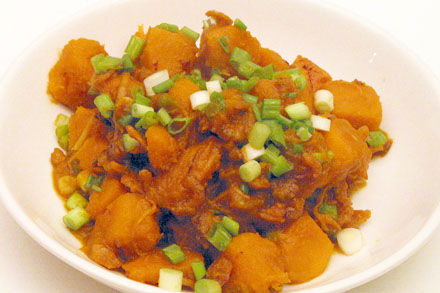 In our household Thanksgiving dinner is a sacred tradition. My partner Warren insists that we only serve his mother's New England Thanksgiving dinner. For years I've not strayed from her traditional menu, which includes roast turkey with oyster stuffing, orange cranberry sauce, homemade pickles, creamed peas and onions, mashed Butternut squash and turnip, and mashed potato. For dessert we routinely serve apple and pumpkin pie. At the end of the meal there's usually rarely any apple pie left but plenty of pumpkin pie. And there's always uncooked pumpkin left from making the pie. This year I decided to use it to make a very traditional Chinese stir-fry.
Most of my American friends are usually surprised when I use pumpkin in Chinese cooking. Originally introduced from South America pumpkin is now a very common ingredient in China. It is used to make soup, stew, sweet dishes, and of course stir-fry dishes. Two months ago I served steamed glutinous rice with bacalao and pumpkin at a dinner. When I created this recipe I was expecting my guests to comment on the unusual selection of bacalao not the unlikely response that they didn't think pumpkin was a Chinese ingredient.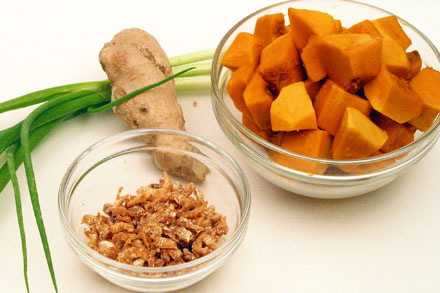 True to its Chinese name of "Southern squash" (南瓜) the pumpkins are most commonly found in Southern Chinese cooking. Guangdong and Fujian in particular produce pumpkins in abundance, and their regional cooking reflects affection for this squash. There are many varieties of Asian hybrid pumpkins but only one, the Kabocha pumpkin, is commonly found in America. In China one can find papaya shaped pumpkins or smooth green round pumpkins with a net pattern. None of them have any English names that I know of.
Today's recipe for pumpkin is a very common Fujianese home-cooked dish known as Stir-Fried Pumpkin with Dried Shrimp (海米炒南瓜). The pungent shrimp flavor beautifully contrasts with the sweet mild pumpkin taste. But best of all I can use up the pumpkin leftover from Thanksgiving.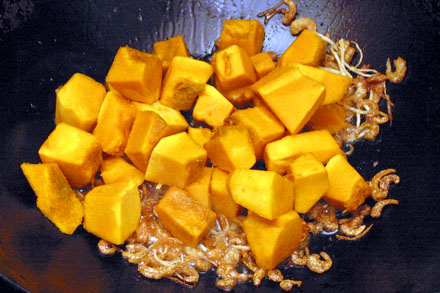 Stir-Fried Pumpkin with Dried Shrimp (海米炒南瓜)

Preparation time: 15 minutes
Rapid cooking time: 15 minutes

12 oz. pumpkin
2 tablespoons vegetable oil
1/4 cup dried shrimp reconstituted in 1/2 cup hot water
1/4 cup Shaoxing cooking wine
1 tablespoon finely shredded ginger
1/2 teaspoon salt
1 teaspoon sugar
1/2 cup chopped scallion for garnish

Use Kabocha pumpkin if you can find it. Peel and cut up the pumpkin into about 3/4 inch cubes. Reconstitute the dried shrimp in the hot water and let stand for about 20 minutes. Drain the shrimp and set the liquid aside for later use.
Heat the vegetable oil in a wok until just about at the smoking point. Put the ginger and shrimp in the wok and stir-fry for about 2 minutes. Then add the pumpkin pieces, salt, sugar, cooking wine and the liquid from reconstituting the shrimp. Cover the wok and cook at medium heat for about 5 minutes. Test doneness of the pumpkin by poking with a fork. It should be soft but not mushy. Add a little extra water and continue to cook covered if not done.
Remove the wok from heat and add the chopped scallion. Stir the pumpkin slightly, then plate and serve immediately.