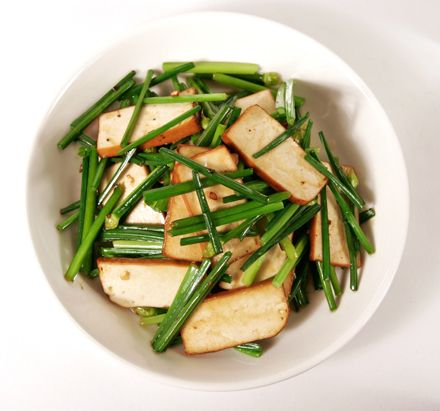 Photography by Ron Boszko
When I was growing up I hated the smell and taste of chives, specifically Chinese chives. I remembered encountering Chinese chives in stir-fries with ground pork or shrimp, or sprinkled on top of steamed rice cake. I would always pick the chives off carefully before eating. I do not recall when it was that my palate changed and I began to enjoy Chinese chives. Now I don't just enjoy them; I adore them.
Chinese chives are often called garlic chives in America. Their leaves are flat and have a very pungent garlicky flavor. You can buy them in various forms. Among them are regular green chives (韭菜) and yellow chives (韭黃), which really is the same plant grown in darkness. And as what I consider the most wonderful form, chive blossoms (韭菜花). I love the blossoms because the flavor is very intense and they have a nice crunch when cooked. The yellow chives on the other hand have a subtler flavor and delicate texture.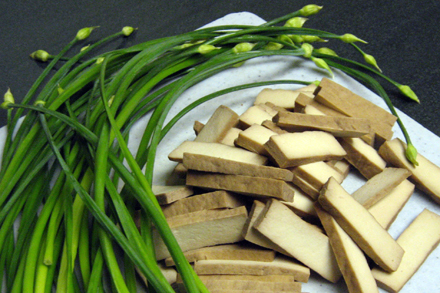 The strong flavor of Chinese chives make them unique in terms of their use. They are best paired with ingredients that have less pronounced flavor. Pork, shrimp and other seafood are all suitable for stir-frying with Chinese chives. Alternatively, they can be used as aromatic in a recipe; such is done in meat dumpling.
A favorite combination of mine is a stir-fry of Chinese chive blossoms with pressed tofu (豆腐幹), which is often smoked or marinated in spices. (You can use any of these varieties for this recipe. You can buy both Chinese chive blossoms and pressed tofu in Chinatown markets.) This is a very common everyday dish served at home, but there's nothing simple about its flavor. The combination of the firm tofu texture with the crunchy chive blossoms is just incredible, and the sharp garlicky taste is enough to send you to flavor heaven.
Stir-fry Chive Blossoms with Pressed Tofu (豆幹炒韭菜花)

Preparation time: 10 minutes
Rapid cooking time: 10 minutes

2 cups (about 4 ozs.) Chinese chive blossoms (韭菜花)
8 ozs. pressed tofu (plain 豆腐幹, smoked 熏豆腐幹 or spiced 五香豆腐幹)
1 tablespoon vegetable oil
1 teaspoon finely chopped garlic
2 tablespoons Shaoxing wine (紹興料酒)
2 tablespoons chicken stock or water
1/2 teaspoon salt
1/2 teaspoon white pepper

Cut the chive blossoms into about 2-inch long pieces and the pressed tofu into 1/8 inch thick slices. Heat the vegetable oil in a very hot wok until just about smoking stage. Put the garlic in the wok and stir-fry for about a minute. Put the pressed tofu and chive blossoms and Shaoxing wine in and continue to stir-fry for about another 2 minutes. Add the salt and pepper and chicken stock or water and continue to stir-fry for another 2 minutes. By this time the chive blossoms should be just cooked and the tofu heated through. Immediately plate the dish and serve.