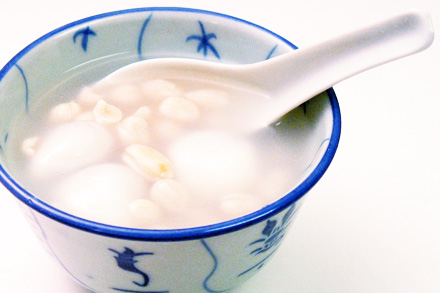 We braved the subzero temperatures last Wednesday night to view the lunar eclipse. It was too cold to spend much time outside, but we managed to witness the beautiful red moon at its peak. This beautiful sight made me ponder the moon's place in Chinese traditions and lore. The moon's round shape is very appealing to the Chinese and variously symbolizes harmony, fulfillment and reunion. And the Yuanxiao (元宵節) festival, which marks the end of The Chinese New Year's festivities and celebrates the first full moon of the new year, would be celebrated the very next day.
We celebrated Yuanxiao this year by hosting a small dinner. I was pleased the celebration was subdued, because I was still worn out from cooking the New Year's Banquet. I cooked a simple meal, and served tangyuan (湯圓) at the end as is traditional for Yuanxiao celebration.
Tangyuan is a generic name for sweet dumplings made from glutinous rice flour (糯米粉). They are often stuffed with red bean paste, sesame paste, peanut paste and other sweet pastes, but can also be served as plain unstuffed small spheres. On this occasion I served sesame paste tangyuan in a peanut broth. Tangyuan can be purchased frozen in Chinatown markets and is a very convenient alternative to making at home.
Sweet Sesame Dumpling in Peanut Broth (花生芝麻湯圓)

Preparation time: 5 minutes
Slow cooking time: 35 minutes

1 package sesame paste stuffed tangyuan (often come in a 15 dumplings pack)
1/4 cup raw blanched peanuts (red seed coat removed)
5 cups water
1/4 cup sugar

Simmer peanuts, water and sugar in a pot on very low heat for about 30 minutes. Add the flozen tangyuan dumplings and continue to simmer for about 5 minutes. When the tangyuan dumplings appears translucent it is ready to serve. Do not overcook the tangyuan dumplings or cook ahead, they are prone to become soggy and limp.