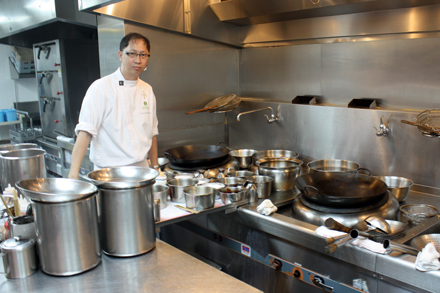 Unhappy and failing in high school Yong Bing Ngen (楊彬源) decided he was ready to set out and explore his future on his own. He announced his intention to his schoolmates one day and left school the next to work at his brother-in-law's restaurant as a dishwasher. Without a definite plan his mother was concerned for his prospects, and advised him to learn a trade. He pondered her counsel while doing dishes and took a peek at the cooks in the kitchen. It was a "kopi tiam" or a family-run restaurant serving local Chinese food. He was intrigued by the activities in the kitchen and decided cooking was going to be his trade. From this humble beginning Chef Yong went on to become one of Singapore's most innovative Chinese chefs and chef owner of the Majestic Restaurant and Jing.
I visited Chef Yong at his restaurant last week and chatted with him about his work in the restaurant industry and his philosophy of Chinese cooking. Chef Yong struck me as being a very open and genial individual (character traits not always found in high-powered successful chefs). As I spent more time with him and learned about how he worked his way through the ranks in the kitchen, I realized his success comes from his creative mind and the methodical management of his career.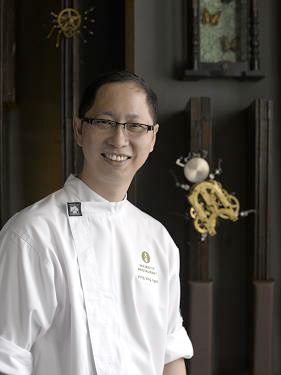 Chef Yong grew up in Kuala Lumpur and after the short stint as a dishwasher he landed his first cooking job in another Chinese restaurant. It was the turning point in his life he said, and he can still remember the exact date: September 20th, 1982. Although he learned good knife skills and basic cooking techniques he was not satisfied with the level of work. He aspired to become a world-class chef. After some false starts his persistence finally landed him a place at the Ming Court Hotel in Kuala Lumpur in 1987, and he was on his way to becoming one of the most respected chefs in Asia.
Like many modern Chinese chefs, Chef Yong is adapting many flavors and cooking techniques from various regions to serve an eclectic collection of Chinese dishes. I asked him why the cuisine was not more singularly focused. He replied that although he likes to use Cantonese cooking as the backbone of his food he also infuses a lot of his Hakka background and other regional influences into his cooking. He feels he can be more flexible and inventive this way. Cantonese cooking he believes is the most refined of Chinese regional cuisines and that's why he chose his core style to be Cantonese.
Chef Yong praises this trend of restaurants not serving dishes from a single region. He believes Chinese regional cooking as well as foreign ingredients should be allowed to freely influence modern Chinese food. He argues that modern chefs should apply classic Chinese cooking techniques yet take advantage of improvements in transportation and food preservation technology to present ingredients from a wider geographic area. He specifically noted that fresh seafood, which is prized by the Chinese, comes from all over the world and are now available in many Asian cities. New ingredients are making it possible for many chefs to be innovative in their cooking.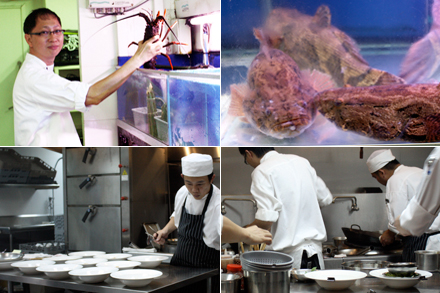 However when it comes to fusion cooking, Chef Yong is not enamored by the concept. He does not identify his cooking as fusion but rather as modern Chinese. He likens fusion to comedy films. There may be lots of fun parts to entertain the audience but more often than not there is not much substance in the content. To create successful fusion food, Chef Yong believes, the chef must understand the underlying techniques and flavors. Just like successful comedy films must have strong content as a point of reference. He faults many Western chefs for creating fusion food without a strong reference to its Asian origin. In his modern Chinese cooking he usually uses strong Chinese cooking techniques but applies them using new ingredients, and a more up to date presentation. It is this last concept that prompted him to serve some of his dishes using a western "a la Russe" serving style of individually plating the food, a departure from regular Chinese style of serving dishes communally.
Chef Yong is a disciplined but sympathetic manager. He professed to have learned a great deal from many of the chefs and managers in his various positions at major hotel restaurants throughout Southeast Asia. His impressive resume includes periods of work at Ming Court Hotel Kuala Lumpur, Toh Yuen at Kuching Hilton, Lok Wah Hin at Novotel Bangkok, Wang Jiang Lou at Clark Quay, Jiang-Nan-Chun at Four Seasons Hotel Singapore, Jade at Fullerton Hotel Singapore, Empress Room and Doc Cheng's at Raffles Hotel Singapore, and Hai Tien Lo at Pan Pacific Hotel Singapore. Although he could not identify one singular person as his mentor he credited many for molding him into a restaurateur who can create menu concepts, run a business successfully and manage a kitchen smoothly.
Spending the afternoon interviewing Chef Yong was truly inspiring. Not only of his spectacular "rags to riches" tale, but the humanity he brings to his profession making him a unique individual among professional chefs.