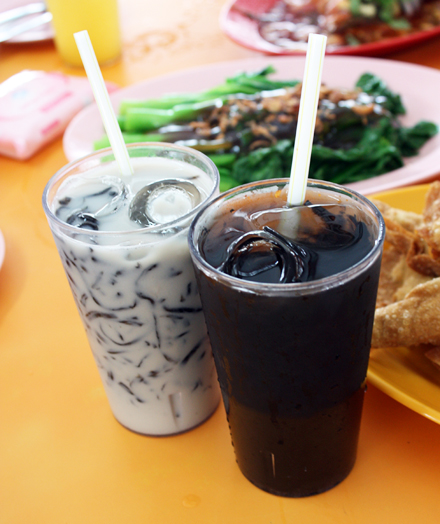 We left our comfortable air-conditioned car and entered a large corrugated shed that houses the Orchard View Yong Tau Foo Restaurant in Kuala Lumpur on a recent hot sunny afternoon. Although the shed is open-sided it sits between two similar restaurants so there is no cross breeze to speak of. By the time we were seated I was already drenched with sweat. I couldn't wait to order one of the ice cold drinks that always start a meal in restaurants throughout Malaysia and Singapore.
Open air or outdoor eating-places are everywhere in Southeast Asia and they serve up some of the most satisfying meals. But the hot and humid climate makes it a challenge for travelers from a more temperate clime to stay cool. Even locals who work and live in air conditioned spaces have a hard time. Ice cold drinks make it almost tolerable to enjoy eating al fresco.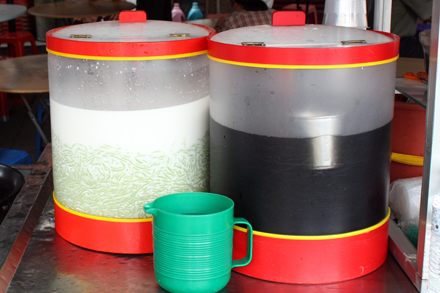 In Malaysia and Singapore many cold drinks are based on Chinese drinks or have been influenced by them. A particularly popular one is grass jelly drink, which is traditionally made with an herbal grass jelly (仙草), water and simple sugar syrup. Grass jelly is made from an herbal plant, with a scientific name of mesona chinensis, which is thought to have special healthful effect of cooling the body. For centuries it has been used to revive sunstroke victims. The plant is dried then boiled for hours to make a black looking brew, to which a small amount of starch is added as coagulant to form a jelly. The solidified jelly can be cut up and served warm or cold in a syrup.
A version that I recently learned about is made with soybean milk instead of water and has a white appearance instead of being translucently black. In Kuala Lumpur it is called a "Michael Jackson," which I hoped was named in jest but I certainly find the name uncomfortably insensitive. My feelings aside, both the regular grass jelly drink and the soybean milk version are excellent cooling drinks.
Making grass jelly is a laborious process. I remember our cook in Singapore used to spend a long time making it at home when I was growing up. In Southeast Asia grass jelly is now sold fresh in blocks at local markets. In America you can buy grass jelly in just about any market in Chinatown, though it is only available in canned form. It's packaged as plain grass jelly or already mixed and ready to drink.
I've been touring Malaysia and Singapore these last two weeks and I've encountered many tropical drinks of my youth. I'll be sharing some of them in upcoming posts. For now here's a recipe for making grass jelly drinks using commercial ready made jelly. Cheers!
Grass Jelly Drink (仙草)

4 ozs. grass jelly (fresh or canned)
3 ozs. water or soybean milk
Enough crushed ice to top off a glass
simple sugar syrup or sugar to taste

Cut the grass jelly into thin strips or chop into small pieces. Put in a glass and add water and ice. Sweeten the drink with a simple syrup made from sugar and water. Serve icy cold.
As an alternative soybean milk can be substituted for the water.