"What? No red cooked pork?" was the astonished question from my nieces when I told them our Chinese New Year celebration this year was to be a hot pot feast. For years I've always made a banquet of traditional Chinese food for the obligatory New Year's Eve reunion dinner. But this year I decided to break from our family tradition. New Year hot pot dinners have always been very common in the provincial districts of China. But many city folks are rediscovering this tradition because not only is it delicious, it is also more economical and less time consuming to prepare.
I am very fortunate that Foodbuzz agreed to include my reunion dinner as part of their January "24 Meals, 24 Hours, 24 Blogs" event. This event was scheduled for Saturday January 24th evening. Although tradition dictates that the reunion dinner is served on New Year's Eve, I invited my family to join us in this celebration one day early to coincide with the Foodbuzz event.
In China, and in many other parts of Asia, hot pot is a very popular way for family to share a meal around a dinner table. Similar to a fondue concept, raw or partially cooked ingredients are cut up and brought to the dining table, then cooked in a boiling broth. A pot specially designed with a flue and commonly fueled with flaming charcoal is set in the middle of the table. Before central heating was widespread in China the heat from the pot can always be counted on to warm the family at dinnertime.
As with many other food traditions there are wide-ranging regional variations of hot pot meal. In the north "Lamb Hot Pot" (涮羊肉) is very popular, whereas in Sichuan the "Mala Hot Pot" (麻辣火鍋) is omnipresent. I decided to make the version from my family's home province in China's southern coastal region. It is served with a simple aromatic broth accompanied by a multitude of sliced meat, meatballs, dumplings, and vegetables.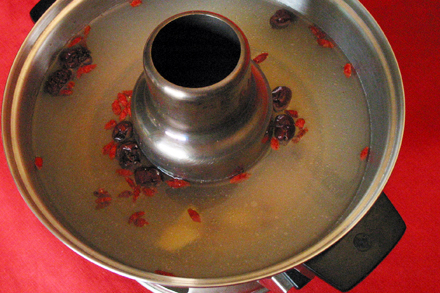 Under normal circumstances I would go to Chinatown and purchase most of the ingredients. The dumplings, meatballs and fish balls are available ready-made in the markets. But this is not an ordinary dinner. So I decided to make them all at home.
As I planned the menu I divided it into fresh meat, fresh seafood, home processed meats, dumplings, soy-based ingredients and vegetables. The fresh sliced meat and cut up seafood, along with the tofu and vegetable groups can be prepared on the day of the dinner. But the processed meats, which included meatballs, fish balls and shrimp paste, and the dumplings, have to be made ahead. So over two days I premade these hot pot ingredients.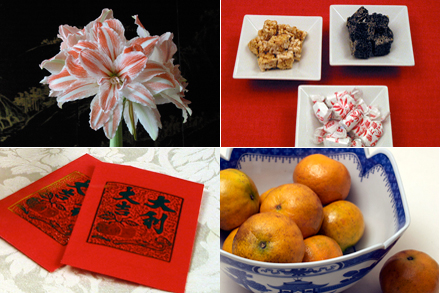 迎春火鍋
Chinese New Year Hot Pot Dinner

Harlem USA
Saturday, January 24th, 2009
—
香辣泡菜 Pickled Cabbage
五香花生 Boiled Peanuts
—
雞肉片 Sliced Chicken
肥牛肉 Sliced Beef
羊肉片 Sliced Lamb
三鮮肉丸 Pork Meatballs
—
鱸魚片 Sliced Sea Bass
鮮海蝦 Fresh Shrimp
火腿魚丸 Ham and Scallion Fish Balls
吊片 Squid
鮮蝦滑 Shrimp Paste
—
鮮蝦餃 Shrimp Dumplings
迎春蛋餃 Egg Dumplings with Pork Filling
—
腐竹 Tofu Skin
凍豆腐 Frozen Tofu
鮮豆腐 Fresh Tofu
鹌鹑蛋 Quail Eggs
—
杏鮑菇 Abalone Mushrooms
金針菇 Enoki Mushrooms
香菇 Shiitake Mushrooms
本占地菇 Beech Mushrooms
蓮藕片 Lotus Roots
—
蓬蒿菜 Chrysanthemum Greens
白菜 Napa Cabbage
西洋菜 Water Crest
冬瓜 Winter Melon
香菜 Cilantro
山藥 Mountain Yam
—
鮮蛋麵 Egg Noodles
粉絲 Cellophane Noodles
—
芝麻醬 Sesame Paste
花生酱 Peanut Paste
辣椒油 Chili Oil
麻油 Sesame Oil
醬油 Soy Sauce
香炸蒜 Fried Minced Garlic
香蔥末 Sliced Scallion
香菜削 Chopped Cilantro
—
甜年糕 Glutinous Rice New Year Cake
鮮果盤 Fresh Fruit Plate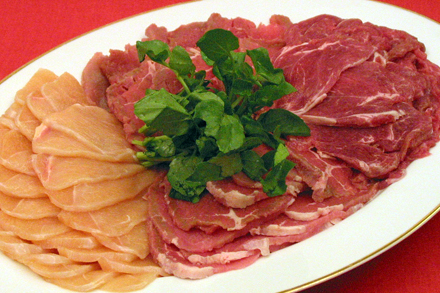 For the meats I served chicken, beef and lamb. They all had to be sliced as thinly as possible so they would cook very quickly in the broth. A meat slicer would have been the best way to accomplish this. But without one I sliced them by hand using the technique of semi-freezing the meats. I froze the meats completely, then thawed them in the refrigeration compartment for 24 hours. By that time the meats were soft enough for me to cut into very thin slices.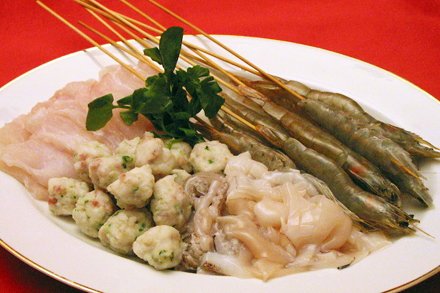 The seafood platter included slices of sea bass, squid, whole shrimps and fish balls. The squid and sea bass were sliced into bite size pieces. The shrimp were served whole and skewered for easy handling. The heads were left on to ensure freshness.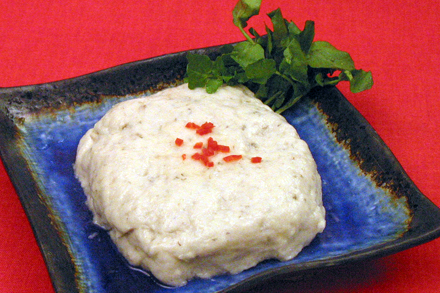 For variety I made pork meatballs with water chestnuts and shiitake mushroom, fish balls with ham and scallion, and shrimp paste. This pork meatball is typical of southern Chinese cooking. I remember growing up at home eating these pork meatballs in soups. The shrimp paste is normally used for stuffing or made into balls. But I served it as paste and dropped lumps of it into the hot broth. For my family it was novel to see irregular lumps of pink shrimp paste floating in the broth.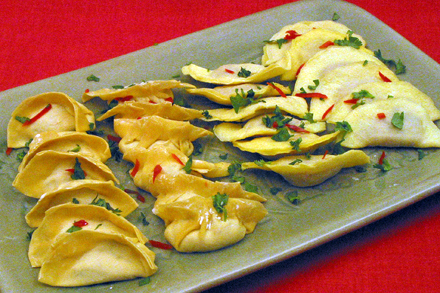 In Taiwan egg dumplings are very popular for Chinese New Year celebrations. The shape of these dumplings remind some people of gold nuggets so they have become a symbol of prosperity. I made these dumplings with succulent pork and scallion filling wrapped in an egg-based skin. I also made shrimp dumplings wrapped in wonton skins. I used part of the shrimp paste for the filling.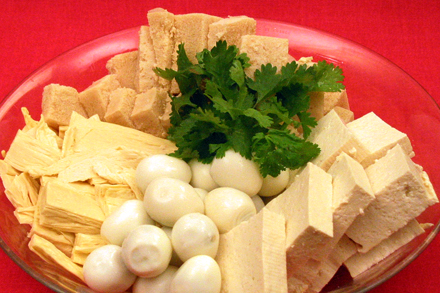 I assembled a platter of soy-based ingredients with quail eggs. The soy ingredients included fresh and frozen tofu, and tofu skin. This combination highlights the different textures of tofu products. The frozen tofu had a spongy texture that contrasted with the silky smooth feel of the fresh tofu.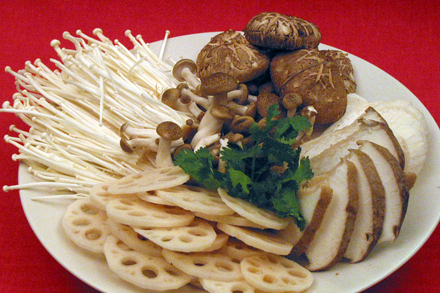 The mushroom platter combined four different kinds of mushrooms: abalone mushrooms, enoki mushrooms, beech mushrooms and shiitake mushrooms. They all had slightly different textures and flavors. They also infused incredible earthiness to the broth.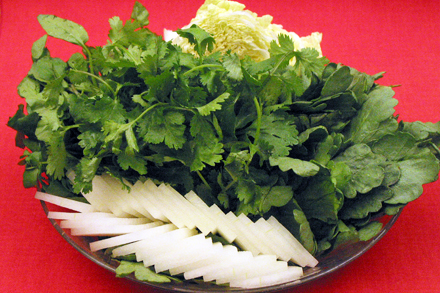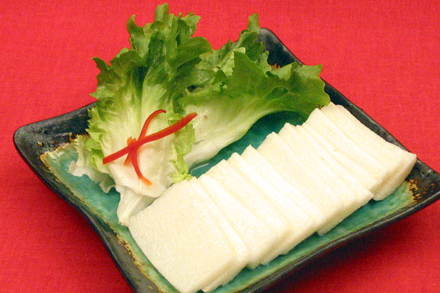 One of my favorite vegetables is chrysanthemum greens (蓬蒿) and it has always been part of our family hot pot meals. This vegetable has a slight mustard taste yet is not spicy, and compliments meat flavors very well. I combined it with napa cabbage, water crests, winter melon and cilantro. I also served Chinese yam (山藥), which is a long tuber that is very slimy when cut. It retains its crunchy texture when cooked al dente.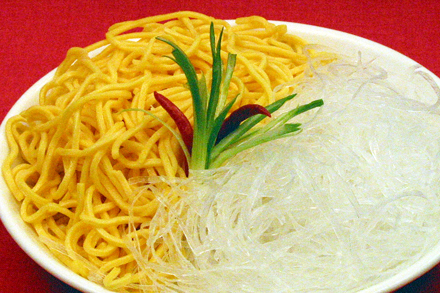 For starch ingredients I decided to put together what I called my "Gold and Silver Noodles Platter." It was a combination of egg noodles and mung bean cellophane noodles.
To spice up the flavor of the ingredients different sauces were offered. I presented a selection of eight choices for our guests to combine in any proportion they desired. To me this is part of the fun of a hot pot meal. I like to make different combinations and create original taste sensations. For this dinner I included sesame paste, peanut paste, chili oil, sesame oil, soy sauce, fried minced garlic, sliced scallion and chopped cilantro.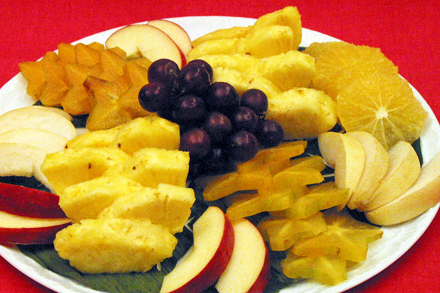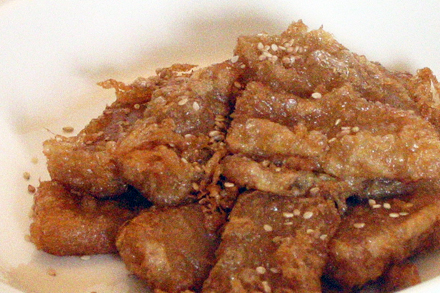 Finally I served a fresh fruit platter along with my homemade New Year cake. I deep-fried pieces of the cake in a light egg batter before serving. I was pleasantly surprised when everyone really enjoyed this cake. Perhaps one of the reasons was because it was not as sweet as the store bought version. The entire plate of cakes was devoured even before I served a new pot of hot tea.
As is the practice of our family back in Asia for a hot pot meal ice-cold beer was served. Somehow the cool beer worked really well with the many different flavors of the ingredients. It is just easier to down a few bottles of beer instead of having to pair sophisticated wine.
I haven't served a hot pot meal for a while and I've forgotten how delicious it can be, as well as how much fun it is to prepare and eat. Besides no one really missed the red cooked pork anyway. Happy new year of the ox!