In most Asian household fish paste is normally bought from the fishmongers because it is presumed to be a laborious proposition to make at home. In fact there are many specialty stores in Asian cities offering only fish paste and fish balls. These stores are often known for their own signature variety of fish paste or fish balls. But it's surprising to know how easy it is to make fish paste at home.
Before the advent of mechanized processing, fish paste (魚漿) was made in large mortar by smashing the ingredients with pestle. White fish is smashed until completely disintegrated, and then egg white, starch and seasonings are added. Occasionally you can still find a traditional fish paste store using these ancient tools. Now though, we can make fish paste successfully in the home kitchen using a food processor.
To make fish paste, select white fish with very firm meat. I like to use pollock or cod. Along with good arrowroot starch they make excellent chewy fish paste. I strongly suggest you get arrowroot starch for this recipe and not cornstarch. All ingredients should also be kept at a very cold temperature. In this recipe I suggest the use of ice cube during blending to keep the temperature low.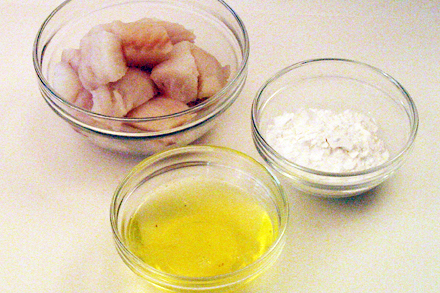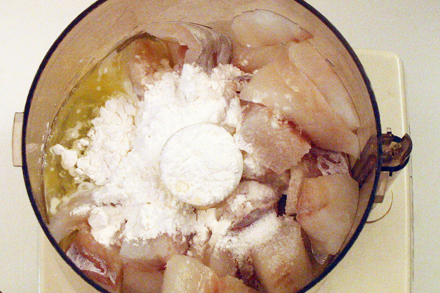 Once created the fish paste can be used in many different ways. It can be used to stuff eggplant, bitter melon or other vegetables, made into fish balls, or formed into cake and deep-fried. You can even drop lumps of the raw paste into soup or a hot pot. To form fish balls put a handful of the paste in your palm. Then make a circle with your index finger and thumb. With your other fingers squeeze the fish paste through the hole, and squeeze your thumb and index finger together to slice off the ball when it's the desired size.
We enjoyed this fish balls during our Chinese New Year hot pot dinner. I added ham and chopped scallion to make the dish more interesting. I also made a shrimp paste by substituting equal amount of shrimp for the fish in the same recipe. I hope you'll enjoy it as well.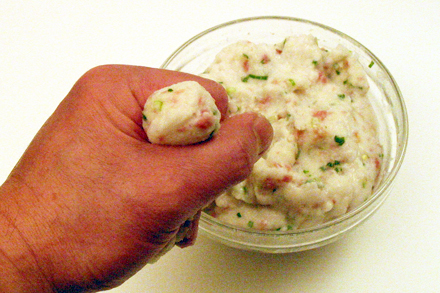 Fish Paste (魚漿)

Preparation time: 20 minutes
Rapid cooking time: 15 minutes

1 lb. white fish (pollock)
3 tablespoons arrowroot starch (can be substituted with tapioca starch or cornstarch)
Egg white from 1 eggs
1 ice cubes (about 1-inch square)
1 teaspoon salt
1/2 teaspoon white pepper

Cut up the fish into 1/2-inch cubes. Put all the ingredients except for the ice cubes in a food processor and blend for about two minutes or until smooth. Then add the ice cubes and continue to blend for another three minutes or so. The paste should be very thick with a lot of elasticity. The finished paste should be very smooth with no solid pieces of fish. Scoop the paste into a bowl and refrigerate for about an hour before using.
Ham Fish Balls (火腿魚丸)

Preparation time: 20 minutes
Slow cooking time: 15 minutes

2 cups fish paste (one portion of the above Fish Paste recipe)
2 tablespoon minced ham
2 tablespoon minced scallion

Add the ham and scallion into the cold fish paste and be sure to mix very well. Then form the fish balls and put them spaced evenly on a flat tray. Cook the balls in boiling water for about three to five minutes depending on the size of the balls you formed. Set aside for used in soup or in hot pot.