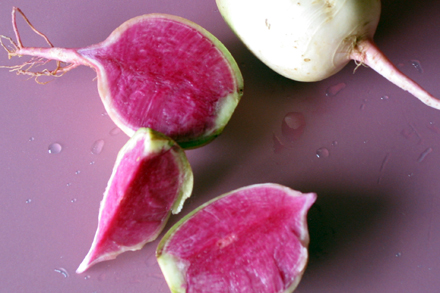 Valentine's Day is not a Chinese tradition, but young Chinese are taking in droves to emulate Western culture by celebrating love every year on the 14th of February. Yet the divorce rate in China is also rising precariously. Is there a correlation here? I will let the sociologist research this problem to their hearts content. I am however more interested in what are the options for a Chinese cook to celebrate this bourgeois decadent Western festival.
Well, I supposed my red bean paste dumpling from Chinese New Year Banquet could be substituted for chocolate. But I'm not sure if red bean has the same aphrodisiac effect as chocolate. Longan apparently is an aphrodisiac and I could create a refreshing fruit dessert. (Longan, a Chinese juicy fruit with a large pit and brown outer skin, is in season and available in New York City Chinatown right now.) But I decided to pick an earthly root for this Valentine's Day because of its purity and innocence. This root vegetable generally keeps well over the winter and is available year round in China. Let me introduce you to the "inner beauty radish."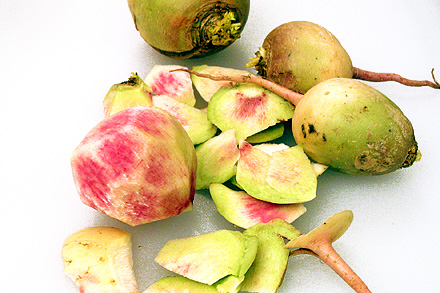 Also known as watermelon radish in America this radish is called xin li mei (心里美) in China. Literally translated it means "inner beauty." It is popular in the Northern region of the country and commonly used to make salad or pickle. This radish has a bulbous shape with a white to slightly green outer skin. The green color is darker at the top of the root. What is astonishing for many Americans though is the beautiful purple pink color of the inner flesh. Interestingly I found the radish at the Union Square Greenmarket and not in Chinatown. I believe they are also available in California greenmarkets.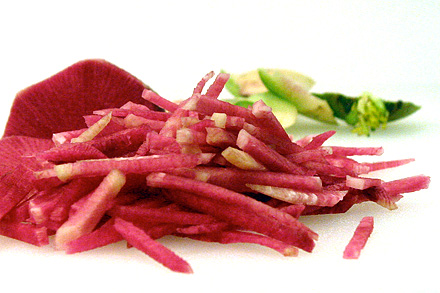 Today I am sharing with you a recipe for a refreshing Sweet and Sour Radish Salad (糖醋蘿菠絲). For this salad the skin is peeled off in thick slices and only the pink flesh is used. But don't discard the skin as it can be pickled and stored for extended period of time. The pickled radish can later be served as a side dish for rice porridge, or simply to accompany a Chinese meat dish.
I think this salad can be served very successfully with Western dishes if you're not planning on a Chinese meal for this Valentine's Day. A simple shrimp salad in mayonnaise accompanied by this radish salad can be served as first course. Or it can also work very well as accompaniment for hearty braised short ribs or pot roast.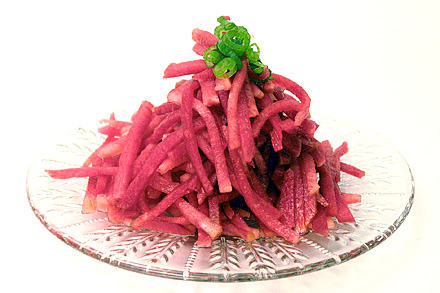 Sweet and Sour Radish Salad (糖醋蘿菠絲)

Preparation time: 15 minutes

2 cups thinly shredded watermelon radish (2 medium size radishes)
1/2 teaspoon salt
1 tablespoon white vinegar
1 tablespoon sugar

Peel the radishes in generous thickness and save the skin if you wish to make pickle. Shred the pink flesh into strands of 1/8 inch thickness. Put the shredded radish in a bowl and mix in the rest of the ingredients. Mix well and marinate in refrigerator for about 20 minutes or so. Serve cold garnished with thinly sliced scallion. It is excellent as an accompaniment for meat dishes.
So there you have it! I'm offering you a beautiful side dish to accompany your aphrodisiac meal. You can always serve chocolate at the end to improve your mood since Chinese cuisine is not known for its dessert anyway.
Have a happy Valentine's Day!