We've just entered the year of the tiger and according to the five elements of Chinese geomancy it is the metal tiger year, which is also known as the white tiger year. Consequently for most people it is to be a turbulent period with unpredictable outcomes and uncertain prospects. But if you were born in the year of the sheep, horse, dog, tiger, ox or dragon, you're in luck because your birth sign counteracts the negativity. You'll have more good fortune and opportunities for success in your career this year. Since I was born in the year of the horse I'm due for some good fortune or career success. But as a practical man that I am I just wish for a successful New Year's dinner.
We celebrated our family Chinese New Year reunion banquet last Saturday night. This year's meal was based on southern coastal Chinese cooking of the Hakka (客家) and Chaozhou (潮州) traditions and centered around a dish called DaPenCai (大盆菜), literally translated as "big basin meal."
Legends abound as to the origin of this dish. But the most commonly told story is that a northern emperor, fleeing from the Mongol's invasion, arrived in the region seeking refuge. The locals entertained him by making sumptuous dishes from the best local seafood and delicacies including abalone, sea cucumbers, scallops, shrimps, fish, chicken, duck and pork. But with no serving dishes large enough to present all that they had prepared they piled everything in a wooden basin and presented to the emperor.
So Hakka DaPenCai is not a single dish but rather a way of presenting layers of multiple dishes all prepared separately. This dish is commonly served on the fifteenth day, or the last day of Chinese New Year festivities, and usually consists of fifteen different items. I was only able to manage ten items for my version. But with the addition of an assortment of cold dishes, soup, fish, a rice dish and dessert I don't think anyone missed the other five items. And no one went away hungry. To enhance our banquet my guest and friend Nobu, who is the owner of The Winery in Harlem, paired a list of wine to serve with our meal. So here is the menu for our banquet.
迎春晚宴
Chinese New Year Dinner

Harlem USA
Saturday, February 13th, 2010
—
四色小涼菜
Assorted Cold Appetizers
梅香青番茄 Green Tomato Salad with Salted Plum
涼拌海蜇絲 Jellyfish Salad
鹵水豆腐 Cold Braised Tofu
辣拌黃瓜 Spicy Cucumber Salad
Domaine de Martinolles NV Blanquette de Limoux
Languedoc, France
—
發財大盆葉
Prosperity DaPenCai
原汁燜鮑魚 Braised Abalone
紅燒大烏參 Red Cooked Sea Cucumber
紅燜干貝 Braised Dried Scallop
鮑汁燜鴨掌 Abalone Sauce Braised Duck Feet
客家鹽焗雞 Salt Baked Chicken
脆皮燒肉 Crispy Roasted Pork Belly
清炒鮮大蝦 Stir-Fried Prawn
釀炸油豆腐 Stuffed Fried Tofu
蠔油炒雙冬 Stir-Fried Double Winter Delight
清蒸西藍花 Steamed Broccoli
The Gatekeeper 2006 Shiraz 'Unfiltered'
Australia
Domaine de Monpertuis Paul Jeune Counoise "Vignoble de la Ramiere" 2006
Languedoc, France
—
鹹菜鴨肉湯
Duck and Salted Mustard Greens Soup
梅菜蒸鯧魚
Steamed Pomfret with Preserved Cabbage
Domaine Frederic Lornet 2006 Chardonnay 'Messagelins'
Arbois, France
—
南瓜赤米飯
Pumpkin Multigrain Steamed Rice
Quatro Mani Toh-Kai 2007
Dobrovo, Slovenia
—
白果甜芋泥
Mashed Taro with Gingko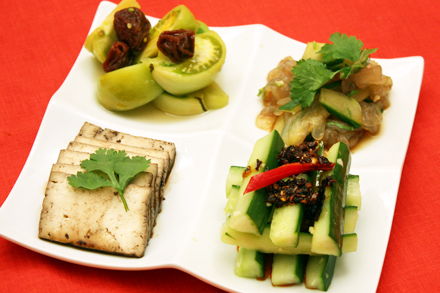 The four items in the cold dishes include Green Tomato Salad with Salted Plum (梅香青番茄), Jellyfish Salad (涼拌海蜇絲), Cold Braised Tofu (鹵水豆腐), and Spicy Cucumber Salad (辣拌黃瓜). The dressing on the green tomato salad was a light syrup of salted plum and lemon juice, and was delicious paired with the crunchy tomatoes. The jellyfish salad was a classic Chinese jellyfish preparation with black vinegar, soy sauce and sesame oil. The cold braised tofu was made with a braising liquid of soy sauce, cooking wine, ginger, scallion and star anise. The cucumber salad is based on this basic recipe. Then I top it with some chili oil.
Nobu paired a beautifully fruity and slightly sweet sparkling wine of blended grapes from the Languedoc region with the cold dishes. The crisp smooth taste of the wine was simply divine when sampled with these cold dishes.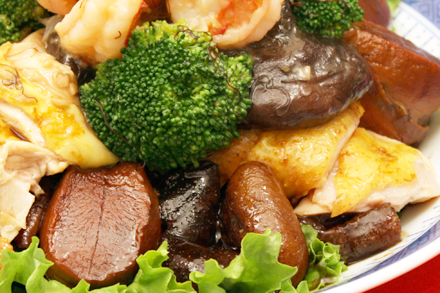 It would take a separate post to describe each items in the DaPenCai. So I will just say that it took me one full day to make all of them. I posted the recipe for the Braised Abalone in my last post. There was enough extra braising liquid for making the Braised Duck Feet. The Salt Baked Chicken was based on a recipe from one of my Singaporean aunt, who was an incredible cook. The pork belly was roasted until skin turned golden and crispy. I also made the Stir-Fried Double Winter Delights with both fresh winter bamboo and shiitake mushrooms. In the end the most difficult part of this dish was the layering. I had to make sure all the items were ready before plating. By the time I plated all the items much of the food was already cold. I only wish I had a larger kitchen with more gas burners.
Two bottles of red wine was paired for the DaPenCai. Nobu decided that there were too many ingredients to be paired with just one red. As it turned out the Shiraz was great with the duck feet, but the Languedoc red was just perfect for the Abalone.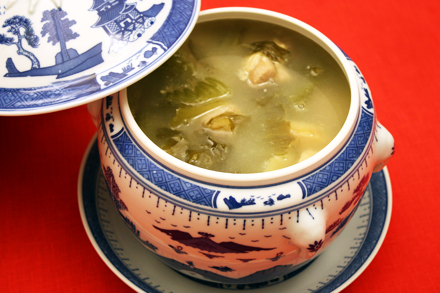 The Duck and Salted Mustard Greens Soup (鹹菜鴨肉湯) is a typical Hakka soup made from salted mustard greens that is a signature ingredient of the region. Duck bones are chopped up into small pieces and simmered for a long time with ginger, scallion and wine. Then the greens are added during the last 20 minutes or so before serving.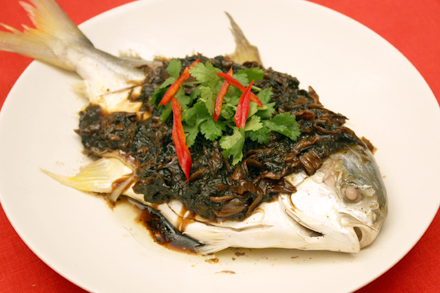 I chose pomfret for the fish course because it is a popular fish and common in the region. Preserved cabbage was first cooked in a braising sauce before being poured on top of the fish making Steamed Pomfret with Preserved Cabbage (梅菜蒸鯧魚) a very elegant fish dish.
For the soup and fish courses Nobu paired a beautiful Arbois that is fruity yet not too sweet. At this point I decided that fruity wine really is the best pairing with Chinese food. This Arbois did not just accompany the fish well it enhanced the pickled cabbage flavor.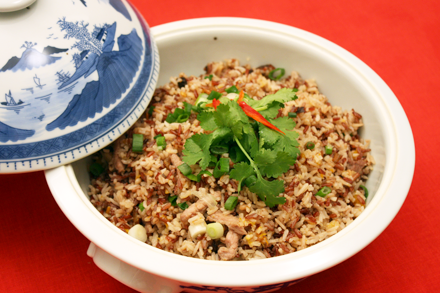 For the starch course I made Pumpkin Multigrain Steamed Rice (南瓜赤米飯) made with white and red jasmine rice as well as barley. It is based on a traditional rice dish made with pumpkin, reconstituted dried shiitake mushrooms, dried shrimps and pork It was a hit among the guests.
The final pairing of wine was a total surprise for me. Nobu brought a Tocai that is not sweet at all. It was perfect for accompanying the sweetness of the pumpkin.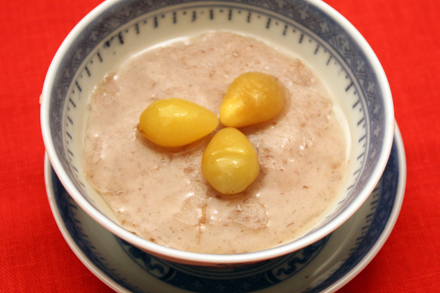 Dessert was the Taro Paste with Gingko that I wrote about in my previous post. It is one of my favorite dishes and I was glad to enjoy it guilt free this time.
Along with our family and friends we also enjoyed our first Chinese New Year with our cat Xiao Hu (Little Tiger). It is quite appropriate that this should be the year of the tiger, don't you think? He was even eager to be in front of the camera when I shot the pictures of the dishes. Well he should be glad that he didn't become one of the courses in the banquet. Happy New Year to all!