Like many home cooks I love to collect all kinds of cooking utensils, appliances, cookware and tableware. I own a strawberry huller, fish poacher, taco frying tongs and artichoke plates. Then after using them once or twice they're usually banished deep in a drawer or at the back of a kitchen cabinet, where they're undiscovered for years. But there is one curious looking specialty clay pot, with a steam spout in the middle, that I use regularly for making the most delicious chicken soup. It is a Yunnan (雲南) steam clay pot (汽鍋).
Official Yunnan provincial information credits a Chef Yang Li (楊瀝), from Jianshui County (建水縣), for inventing the steam clay pot more than two hundred years ago. Originally used to make simple steamed chicken soup, over time medicinal herbs were added to make different kinds of healthful soups as remedy for various ailments. Other types of meat such as pork and beef were also used in more recent times. But chicken is still the meat of choice among Yunnan cooks.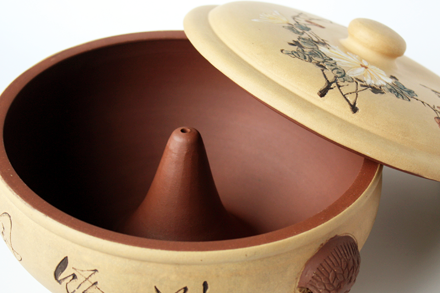 The best steam clay pots are made from Yunnan red clay that is durable yet porous. The pot seasons with repeat use. In fact cleaning agents are not recommended, as they will be absorbed into the permeable clay. With age the pot will make even more flavorful soup.
Traditionally when steaming the soup the pot is placed on top of another regular clay pot full of boiling water. The two pots are sealed together with strips of paper using a starchy paste to prevent steam from escaping out the sides. As the steam cooks it condenses and create the most intensely flavored soup I know. If you do not have another clay pot for boiling water you can use any pot that will support the steam clay pot. Sealing the seam between the pots however is essential.
My steam clay pot was actually a gift from my sister more than twenty years ago when she visited us from Singapore. I had not seen this pot for sale in retail stores anywhere in the U.S. That is until recently when I discovered The Wok Shop in San Francisco sells it online
.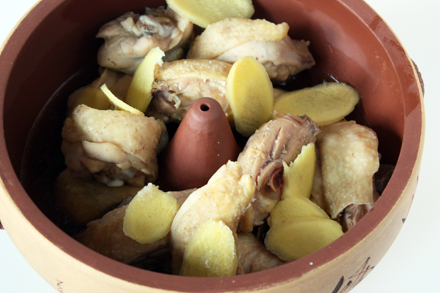 I was originally dumbfounded about what to do with this pot. My sister was only able to tell me the most basic cooking instructions of steaming the soup over boiling water. Then I discovered various recipes to use with this pot in cookbooks and online. Over the years I've experimented with many of these recipes but I always return to the original, simple way of making a chicken soup flavored with ginger and wine. It is truly amazing that three ingredients, with a dash of salt and pepper, can create one of the most delicious soups of all time.
So if you're as crazy about exotic cookware as I am then order this Yunnan steam clay pot post-haste, and make this chicken soup. You will be completely astonished by how a simple recipe can create such depth of flavors.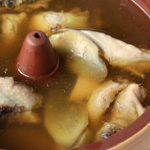 Steam Clay Pot Chicken Soup (汽鍋雞)
Print Recipe
Ingredients
1 1/2

pounds

chicken legs

10

slices

fresh ginger

thinly sliced

1

cup

Shaoxing cooking wine (紹興料酒)

1 1/2

teaspoon

salt

1/2

teaspoon

ground white pepper
Instructions
I like to use dark meat for this recipe because it maintains a tender and smooth texture even after long period of cooking. You can remove the skin to reduce the fat in the soup. Cut the chicken legs into about one-inch pieces. Put the chicken in a medium stockpot and put enough water to cover all the meat. Parboil the chicken for about three to four minutes. Skim off the scum from the top of the water as it cooks. Scoop the chicken pieces out and place them in the steam clay pot. Discard the water from parboiling.

Add the rest of the ingredients in the steam clay pot and cover. Place the steam clay pot over a medium stockpot that's filled with hot water. Cut long strips of parchment paper of about two inches wide. Be sure to cut enough length to surround the pot. Make a thick paste of flour or cornstarch with water to a consistency of paper glue. Spread the starch paste on the parchment paper strips. Seal the seam of the pots with the parchment. Then bring the water to a slow boil and cook the soup for about three to four hours.

If you notice that there is no more steam coming out of the spout the water may have boiled away. Remove the seal, add more water and seal the seam again. Continue to cook until the condensation has created enough soup to fill the steam clay pot. Serve the soup in the pot immediately after removing the paper seal.