There is something slightly disconcerting about planning a dinner intended entirely to highlight different kinds of exotic meat such as wild boar, veal, pork, quail, rabbit sausages, lamb sausages and oysters. Separately they each would make a winning dish, but how would you put them all in one dinner without overwhelming the diners. Should there be a specific style of cuisine? What kind of supplementary ingredients would be suitable? This was the challenge Christo at Chez What? faced when offered a bounty of these meats from Marx Foods to sample. His solution was to invite a few bloggers to get together and cook.
And what a great idea it was! I was invited to join in this cooking and blogging fête along with Christy at balance, and Joanne at Eats Well With Others. We all have individual styles of cooking. We each picked the meat that would best represent our cooking approaches. Yet the result was a meal with dishes of diverse flavors and interesting techniques, and somehow managed to come together into a very stimulating and entertaining dinner.
I picked the veal, quail and oysters as my protein and designed dishes with Chinese flavors. The veal came in a beautiful chop and two large pieces of osso buco. I decided to make them in two different styles. The osso buco I braised with Chinese spices creating a red cooked style sauce, and the veal chop was simply grilled after marinating in a mixture of garlic, cilantro and olive oil. The quails I smoked with tea and spices then served with an orange and anise sauce.
The oysters, which included Pacific, Olympia and Kumamoto varieties, I served on the half shell with a sour plum sauce. A few of the dinner guests were initially rather apprehensive about eating the oysters. But the sweet and sour taste of the sauce was so appetizing that they decided the oysters were not as unpalatable as they imagined.
Marx Foods supplies gourmet meat, and other rare ingredients to the restaurant industry as well as consumers. Products can be purchased directly from their Web site. The meats we received were vacuum packed and shipped via Fedex, so they arrived fresh and ready for cooking. It was an excellent way to obtain exotic meats not commonly found in regular markets.
Along with the meat Marx Foods supplied us with a collection of dried wild mushrooms and dried chilies. So it was natural for us to incorporate many of these ingredients in our dishes. Christy put some pepper in the piecrust for dessert, and Chrsto used some of the aromatic mushrooms in the polenta. I added mushrooms to the consommé I made with conpoy and chicken stock. The mushrooms infused the consommé with an intensely earthy flavor that created a punch for the beginning of the meal. And there were many other dishes at our feast.
What started out as a way to sample a wide variety of exotic meat products, became an ultimate carnivore's delight. So here is the complete meal.
Oyster Sampler with Sour Plum Lemon Sauce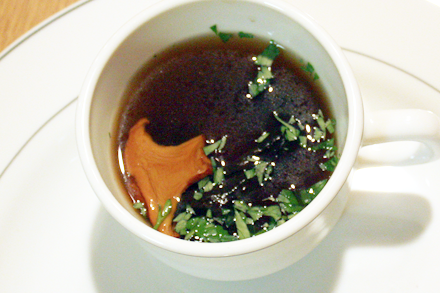 Wild Mushrooms and Conpoy Consommé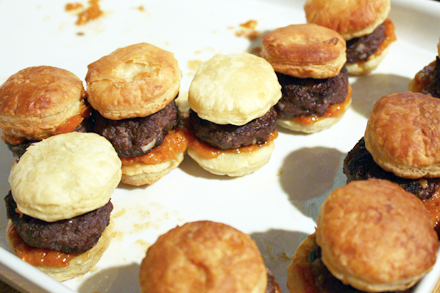 Christo's Kobe Beef Sliders with Roasted Orange Pepper and Roast Garlic Relish on Puff Pastry "Buns"
Joanne's Rabbit Sausage and Broccoli Rabe over Polenta Rounds
Joanne's Pheasant Sausage over Pumpkin Mascarpone Risotto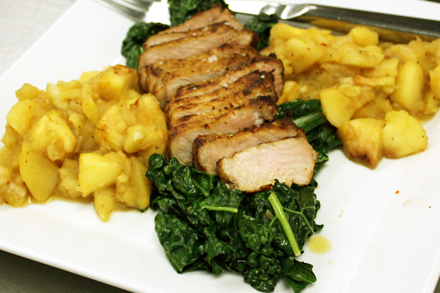 Christy's Chipotle Pork Chop with Garlic Kale and Spicy Apple Sauce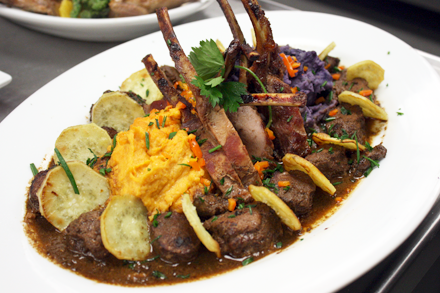 Christo's Wild Boar Chops and Wild Boar Tenderloin Marinated in Mulato and Ancho Chiles Served with Purple Mashed Potatoes and Yams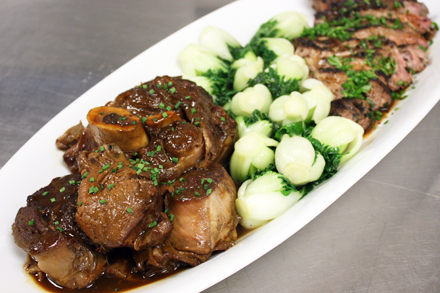 Grilled Veal Chop and Chinese Spice Braised Osso Buco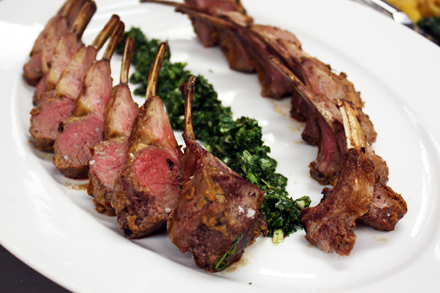 Christy's Mustard and Chili Rubbed Rack of Lamb with Chimichurri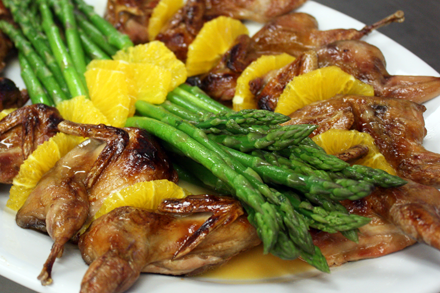 Tea Smoked Quail with Orange Anise Sauce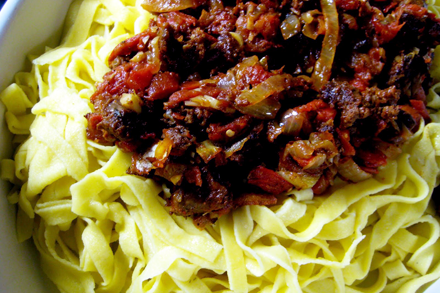 Joanne's Lamb Merguez Sausage in Cinnamon-Scented Tomato Sauce over Homemade Semolina Linguine
Christy's Miniature Strawberry Rhubarb Pies with Poblano Crust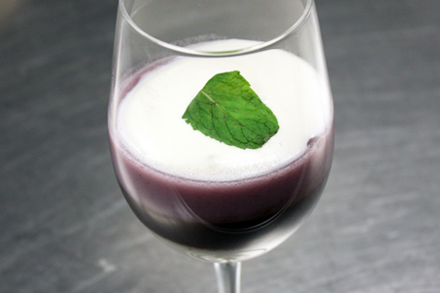 Christo's Three Layer Panna Cotta with Tahitian Vanilla, Chocolate and Mulato Chile and Blueberry with Coconut Whipped Cream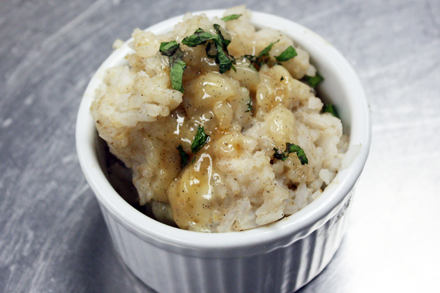 Christo's Apple Banana Rice Pudding with Vanilla and Demera Sugar Caramel