It was in high school when my two passions of science and food intersected in a physics lab. I was a student at the Chinese High School in Singapore, and the assignment was to take fresh duck eggs and immerse them in salt water. Through osmosis the brine would seep into the eggs and we'd measure the salt content over time. Although the science was fun, what I remember most was the delicious eggs that I took home to cook!
Salted duck egg is one of the most versatile ingredients in Chinese cooking. It's also one of the items that remain well below the radar of the average American diner. Raw duck eggs, both fresh and salted are common in Asian markets, but they are very hard to find in America.
If you have access to raw duck eggs, it is possible to salt them at home. You can soak the eggs in a brine of four parts water to one part salt by weight. Although a simple salt solution is the usual brining liquid, rice wine, spices or chilies can be added to give an extra kick to the flavor of the eggs. Be sure to use enough solution to cover the eggs completely. You may need to weight them down to keep them fully submerged. Brine the eggs for 30 to 40 days. Once removed from the brine the eggs can be kept in the refrigerator for another month without spoiling. If you don't have access to raw duck eggs you can buy them already brined at any supermarket in Chinatown.
Raw salted eggs can be used as an ingredient in a variety of recipes. They can be braised with a vegetable, or steamed on top of a pork cake. They are also often served as a side dish to accompany porridge. If a recipe calls for the eggs to be pre-cooked, steaming is the best way. Place the eggs in a shallow dish and steam gently over simmering water.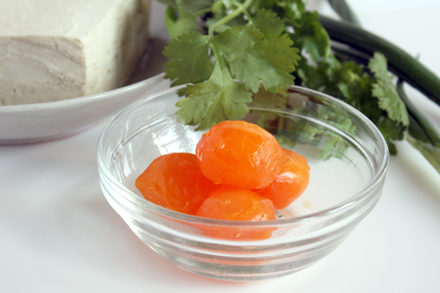 Salted duck egg is full of umami, a savory sensation, and is excellent for combining with other milder ingredients. A cold appetizer dish of tofu and salted duck egg yolk, of which I've included a recipe below, is one of the best ways I know to demonstrate how a full-flavored ingredient can make a bland ingredient absolutely delicious.
There is nothing like tofu to elicit extreme reactions from people tasting it for the first time. They either love it or detest it. In spite of increasing popularity in recent years, tofu is still mostly consumed by health conscious people or vegetarians. This is not surprising since tofu, by itself, is rather bland. And in its most popular form has a jelly-like texture that's not always appealing. However it is precisely these characteristics that make it a perfect canvas for showcasing flavors acquired from stronger ingredients like salted duck eggs.
When you make this dish do an experiment by trying the tofu and salted duck egg separately before assembling the dish, then try them again together. You'll be amazed at how complex the flavor of the finished dish will be. There, you too, can be a scientist who loves good food.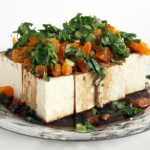 Cold Tofu with Salted Duck Egg Yolk Topping (鹹蛋黃拌豆腐)
Print Recipe
Ingredients
14

oz.

silken tofu

4

salted duck egg yolks

2

tablespoon

cilantro

chopped

2

tablespoon

scallion

chopped
Black Vinegar Dressing
1

tablespoon

Chinkiang black vinegar

1

tablespoon

soy sauce

2

teaspoons

toasted sesame oil

1

teaspoon

sugar

1/4

teaspoon

ground white pepper

1

teaspoon

garlic

finely chopped

1

teaspoon

fresh ginger

finely chopped
Instructions
Chop the salted egg yolks into roughly 1/8 inch pieces and set aside. Chop the cilantro and slice the scallion. Set both aside. Chop the garlic and fresh ginger and add all of the other dressing ingredients together and mix well to make the dressing. You can prepare all these ahead and assemble the dish at the last minute before serving.

Just before serving unpack the tofu and drain all the liquid. Cut the tofu into about eight pieces and arrange on a serving plate. Pat the tofu dry with a paper towel. Then pour the dressing over the tofu. Garnish the top of the tofu with the chopped salted egg yolks, cilantro and scallion. Serve immediately.

Do not prepare this dish too far in advance. The liquid will continue to leach from the tofu once plated. This will dilute the dressing and become messy.