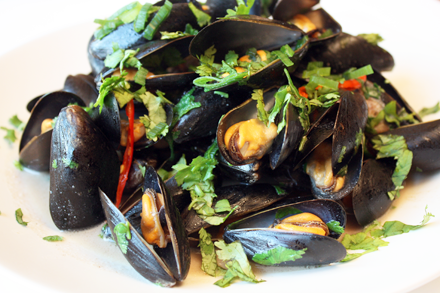 After fleeing prewar France with her American employers, Clementine and the Beck family settle along the New England coast. As the central character in Samuel Chamberlain's book Clementine in the Kitchen, the Burgundian cuisinier struggles to adjust to her new environment. One day as she cycles along the coast near her new home, she looks at the ocean and is amazed and "livid with excitement." She rushes home and announces "J'ai trouve de moules! De quantites des moules!" She "has found mussels! Lots of mussels!" Clementine is overjoyed that such expensive French delicacy litters the American shoreline.
This story takes place during early 1940's, an era when Americans rarely ventured away from standard Anglo-Saxon cooking traditions. Mussels thrived along the Eastern seaboard undisturbed. Since then Americans have developed a taste for the mollusk and they have been heavily harvested for use by restaurant chefs and home cooks alike. As a result concerns arose about the sustainability of their supply.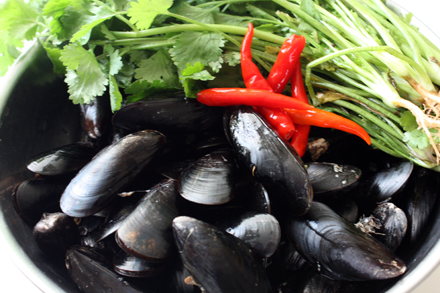 October is the National Seafood Month, but environmentally concerned organizations are calling it National Sustainable Seafood Month to raise awareness of responsible seafood consumption in order to maintain our ocean's balance. Once again my good friend Jacqueline Church is hosting the "2009 Teach a Man to Fish Sustainable Seafood Blog Event." In this event Church rounds up a collection of posts by food bloggers around the world and presents recipes made with sustainable seafood.
My contribution to the blog event this year is a mussel dish made with fermented tofu and cilantro. I chose to highlight mussels because, unlike many other types of seafood, they can be sustained through farming process that does not damage the environment.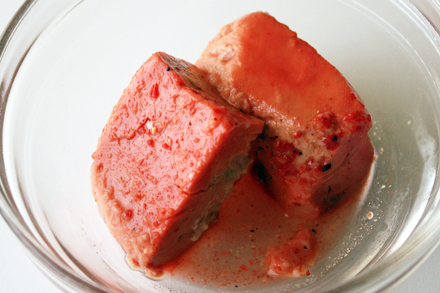 Fermented tofu (腐乳) is an ingredient widely used in Southern China, and is especially common in Fujian (福建) and Chaozhou (潮州) cooking. It is made by salting and fermenting blocks of tofu. Depending on the fermenting agent the fermented tofu turns red or white. I like the red variety (紅腐乳) because the flavor is more pungent and it has a nice sherry-like bouquet. You can buy fermented tofu in glass jars in Chinatown. The finished dish is reminiscence of mussels in white wine but with very strong wine and herbal fragrances.
I hope you enjoy this recipe and keep cooking with sustainable seafood. To find out more information about sustainable seafood you can consult the Monterey Aquarium's Seafood Watch program.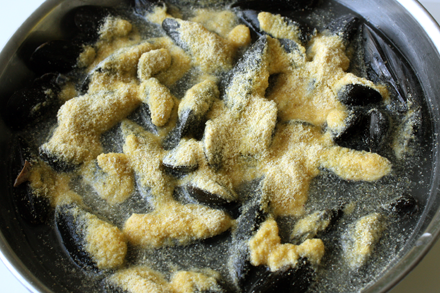 Steamed Mussels with Fermented Tofu and Cilantro (腐乳香菜蒸胎貝)

Preparation time: 15 minutes
Rapid cooking time: 10 minutes

2 lb. mussels
1 tablespoon vegetable oil
1 tablespoons red fermented tofu (紅腐乳)
1/2 teaspoon ground white pepper
1/3 cup Shaoxing cooking wine (紹興料酒)
4 thin slices ginger root
1 cup coarsely chopped cilantro
2 tablespoon sliced scallion
2 thinly sliced red chilies (optional)
1/2 cup yellow cornmeal

Clean and sort the mussels discarding cracked or opened ones. Put the mussels in a shallow bowl and cover with cold water. Sprinkle about one half cup of cornmeal over the mussels and let soak for a few hours or overnight in the refrigerator to purge the mussels of any sand.
Slice and chop the ginger, scallion and cilantro, and set aside. In a wok heat the vegetable oil until beginning to smoke. Add the ginger and stir-fry for about 30 seconds. Then add the wine and fermented tofu. Quickly mix all the ingredients until the fermented tofu is completely dissolved.
Add the mussels to the wok and cover. Steam the mussels for about two minutes. Remove the cover and stir the mussels, pouring the steaming liquid over them. Cover and continue to steam the mussels for another two minutes. Add 1/2 cup of the chopped cilantro and all the sliced chilies to the wok and stir to mix all the ingredients thoroughly.
Serve the mussels in a shallow bowl and garnish with the remainder of the chopped cilantro and sliced scallions.