I was encouraged, actually prodded, to start blogging about my cooking slightly over a year ago after Kim at the Yummy Mummy Cooks Gourmet tasted one of my all time favorite dishes, Red Cooked Pork, or "Hong Shao Rou" (紅燒肉). She was completely blown away by the tender velvety meat of the pork belly surrounded by sweet soy sauce and anise flavors. Since this recipe was posted on January 18th 2008, I've had numerous responses from readers and friends about variations in ingredients and techniques. I've decided to revisit this very important dish.
The most commonly asked questions were whether different cuts of pork or different types of meat can be cooked using this same recipe. The answer is yes and… well, maybe. Yes, other cuts of pork work well with this recipe, but for other types of meat the recipe has to be slightly modified. In fact I've posted two adaptations of the recipe for beef and lamb.
But the questions that most fascinated me were about the different techniques for making this dish. Many traditional Chinese cookbooks and Chinese language blogs recommend par-boiling and draining the pork belly as the first step. In Chinese cooking there is a special term for this practice and it is called "cuan" (汆). This technique is regularly employed to par-boil all kinds of meat for braising. For years I avoided this step in Red Cooked Pork simply because I felt it unnecessary. Thinking that the caramelizing step would shear and seal the meat. In her blog, Appetite for China, Diana adapts Fuchsia Dunlop's recipe, which includes the par-boiling step. This post prompted me to reconsider including this step in my recipe.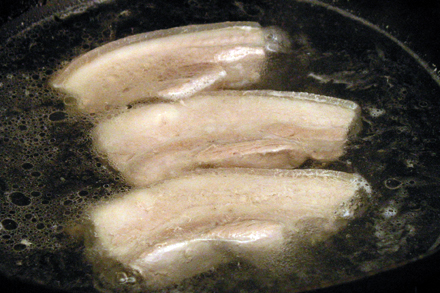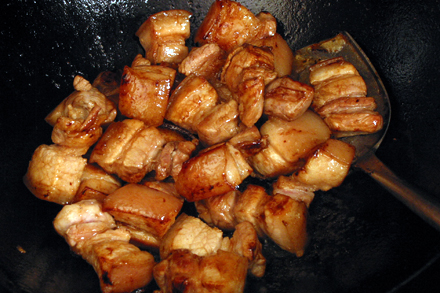 So during the last few months I experimented with this technique again. As it turns out par-boiling does indeed improve the end result of the dish. The sauce comes out clean and visually appealing, and the meat absorbs the braising flavors more thoroughly.
Just as some recipes omit par-boiling I found many recipes in Chinese language blogs leave out caramelizing. So I experimented with keeping the par-boiling technique and eliminating the caramelizing step. Unfortunately, without caramelizing the color of the sauce was dull, and the dish lacked the rich caramel aroma.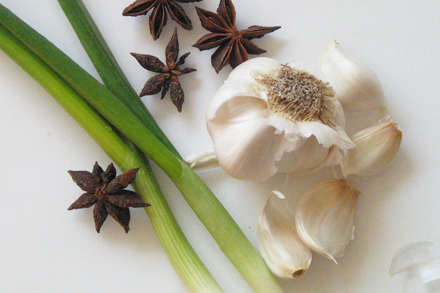 In the end I concluded that I do need to revise my original recipe. Par-boiling and caramelizing together in fact impart superior flavor and increase visual appeal. Below is the revised recipe for you to try. Still I want to emphasize that there is no one single correct way to prepare this dish. What is important is that you enjoy the flavor of the finished dish. I suggest that you experiment with proportions of the different ingredients and variations in techniques. You may end up with a spectacular pork dish, which you can share or, as many Chinese families do, keep as a family secret.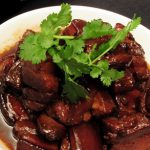 Red Cooked Pork II (紅燒肉)
Print Recipe
Ingredients
1 1/2

lb.

pork belly

3

tablespoons

vegetable oil

2

tablespoons

sugar

3

cloves

garlic

peeled

2

scallions

cut into 2-inch long pieces

3

star anise

2

tablespoons

dark soy sauce

1

tablespoon

soy sauce

1/4

cup

Shaoxing cooking wine (紹興料酒)

1 1/2

cups

pork stock

or water
Instructions
Put the pork belly in a wok containing enough boiling water to cover the meat completely. Continuously skim off the scum as it forms on top of the boiling water. Boil for about 20 minutes then drain the pork belly and place on a plate to cool. The boiling liquid can be reused for braising after filtering through a fine sieve. When the pork belly is cool to touch cut it into pieces of about 1.5 inches cubes.

Melt the sugar and the vegetable oil in a wok over medium high heat. Continue heating until the sugar is slightly brown. About 3 minutes. Add the cubed pork belly and brown it with the caramelized sugar. About 8 minutes.

Put the garlic, scallion, star anise, dark soy sauce, soy sauce, rice wine and clear stock into the pot. Cover the pot and simmer over low heat. Cook for about 90 minutes. Stir the meat every 10 minutes to make sure the pork at the bottom of the pot does not get burnt. Remove the cover and turn the heat to medium high. Cook the meat for another 10 minutes until the sauce reduces to a smooth consistency.

You can serve this dish right away or keep overnight and reheat the next day before serving. Plate it in a shallow bowl and garnish with shredded scallion and sprigs of cilantro.