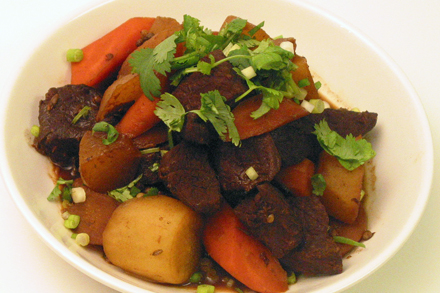 Yes, you can make red cooked beef. But the recipe is slightly modified from red cooked pork so as to add extra spices for reducing the gaminess of beef. Well, the Chinese do consider beef gamey. In fact they think "foreign savages" who eat beef and consume dairy products smell like stale butter. Yet many areas in China have large repertoire of beef dishes, especially in the Northern and Western regions. Go figure!
Red cooking is a very common technique in Chinese cuisine. This technique is used throughout China and can be employed with many types of meat including pork, chicken, beef, lamb and fish. The common ingredients for red cooking are garlic, soy sauce, Shoaxing cooking wine and sugar. To this base additional spices are added depending on the meat and region. For red cooked beef the addition of ginger and star anise is very common. Regional variations can include other spices such as Sichuan peppercorn, cassia bark, fennel seeds, dried tangerine peel and dried chili.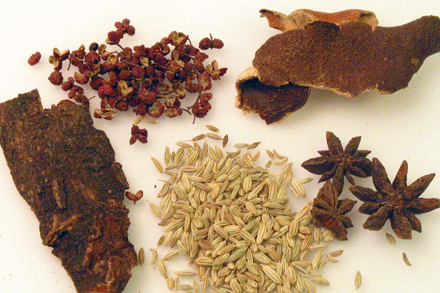 An important factor for the success of this dish is the selection of the cut of meat. Beef tendon and beef shin are best for red cooking. They are almost always available in Chinatown or Asian markets, although not necessarily in regular markets. As a substitute I would recommend using beef short ribs. Remove the bones from the meat and cut into one-inch cubes, but be sure to have enough meat to make up to about 1 lb. As a last resort you can always use stewing beef. Unfortunately it is often too lean for red cooking and will result in a rather dry meat dish.
The recipe I selected for this post is from Sichuan, hence the use of many aromatic spices typical of Sichuan dishes. You can cook the beef until the braising liquid is reduced to a sauce and serve with rice. Alternatively you can add additional beef stock to make a soup to which you can add cooked noodles to make a complete meal.
My neighbor, Rachel, will be very glad to know that I am writing a post on red cooked beef. She is Jewish and her husband, Jaffer, is Muslim. They've not been able to enjoy the red cooked pork I so often make. So Rachel, here is the recipe especially for you.
Red Cooked Beef (紅燒牛肉)

Preparation time: 15 minutes
Slow cooking time: 2 hours 30 minutes

1 lb. beef tendon (meat from beef short ribs or stewing beef) cut into 1-inch cubes
5 cups water for par-boiling the beef
1 medium carrot cut into one inch pieces
1 medium daikon radish cut into one-inch pieces

Braising Ingredients

3 whole star anise (八角)
2-inch length of cassia bark (or 1 cinnamon stick) (桂皮)
2-inch square piece of dried tangerine peel (陳皮)
1 teaspoon Sichuan peppercorn (花椒)
1 teaspoon fennel seeds (小茴)
4 pods dried red chili (optional)
3 thick slices ginger root
1/2 cup Shaoxing cooking wine (紹興料酒)
2 tablespoon dark soy sauce (老抽)
1 tablespoon sugar
4 cups water (or beef stock)

Put the beef into 5 cups of boiling water for about 10 minutes. Remove any scum from the top of the liquid then drain the meat. Par-boiling the meat will make sure that no more scum will form on top of the braising liquid.
To the meat add the rest of the braising ingredients and simmer covered for two hours. You can wrap the spices in a cheesecloth or bouquet garni bag for easy removal. The key to red cooking beef is the long period of braising. Be sure the liquid does not completely evaporate before the meat is tender. If the liquid is reduced before the meat is tender then add more water to prevent it from scorching.
When the meat is tender add the carrots and daikon radishes. Mixing well so the root vegetables are fully immersed in the liquid. Continue to cook on medium heat until the vegetables are tender and the liquid has reduced to a sauce. About 10 minutes.
Serve hot garnished with chopped scallion and cilantro.