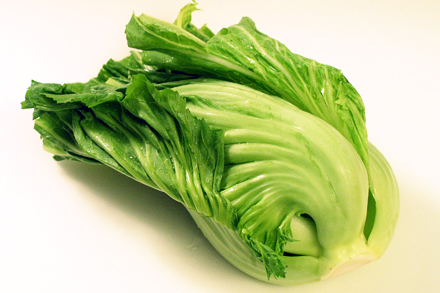 Many Chinese vegetables are known to Americans as bok choy or simply Chinese cabbage. Although there is a wide variety of these "Chinese cabbages," they all have a very similar, neutral, non-threatening taste recognizable to the American palate. But don't be fooled, not all Chinese vegetables are bland and blah. There is also a large selection of mustard greens, not commonly known by Americans, that have much more distinct bitter and spicy flavors.
One common mustard green widely consumed in Southern China and Southeast Asia is known as jie cai (芥菜) in Mandarin or gai choy in Cantonese. Jie cai is one of my favorite vegetables because of its robust taste that reminds me of mild horseradish. Many dishes from my family province of Fujian use jie cai as an ingredient. It is used fresh in stir-fries, cooked with rice, or made into soup. In fact a rustic Fujian specialty of mustard green rice (閩南芥菜飯), which I often crave whenever I feel homesick, is made with pork belly, jie cai and dried oyster.
Jie cai is regularly pickled in brine and is known as xian cai (鹹菜) or suan cai (酸菜). This pickled green is used in a wide variety of dishes such as steamed and stewed fish, or pickled green soup. The pickling process neutralizes the bitterness and results in a slightly sweet fermented taste.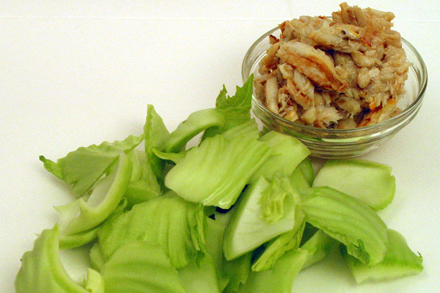 A very elegant way to prepare this vegetable is to stir-fry it with crabmeat. I remember tasting this dish for the first time in an elegant banquet when I was a teenager. It was the first time I realized jie cai is not just an ordinary daily vegetable, but can be transformed into a complex and refined dish. When perfectly cooked the bitterness in the green contrasts with the sweetness in the crabmeat and the outcome is simply heavenly. Here is a recipe I've often used to entertain my guests and was one of my Chinese New Year banquet dishes.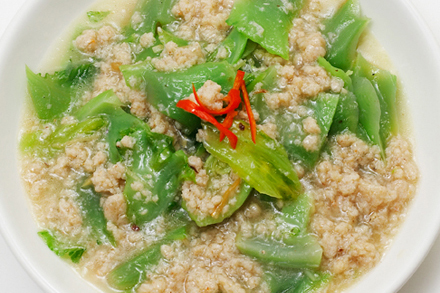 Photography by Ron Boszko
Stir-fried Mustard Green with Crabmeat (芥菜炒蟹肉)

Preparation time: 15 minutes
Rapid cooking time: 15 minutes

12 ozs. (or 3 cups cut) mustard green or jie cai (芥菜)
6 ozs. cooked lump crabmeat
3 tablespoons vegetable oil
1 teaspoon finely chopped garlic
1 teaspoon finely chopped fresh ginger
3/4 cup chicken stock (or water)
2 tablespoon Shaoxing cooking wine (紹興料酒)
1/2 teaspoon salt
1/2 teaspoon ground white pepper
1/2 teaspoon cornstarch mixed with 3 tablespoons water to make slurry

Cut the leafy portion of mustard green off, and then cut the green stem into approximately 1.5-inch square pieces. Use fresh or refrigerated cooked crabmeat if available. Otherwise canned crabmeat can be substituted.
Heat two tablespoons vegetable oil in a wok until beginning to smoke. Put the mustard green in the wok and add 1/2 cup of stock or water. Cover the wok and simmer over medium heat for about 8 minutes. Stir the vegetable occasionally to make sure it is evenly cooked. When the vegetable is cooked and tender, but not mushy, remove it from the wok along with all the liquid and put it in a bowl. Set aside.
Heat another one tablespoon of vegetable oil in the wok and stir-fry the garlic and ginger for about a minute. Add the crabmeat, cooking wine, salt, pepper and the rest of the stock or water. Cook for another two minutes or so and return the vegetable and its liquid into the wok. Thicken the sauce with the cornstarch slurry. Plate and serve immediately. To make it even more elegant garnish the dish with a sprinkle of cooked crab roe.