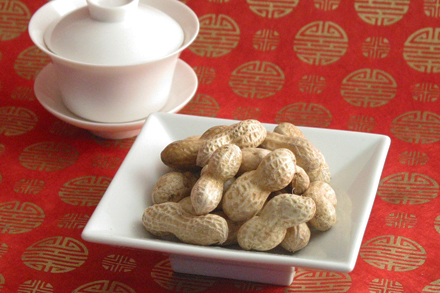 To someone growing up in Asia in the 1960's "boiled peanuts and a movie" is what "popcorn and a movie" is to the American moviegoers. As a child going to the cinemas in Singapore, I would always encounter boiled peanuts peddlers pushing large steaming kettles, mounted on tricycles, bursting with peanuts selling their fare. My friends and I would purchase packages of boiled peanuts in newspaper cones and bring them into the theatre. We would crack the peanuts noiselessly, as the moist soft shells split easily, and discard them on the floor. At the end of the show the floor would be full of peanut shells and I used to enjoy stomping on the shells making crunching noise as we walked out. But this reminiscing also brought out my feeling of disgust for how filthy that habit was. I'm glad that this practice doesn't exist anymore.
Boiled peanuts are still one of my favorite snacks. But I now enjoy them in a more adult manner. I like them as an accompaniment for a cup of hot tea or warm Chinese rice wine. Unlike roasted peanuts the mild non-nutty flavor of boiled peanuts does not compete with the taste of wine or tea. Drinking tea or wine with small dishes of nuts and biscuits is a regular leisure pursuit in China. Boiled peanuts are almost always a part of this ritual.
Like many Chinese culinary ingredients peanuts are not native to China. Although there is no definitive record as to when peanuts were introduced to China, the speculation is that Portuguese merchants brought them to Chinese trading ports from South America around 1530. Peanuts are one of those New World food ingredients that were embraced whole-heartedly by Chinese and other Asian culture. Now many Chinese dishes incorporate peanuts as a major ingredient. For example Gong Bao Chicken (or Kung Pao Chicken) calls for a handful of roasted peanuts and stewed pork ribs are often made with boiled peanuts.
A common Chinese way of boiling peanuts is to add star anise and Sichuan peppercorn. This technique is often known as Five Spice Boiled Peanuts (五香花生) in spite of the fact that only two spices are added. Green unshelled peanuts or dried uncooked peanut kernels can be used. I like to use green peanuts in autumn when they are freshly harvested and are abundant in Chinatown markets.
Occasionally I still enjoy boiled peanuts with a movie. But now I sit in the comfort of my home and watch the movie on a DVD player. I also use an extra bowl to collect the shells.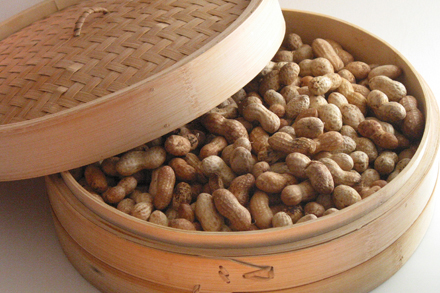 Boiled Peanuts (五香花生)

Preparation time: 10 minutes
Slow cooking time: 30 minutes

2 lb. green peanuts
3 cups water
2 tablespoons salt
4 whole star anise (八角)
1 tablespoon Sichuan peppercorn (花椒)

Put all the ingredients in a large pot and simmer covered over low heat. There should be enough water to completely cover all the peanuts. If not, add a little extra water. Turn the heat off after 30 minutes and let the peanuts marinate in the liquid overnight unrefrigerated. The next day drain off the liquid completely and store the peanuts in the refrigerator. You can serve the peanuts cold or hot. To reheat the peanuts put them in a steamer over boiling water for about 10 minutes.