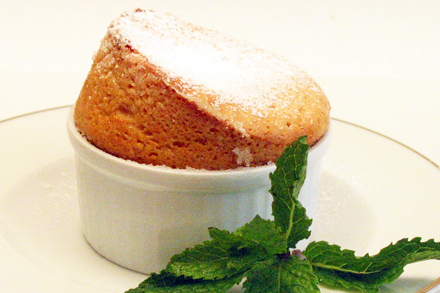 I've never entered a recipe contest before and was a bit apprehensive about participating when Foodbuzz announced the NYC Eggland's Best Recipe Contest. However I was reminded of a forum message in an online Chinese language food forum by Heaven_Travel (天堂游). She lives in China and regularly writes about her cooking adventures. She first caught my attention because of a forum message on soufflé. She'd watched a television cooking show with a "handsome" (帥哥) foreign chef demonstrating how to make a passion fruit soufflé. The chef apparently had repeatedly used "lovely" to describe the ingredients as well as the soufflé. So if everything is so lovely she thought she ought to attempt the recipe. Besides she was completely seduced by the chef and the passion fruit. But unable to find passion fruit she substituted peach nectar instead. What a clever girl I thought. So if a Chinese cook can create her own soufflé recipe so can I!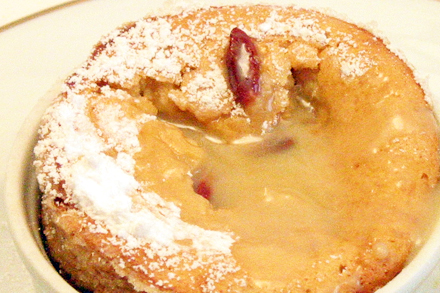 Soufflé is no stranger to me. I often make one as a last minute dessert, using whatever fruits or flavoring agents I happen to have in the kitchen. For this contest I wanted to create a soufflé that reflects a Chinese influence. So what better flavors than ginger and caramel? To top it off I decided to create a white chocolate sauce with wolfberries.
Wolfberries, or goji berries as they are often known, are widely used in Chinese cooking and medicine. They are used to make soup, sauces and sweet dishes. They have recently become very popular because of their anti-oxidant properties, though I like to use them because they enhance and intensify flavors of whatever they are cooked with.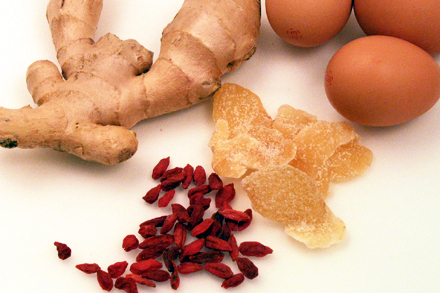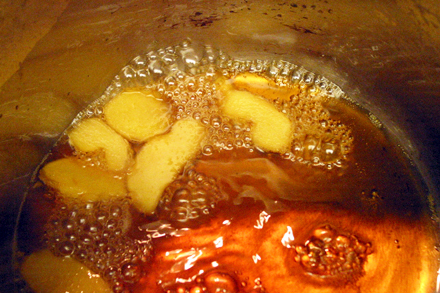 The key for making successful soufflé is good custard made from butter, flour, sugar, egg yolks and flavoring ingredients. The custard should be just thick enough to provide sufficient body, when combined with the whipped egg white, to prop up the soufflé. In my recipe it is important to be sure to cook the liquid down to half of original amount when making the caramel ginger syrup. It will be rather thick and is just right for the custard consistency.
You will find this soufflé light and fluffy with a unique hint of spice. When served with the wolfberry white chocolate sauce it transforms into a smooth moist pudding.
So for Eggland's Best, here is Kian's best.
Caramel Ginger Soufflé with Wolfberry White Chocolate Sauce (薑糖蛋奶酥)

Preparation time: 30 minutes
Slow cooking time: 25 minutes

(Makes 8 small individual servings)

For the Soufflé

1/2 cup sugar
1 cup water
2 inch long ginger root bruised
3 tablespoons of minced crystallized ginger
3 tablespoons butter
1/2 cup flour
1 1/3 cup milk
4 eggs separated

For the Sauce

8 ozs. sweetened white chocolate
2 tablespoons wolfberries or goji berries (枸杞)
3/4 cup milk
1 tablespoon sugar

First make the caramel ginger syrup. Melt the sugar in a medium (1.5 quart) saucepan over medium heat. Stir the sugar constantly until the color turn golden brown. Add the water and dissolve the sugar completely. Add the fresh ginger root. Turn the heat down to simmer and cook for about 15 minutes or until the liquid is cooked down to half the original amount. Drain the syrup and set aside to cool.
Clean the saucepan then melt the butter in it. Put the flour into the butter and stir until well blended. Alternately pour the milk and the caramel ginger syrup into the flour and butter mixture, or roux, a little bit at a time to create a thick paste. Remove from the heat and add the minced crystallized ginger and egg yolks. Mix well and set aside. You can prepare the custard up to this stage and set aside until you're ready to serve.
Prepare the sauce by first simmering the wolfberries in the milk and sugar for about five minutes. Melt the white chocolate in the wolfberries milk while stirring constantly. When the chocolate is completely melted pour the sauce into a sauce bowl and set aside.
About half an hour before you're ready to serve the soufflé. Preheat the oven to 350 degrees F. Whisk the egg white until it forms a firm peak. Fold about 1/4 cup of the egg white into the custard until well blended. Then fold the custard a little at a time back into the egg white.
Grease eight 3 1/2-inch ramekins with butter and coat with sugar. Fill the ramekins with the batter and place them on a baking sheet. Bake in the oven for about 20 minutes and immediately serve the soufflé with the wolfberries white chocolate sauce.