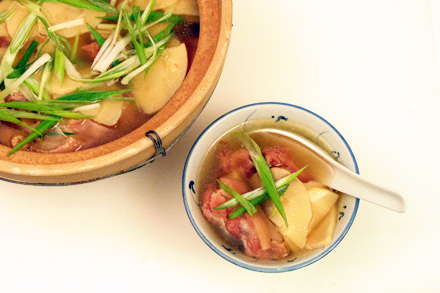 "Last Winter Bamboo of the Season!" proclaimed the sign I saw last weekend in front of the Hong Kong Market on Hester Street in Chinatown. This would be the last shipment from China for this year's winter bamboo crop. I was immediately reminded of a winter soup I fell in love with when I was working in Shanghai. It is called "Yan Du Xian" (腌篤鮮), a simple, hearty, quintessentially Shanghainese soup made from a duo of cured pork and fresh pork plus fresh winter bamboo shoots (冬筍).
Winter in Shanghai could not be considered extreme by any standards. The temperature normally hovers around 40 degree F during the day and just above freezing at night. But it can be rather unbearable because of the high humidity. The dampness in the air can be bone chillingly cold. On one such cold and misty February evening a few years ago, I went to Yuan Yuan (圓苑) restaurant in Shanghai with a few friends for dinner. It was a farewell dinner for a friend from Singapore, whose company was sending her home after a three-year stint in Shanghai. Sensing she needed immediate relief from the Shanghai winter another friend in the party immediately ordered a pot of "Yan Du Xian." It was a soup I'd not sampled before. When the steaming pot of soup arrived smelling earthy and smoky, I felt suddenly being transported to a hot spring bath and away from the chilly weather outside. I had discovered "Yan Du Xian."
The name "Yan Du Xian" translates literally as "cured pork stewed with fresh pork". Yan (腌) means "cured" referring to salted pork or ham, and Xian (鮮) means "fresh" indicating fresh pork. Du (篤) in Shanghainese dialect stands for "stewing" or "boiling."
To get the right textures and tastes it is important to use the proper ingredients. Many different recipes call for salted pork. But I find that smoked ham enhances the flavor of the soup. In fact the version at Yuan Yuan restaurant is made with Chinese Jinhua ham (金華火腿). In America I recommend the use of Smithfield ham. The high brine content and smokiness of Smithfield ham resembles that of Chinese Jinhua ham. The smoked ham should have the bone still intact and cut into large pieces.
Fresh ham shank is traditionally used for the fresh pork ingredient. The skin should not be removed and the meat should also be cut into large chunks with bones still attached. Ask your butcher to saw the bones for easy cutting.
The next crucial ingredient is winter bamboo shoots. Between January and March a special variety of bamboo sends out these most sought after young tender shoots. They are specially prized for their sweet flavor and crunchy texture. The crunchiness does not diminish with long cooking making winter bamboo shoots a great ingredient to add texture to this soup.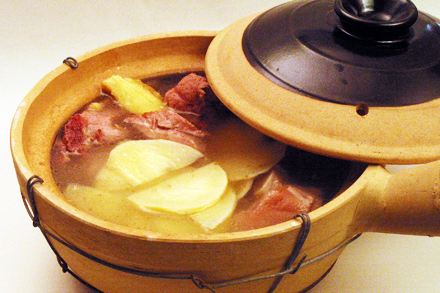 To make "Yan Du Xian" the ingredients are boiled at a very low simmer in a clay pot for hours. What results is an incredibly clean pork broth with melt-in-your-mouth meat and crunchy bamboo shoots.
At the farewell dinner we were a group of expatriates from all over the world joined in friendship by our common situation. Sharing this meal I was warmed by our friendship and by the "Yan Du Xian," which always reminded me of the long lasting bond we developed.
"Yan Du Xian" Ham and Pork Shank Soup with Winter Bamboo (腌篤鮮)

Preparation time: 30 minutes
Slow cooking time: 3 hours

2 lbs. pork ham shank cut up into eight pieces
2 lbs. bone-in ham (Smithfield Ham) cut up into eight pieces
1 (about 3/4 lb.) fresh winter bamboo shoot (冬筍) or 1/2 lb. canned bamboo shoots
1-inch nub of fresh ginger root
1/4 teaspoon ground white pepper
5 cups pork stock or water
2 scallions cut into 1-inch pieces for garnish

Soak the ham in four cups of water for about three hours to dissolve some of the salt. Discard the water. Par-boil both the smoked ham and the fresh ham shank in a stockpot with five cups of water on medium heat. Skim off any scum forming on top of the liquid. Cook for about 20 minutes. Remove the meat and put in a large Chinese clay pot. Strain the liquid from par-boiling through a fine sieve and pour into the clay pot. Or you can discard the liquid and use fresh water instead.
Peel off the tough outer leaves from the bamboo shoots. The simplest way to accomplish this is to cut the shoot lengthwise into halves and then remove the leaves. Par-boil the bamboo shoots in a stockpot with about four cups of water over medium heat for about 5 minutes. Drain the shoots and let cool. Slice the shoots very thinly crosswise when cool. Put the bamboo shoot slices into the clay pot.
Crush the ginger root with a knife and put in the clay pot. Add white pepper and simmer the soup covered over very low heat. Cook for about three hours. Just before serving add the scallion for garnish and ladle the broth into a small bowl along with small a amount of the smoked ham, fresh ham shank and some bamboo shoot slices.