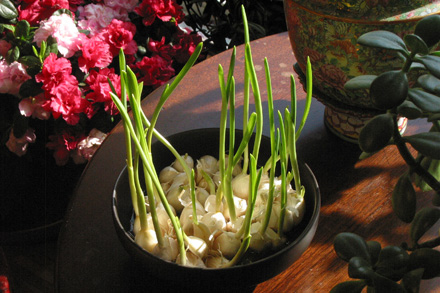 I have a wooden bowl I use to hold potatoes, onions and garlic. It sits at the end of my kitchen counter and normally does a very good job of keeping the root vegetables dry and firm. Perhaps because of the warm weather of late some of the garlic bulbs started sending out green shoots. I decided to put the bulbs in a small shallow bowl with water, and placed it in front of a very sunny window in the living room. I am in fact very proud of how the shoots are beginning to grow into beautiful greens.
Last Saturday a downtown friend visited us for breakfast and when he saw the bowl of garlic greens and thought I was unsuccessfully trying to force narcissus bulbs. When I told him they were really garlic he was not convinced.
I was reminded of a Chinese saying that says if you try to force narcissus bulbs to bloom unsuccessfully, pretend they are garlic (水仙不開花,裝蒜). So "pretending to be garlic" or zhaung suan (裝蒜) is an expression that's used regularly in Chinese to mean a person pretending to be someone else. Now, though, I feel unjustly maligned for horticultural failure.
Garlic greens (蒜苗) are indeed delicacies in China. We use them in stir-fries, in soups, in omelets and many other dishes. I invited my friend to return so I can make a stir-fry for him when the garlic greens are a little more mature. Why don't you return in a few weeks as well; I promise I'll share the recipe with you.